Werri Beach Rock Pool
At high tide you'll have to get your feet wet to access this pool over an exposed flat rock surface.
My experience in the rock pool
My first experience in Werri Beach pool was not my best: it must have been some time after high tide, the water was almost too warm and there were lots of small bits (probably of seaweed, but I was getting great handfuls of the stuff at every stroke I swam).
It's also quite a shallow pool, and not as long as many – couldn't tell the full length, maybe 25m, maybe 30m.
But on subsequent visits the water has been much fresher and cleaner. And at high tide on a calm day, its setting is sublime, with shallow water gleaming over the rocks around the path you take to get to the pool.
Getting there, getting in, getting changed
The pool is at the southern end of Werri Beach, about a mile from the village of Gerringong.
There are changing rooms on the headland but about 100m to the pool itself. At low tide there is a dry path leading to the pool; at high tide this path is covered but only in shallow water on a calm day and it's a pleasant paddle to the pool edge.
There are stone walls well above the water level even at high tide where you can leave your things.
Showers and changing area back near the car park.
Tidal differences
There's a big difference between high and low tides. At high tide on a calm day you'll need to paddle your way over the rocks to get to the pool; I haven't seen it during a storm at high tide but I'd imagine it'd be trickier then!
At low tide the access is totally dry, but the water gets a bit warm if it's been some hours in summer since the high tide washed it out.
Other practical points
There's a separate kiddies' wading pool about 100m from the main pool. It's a small, round, concrete bordered pool. At high tide if your kiddie is small they probably won't want to be splashed by the waves coming over the side, but at low tide this is perfect for small, nervous swimmers.
History and stories of the pool
This pool was built in the 1930s after demands for a safe swimming place from the campers at the local campsite.
The Gerringong Gropers meet here throughout the winter… (see Illawarra Mercury article below).
What's your story? Any memories of swimming here? Any stories to tell? Or did you just have swimming lessons in the cold of winter in the 1960s?
Whatever you have to say, however brief, I'd love to hear from you and will add any stories to this section of the site as and when I receive them.  Add your comment or story under 'Leave a Reply' below.
Links to other articles on this pool
The Illawarra Mercury ran a nice piece on Werri Beach rock pool in 2014, with interviews with members of the Gerringong Gropers.
Swimming blogger Therese came in 2013 and clearly loved this place.
Swimming blogger Sally came here in 2009.
Coffee, tea or milkshake after the swim?
You have to go back up to Gerringong for a cuppa after your swim. You're spoilt for choice there. I have three favourites, depending on my mood and what I fancy…
For coffee?
Blue Espresso Bar
Belinda Street, Gerringong
Blue Espresso Bar reviewed by Fancy a Cuppa website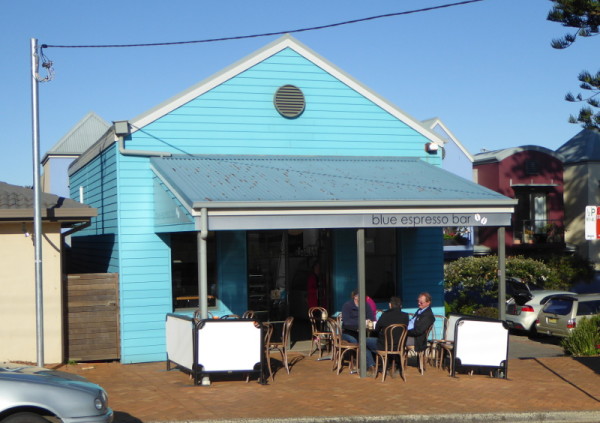 Open daily at 7.00am (closes at 4.00pm)
This is my favourite place for coffee in Gerringong. You'll get great coffee roasted by an upcoming Canberra-based roaster, a good range of coffee roasts to choose from and a warm welcome from the two ladies who took over running this place in 2017. Nice cakes too.
For  a locally-roasted coffee?
Gerringong Deli & Café
Fern Street, Gerringong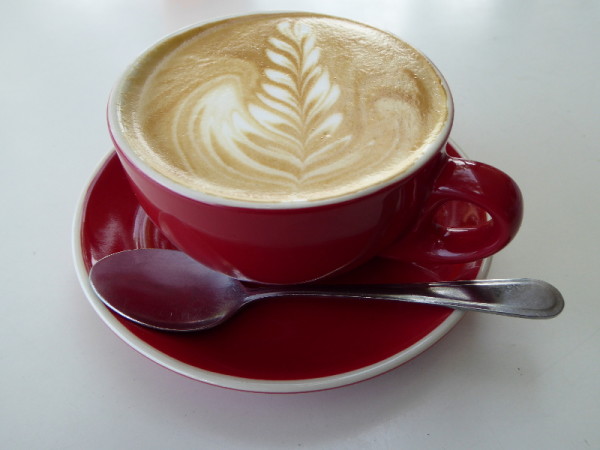 Open daily 8am – 5pm (but kitchen closes at 4pm)
Good coffee roasted in Gerringong by 'Daily Grind' and some great banana breads to go with it. They have the standard Werri Blend, which doesn't change from day to day; or you can choose a single origin each week for something a bit special. Lots of space inside if the weather is not good.