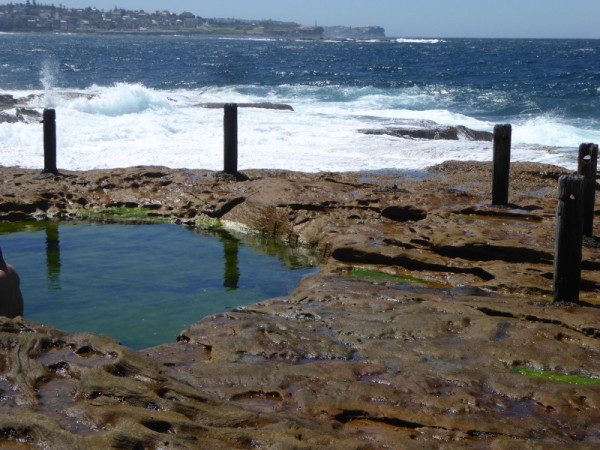 Named after a local resident who worked to improve the pool from the 1930s onwards.
My experience in the pool
The waves were crashing into this tiny, round rock pool south of Coogee when I first arrived, so for a change I decided to go for my coffee and cake before the swim instead of afterwards.
By the time I got back there around midday on a hot February day, there were already two other guys in the water, and that makes this pool pretty full. That's how small it is.
They squeezed up and made room for me, but Ivor Rowe Rock Pool is not one you'll be trying to do laps in. It can't be more than 10m from the shore side to the ocean side, and it was barely over my waist at its deepest point in the middle.
Still, on a hot day, it's a great place to cool off: lie back and let the water carry you, or dip under occasionally to immerse your whole body.
When I finally got into the water, some four hours after high tide, there was just the occasional wave still crashing and bubbling over the wall into the pool itself, so that kept things entertaining. At high tide during a storm, I don't think you'd want to attempt to get in to this pool, and you may well struggle to get out alive!
The five wooden posts sunk into the rock platform suggest there was once a more formal chain fence here, but I guess that went the way of so many ocean side constructions, leaving just the posts, which help you identify the pool as you approach along the Bondi-Maroubra coastal path.
The three of us passed the time of day in the way I always imagine those sauna-loving Nordics must do, comparing notes on whether 'budgie smugglers' were the thing to wear or whether 'boardies' are the way to go – I think being a Pom sometimes helps me get away with those speedoes in pools where the men like for some reason to cover up half their lower body!
On a day when temperatures were hitting 33C, this was a lovely spot for a cooling dip. And there are nice shaded spots on the rock platform where you can sit and read or just watch the surf crashing in (once the tide has retreated far enough!). Great views back north towards Coogee and Clovelly, though southwards all you see is the headland before the bay that turns into Maroubra (and its wonderful Mahon Pool).
Getting there, getting in, getting changed
Free parking on the streets just above Ivo Rowe Pool. I walked along the Bondi-Maroubra coastal path (about 15 minutes from Coogee), and caught a bus back to the Sydney CBD from Malabar Road, five minutes walk from the pool.
The pool here is far below the cliff path, so you have to walk down 40 or so stone steps to get to the rock platform. The pool sits a further 20m or so out on the edge of the rock platform. Take care as you get to the edge of the water; there are no steps and it is not steep but the rock floor is covered in green seaweed – not too slippery for me, but I guess it might be some days.
That rock platform may well be covered during high tide, but it's a good place to leave your clothes as long as the sea has stopped reaching this far. The only shower comes from the natural fresh water sprinkling off the cliff face at the foot of the stairs. You can't avoid getting wet from that so you might as well go the whole hog and have a shower…
Tidal differences
Big differences. On a king tide, it's best to come when I did, about 4 hours after high tide. That way you have the occasional wave breaking into the pool, but no risk of being washed out to sea.
Other practical points
No facilities, though some fresh water flowing down off the cliff at the foot of the stairs to the pool make for a beautiful natural shower to rinse off after your dip.
History and stories of the pool
I struggled to find any history or even any stories about Ivo Rowe Pool, beyond the other bloggers and articles linked to below. Got a story about this rock pool? Let me know via comments or contact the site.
Thanks for the comments on the pool and the extra history and stories. I was particularly pleased to hear from Leanne in January 2020, who let us know that before Ivo Rowe had his name attached to this pool, it was apparently known as the Honeycomb!
People I met here included…
I've walked past here a few times and seen nobody in the pool so you may get to swim alone. The two guys I chatted with live locally and try to get down here for a break most days when the weather is good. I saw them drive past later in their tradie Ute, so not a bad life, if you can take an hour away from the job to come down for a daily dip…
What's your story? Any memories of swimming here? Any stories to tell? Or did you just have swimming lessons in days gone by?
Whatever you have to say, however brief, I'd love to hear from you and will add any stories to this section of the site as and when I receive them.  Add your comment or story under 'Leave a Reply' below.
Links to other articles on this pool
Ivo Rowe Rock Pool appears two thirds of the way down through this article from Australia's Daily Telegraph from January 2016.
Ellas List blog for kids in Sydney shows how tiny the pool is
Ivo Rowe Pool is the first entry on this 2009 blog post from the Lazy Swimmer
This Aussie Blog from 2011 shows that it is popular also with local dogs…
And the Wild Swimming Australia website includes an entry on Ivo Rowe rock pool
Coffee, tea or milkshake after the swim?
Continue along the cliff path southwards until you reach the next road and then walk up to Malabar Road (5 minutes away) to find…
The Lion & Buffalo – 203 Malabar Road, South Coogee 2034
Open: Daily 7am – 3.00pm
The Lion & Buffalo reviewed by Fancy a Cuppa website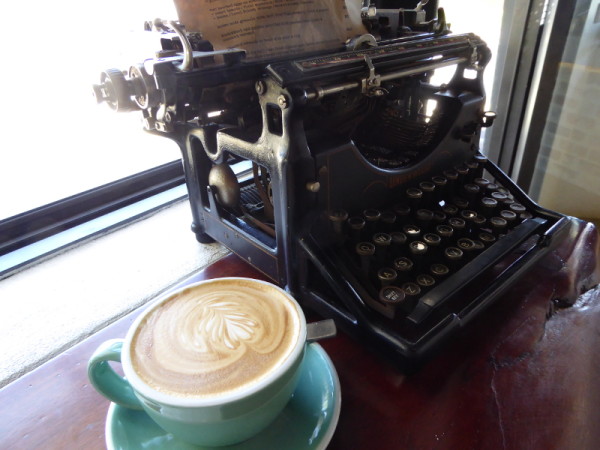 Coffee here is from the excellent Single Origin Coffee Roasters, and the espresso machine is an impressive Marzocco, facing you as you enter. But what makes this coffee shop special is the home-baked cakes: The owner is Polish and she has a nice line in genuine Polish pastries, including apple cake and a rather wonderful vanilla cream creation called Karpatka. Or choose one of the excellent Hungarian strudels made in a bakery nearby. Love the décor of this place with its street art murals (by local artist Magee), it old worktops as tables, and even the old Underwood typewriter on the counter, with the coffee shop menu all typed up and waiting to be read. Friendly staff too. Love this place for coffee in South Coogee.