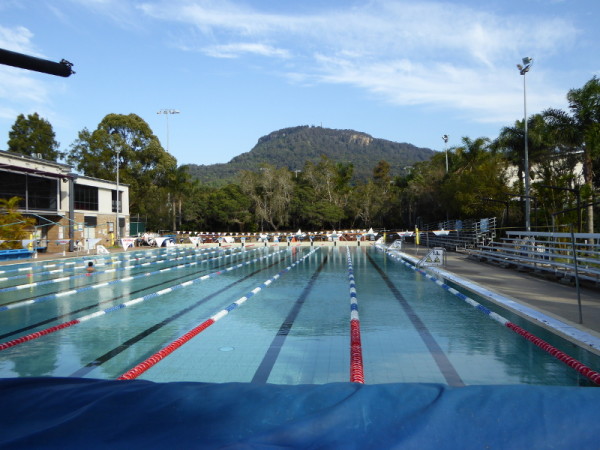 My experience in the pool
Wow, we never had facilities like these when I was at uni! The University of Wollongong Aquatic Centre is not only a great 50m Olympic Pool, but it's in a wonderful leafy setting on the edge of the UOW campus.
You don't often get as magnificent a backdrop as this, either, even in Australia. Mount Keira looms in the background, looking almost volcanic and reminding me of a dramatic swim I once had in a lake in Guatemala under the shadow of a volcanic cone.
The people who designed the pool either thought it through pretty carefully or just got lucky: for backstroke lovers, turn your back to the sun and you start with a lovely mix of gum trees and palm trees – a classic Aussie outdoor pool view. But as you get to halfway along the lap, Mount Keira starts to appear and as you approach the end of the length the mountain is in full view behind those trees, so don't get mesmerised by it and miss the bunting marking the 5m point so you know to stop swimming before banging your head at the end…
At the other end of the pool is a towering eucalyptus tree that must provide swimmers some respite from the baking sun on midsummer mornings. For my early September morning swim, it was almost chilly under the shade of this gum but I think in a few weeks' time I'd be appreciative of the protection its great spindly branches give.
This pool is open to the general public at a slightly higher cost than the students or staff and if I lived just a few miles nearer I reckon I'd be swimming here a lot.
It's nice also to wander past all the other sports grounds on the site. Partly it brings back memories of exploits and fun had far too many years ago, but also gets me thinking I still have my squash racquet somewhere buried in the garage. Hey I have only played once in 24 years, but if the body is still fit, why not??
I also liked the dramatic way the pool depth changes as you swim the lap. About 20m into your swim, the pool floor suddenly dips from 1.2m to 1.8m and then a few metres further it slides away again to an impressive 2.4m. It does always feel different with all that volume of water sliding by underneath – all that's missing these days is the diving board.
Not a lot of chit chat here. I got the impression this pool was being used by students as a pre 9am lecture warm up, with maybe a couple of outsiders like myself dropping in as the morning progressed.
Getting there, getting in, getting changed
To park on the University of Wollongong campus, you need to go into the car park just behind the Aquatic Centre, so take the road immediately past the centre on your right if you approach directly off the Princes Highway. Cost is a couple of dollars an hour. There is a free shuttle bus from Wollongong CBD that runs right past the pool, though.
Changing rooms – nothing much to say. Water a bit too hot, maybe, so watch for scalding.
They have the lane 'ropes' right up against lane 8 so there's bizarrely no way to get in on the far side of the pool where I'd chosen to do my laps. There is a disabled lift and steps into the pool at both ends and half way along the pool's length.
Other practical points
$5.50 entrance fee for the general public; $4.50 if you are a student at the college next door or you work on the campus; $3.50 if you study at the UOW.
Open all year round (but they do close for a few weeks each winter for overall maintenance so ring to check if it's that time of year)
History and stories of the pool
I haven't really found any articles of clippings of information on past teams or star swimmers who may have trained here. If any past or present University of Wollongong people know of any nice stories, do get in touch…
People I met in the pool
This was a wonderfully relaxing swim, but actually nobody seemed to be the chatting after a swim type so I just went on my way in search of my post swim coffee…
What's your story? Any memories of swimming here? Any stories to tell? Or did you just have swimming lessons in days gone by?
Whatever you have to say, however brief, I'd love to hear from you and will add any stories to this section of the site as and when I receive them.  Add your comment or story under 'Leave a Reply' below.
Links to other articles on this pool
This is more a promotional video for the whole URAC Centre but it begins and ends with footage of the swimming pool at the University of Wollongong.
This is more a guide for students on facilities on the whole University of Wollongong campus, but includes a couple of good tips on avoiding busier times here.
Coffee, tea or milkshake after the swim?
It's worth the ten minute walk west through the campus to get the best coffee at the University of Wollongong campus.
Espresso Warriors – Right at the western end of the University of Wollongong campus near the Early Start Discovery Space
Open Monday – Friday 7.30am – 5pm
Weekends 9am – 4pm
Espresso Warriors reviewed by the Fancy a Cuppa website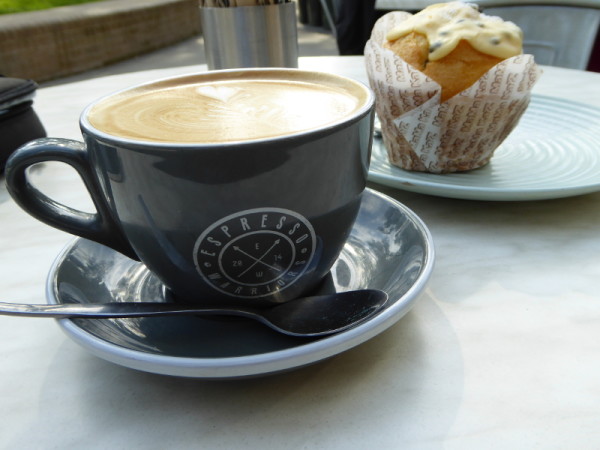 Sit in the shade of yet more gum trees and sip on the excellent coffee roasted by Double Mac Roasters in Marrickville. They have a single origin on offer if that's tickles your fancy. I went for a medium (size) flat white which was amply big enough – I wonder how close to Starbucks sizing their 'large' is?
Loose leaf teas available too from a company I hadn't yet heard of: Silver Tip. Looked good, though.
This place is also popular with students for its food. Cake was all I needed of course and the passion fruit muffin was delish: one of about 5 different muffins on offer that morning