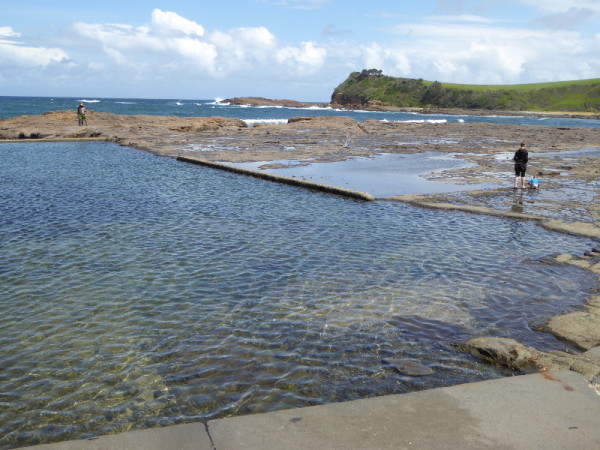 Gerringong Boat Harbour Rock Pool
"Where the mountains meet the sea"
My experience in the rock pool
I was here at low tide on a sunny, but windy day in January. Water temperature was perfect for just stepping straight in. It's a bit shallow to swim immediately as the slow slope down from the pool edge takes you only gradually up to knee depth of water.
But it's a nice 50m pool once you're in so it's a good length for doing approximate laps and there were a couple of others pounding away at freestyle as I did my leisurely mix of back stroke, breaststroke and freestyle.
This place has a rock pool feel to it, with fish swimming around below you (only small fish, mind), sea weed in the middle of the pool and the far side wall a great spot to pause and take in the surf views, though this would be a different experience at high tide, especially on a rough day (which I haven't yet had here).
Great pool also to lay back and just look at the rolling, green hills nearby. You can see how Gerringong got its motto about mountains and sea…
Getting there, getting in, getting changed
Follow the boat harbour signposts from the centre of the village it's about 1km from the main street to the harbour. There are a few parking spaces right by the harbour edge and if they're full, there's a larger car park just one level higher. You then have to take the 100 metres or so path way that winds its way round the cliff to the rock pool, which is only just visible from the car park.
At the shallow end against the cliff there is a gently sloping walkway into the pool, but the water is shallow enough at that end also just to step over the low wall and get in!
There is a bench at the end of the pool under the cliff, and some concrete steps leading up to what may once have been a viewing or changing area (presumably when this was the ladies' pool). But getting changed now involves a 100 metre walk back along the path to near the carpark. Cold showers available in the changing room/toilets.
Tidal differences
At high tide, on a calm day, it's great to let the waves wash over you at the sea end of the pool; probably not advisable during a storm, mind you!
At low tide, there are great views of the surf rushing in, but at a good, safe distance, and you can swim without disturbance from the waves.
Other practical points
History and stories of the pool
110 years ago this was the local ladies' pool. The men's equivalent was on the other side of the same bay, but apparently men used to invade this pool because theirs was too vulnerable to the heavy seas and often filled with tangled seaweed. So, in the end the local authorities here agreed to make the pool open to both genders, as it is still today. The men's pool is still just visible across the bay, but it has been largely retaken by the tides now.
In 2011, the pool was closed for a long stretch because of a whale that got beached on the rocks nearby and died.
What's your story? Any memories of swimming here? Any stories to tell? Or did you just have swimming lessons in the cold of winter in the 1960s?
Whatever you have to say, however brief, I'd love to hear from you and will add any stories to this section of the site as and when I receive them.  Add your comment or story under 'Leave a Reply' below.
Links to other articles on this pool
The Illawarra Mercury ran a piece on Gerringong boat harbour as part of it 2014 series.
Swimming blogger Therese came in 2011 and wrote about four swimming spots around Gerringong.
Swimming blogger Sally came here in 2009 – some nice pics here.
Coffee, tea or milkshake after the swim?
You have to go back up to Gerringong for a cuppa after your swim. You're spoilt for choice there. I have three favourites, depending on my mood and what I fancy…
For coffee?
Blue Espresso Bar
Belinda Street, Gerringong
Blue Espresso Bar reviewed by Fancy a Cuppa website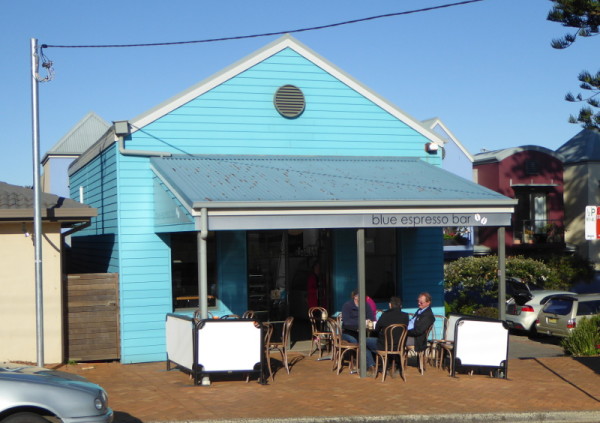 Open daily at 7.00am (closes at 4.00pm)
This is my favourite place for coffee in Gerringong. You'll get great coffee roasted by an upcoming Canberra-based roaster, a good range of coffee roasts to choose from and a warm welcome from the two ladies who took over running this place in 2017. Nice cakes too.
For  a locally-roasted coffee?
Gerringong Deli & Café
Fern Street, Gerringong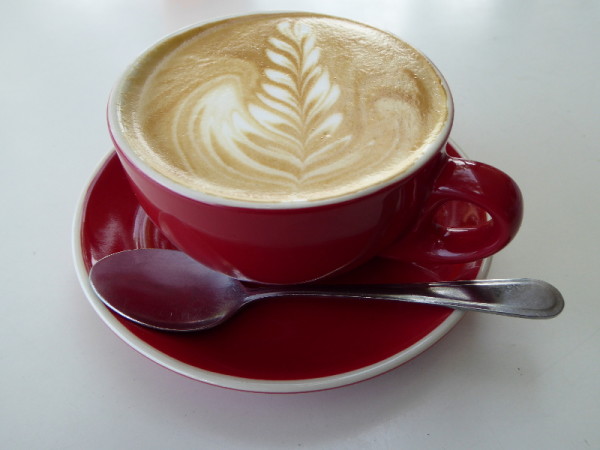 Open daily 8am – 5pm (but kitchen closes at 4pm)
Good coffee roasted in Gerringong by 'Daily Grind' and some great banana breads to go with it. They have the standard Werri Blend, which doesn't change from day to day; or you can choose a single origin each week for something a bit special. Lots of space inside if the weather is not good.