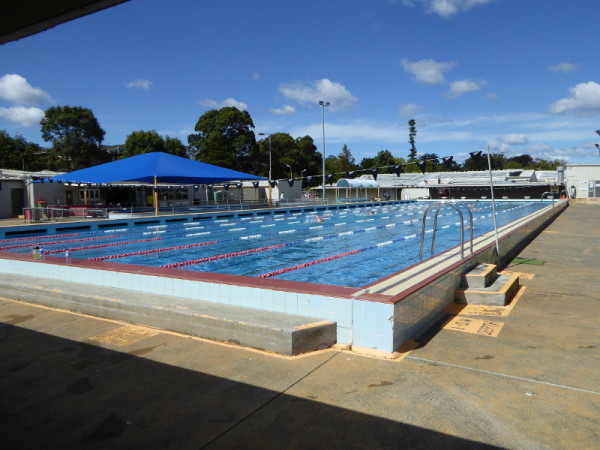 Named after an Earl's estate in County Armagh
My experience in the pool
It's that time of year in Australia when you need to get to your swimming destination in good time to beat the class-loads of kids arriving for their spring and summer term swimming squads and comps. At Gosford Swimming Pool, I just made it before coach loads of teenagers arrived looking efficient with stop watches and tote bags, and I guess they were about to take over at least half the Olympic Pool here, but I had just finished my laps when the first crowd huddled by the pool at the shallow end.
It's true for an Aussie the weather is still a bit wintry, being barely above 15C air temperature, but Gosford Olympic Pool is open all year round, and the lady at reception said it's quite romantic on cold wintry mornings when the water (usually 26C) is steaming in the cold air.
It wasn't that chilly when I set out on my 20 laps but when the sun disappeared behind the clouds, there was a bit of a nip in the air on my back as I did my freestyle.
Actually Gosford Swimming Pool was busy, and I had to share my lane even though it was about 10am on a Friday morning when I turned up. And as regular readers will know, sharing a lane means no backstroke for me (at least until I get lessons in keeping a straight line on my back). With one lap to go I did spot that the next lane was free so nipped under the lane ropes to try one lap of backstroke.
Actually, there are no breath-taking views of tall trees around Gosford Pool, so the only value really is in balancing the body out and not over-exerting one set of muscles.
It's a bit of a shame there are no great views. The pool is only a few metres from the lovely Brisbane Water. And in places like Drummoyne or Cabarita in Sydney, that would have meant salty water in the pool, too, which is always more pleasurable to swim in.
This felt like quite a workmanlike pool, with three young lads doing some sort of fitness training involving fast laps interspersed with runs around the pool complex. Other guys were clearly on some sort of rehab regime. And the only others doing leisurely laps like me were a couple of ladies who minded their own business and just got on with their swim. So no great community feel, though clearly a well-used community resource.
There's nothing remarkable that struck me about the pool itself, though the shallow end at just 1m meant I'd probably be disqualified in any competition as my long fingers scraped the bottom a couple of times at the ends of laps.
The changing rooms are those roofless spaces – at least no cover between the toilets, showers and change area so in midwinter it must be a bit nippy moving across the area. At least the showers had piping hot water, though the plumbing felt a bit as though it may not have been renewed since the pool was built in the 1950s.
So no chats with older folk who have been swimming here for decades, but from my pre-swim research I rather liked the philosophy of the people who had the pool built in the first place: read the history section for more on that…
Getting there, getting in, getting changed
It's a ten minute walk from Gosford Train Station and there are lots of bus routes that stop right by the pool too. Parking just on the town side of the pool by the water.
No easy access here. I jumped in at the shallow end to avoid ducking under the lane ropes. The steps out of the pool are at least ledges so you don't have to feel your way up on narrow steps that are sometimes in pools of this generation.
Changing rooms have that old feel but somehow quaint. You are under cover where you change, where you shower and where you go to the toilet, but move between these three areas and you are out in the open. I guess you'll be getting wet anyway so who cares if it rains, but on a cold winter's morning, brrrrr.
Showers have hot water, but the flow is a bit of a jet stream and can get very hot so beware.
Other practical points
$6.20 entrance fee.
50m Olympic Pool open all year round with toddlers pool next to it (open only in summer).
1m at the shallow end and 1.8m at the deep.
History and stories of the pool
In 1954 when Gosford Olympic Pool was built, they had the rather innovative idea in difficult economic times (though I thought the 50s were booming) of building in 8 stages as and when funds became available. The aim was to get people in the water swimming as soon as possible and adding things like wading pools, diving pool, admin block and filtration systems later. I kind of like this philosophy – it's surely something we could learn from in hard-pressed 21st century, where projects only seem to get approved when they are perfect, so you get lots of 21st century pool facilities. But then these days, it's all about making money in the swimming pool business rather than trying to get people fit and active…So Gosford Pool opened to the public in 1955, but other buildings and facilities were added piecemeal in subsequent years.
See also the link below for encouraging reports on the local campaign to save Gosford Pool in 2009 when plans were afoot to try to develop the land with blocks of flats (they call them units over here). Congratulations to the community on winning that battle!
People I met in the pool
On the morning I was at Gosford Swimming Pool, it felt very workmanlike, not to mention the coachloads of school kids arriving as I finished, so just not the place for casual chats with other swimmers this time.
What's your story? Any memories of swimming here? Any stories to tell? Or did you just have swimming lessons in days gone by?
Whatever you have to say, however brief, I'd love to hear from you and will add any stories to this section of the site as and when I receive them.  Add your comment or story under 'Leave a Reply' below.
Links to other articles on this pool
I rather liked this post from a Newcastle University student who enjoys doing laps at Gosford Olympic Pool
This blog was set up for the 2009 campaign to save Gosford Pool. It has interesting stories on the history of the pool too.
Coffee, tea or milkshake after the swim?
For your post swim coffee, I highly recommend heading East, that is away from the centre of Gosford itself. It's just under a mile to get to …
Ooomph Café & Foodstore – (yes it really is with 3 'o's) – 26a Adelaide Street, East Gosford, NSW 2250
Open Monday – Friday 7am – 6pm; Weekends 7am – 4pm
Ooomph reviewed by the Fancy a Cuppa website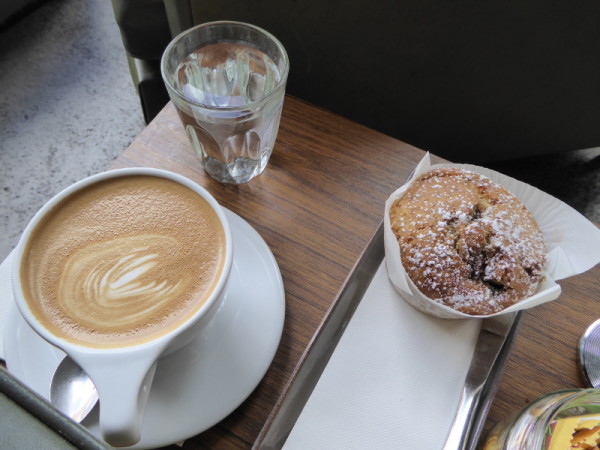 I'd never really found good coffee in Gosford on my previous visits. There are some OK places in the centre of town, but head east and you will get what  think now is the best coffee in Gosford.
This neighbourhood coffee shop down a back lane off Adelaide Street is a real locals place, but well worth the search to find it. Excellent coffee from Pablo & Rustys, the really good loose leaf teas from Ovvio, but best of all were the cakes! Much needed after a good swim and then a walk, there orange and chocolate muffins were so good I decided to skip lunch and have two, and best of all they are made from oranges grown locally (and sold by the big bag at Ooomph, too!).