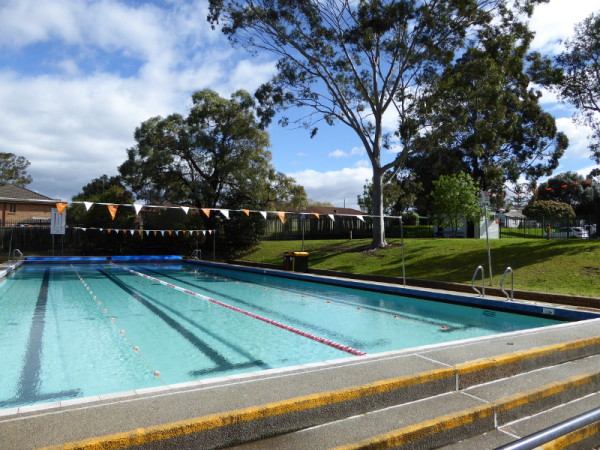 Named after the Earl of Guilford, though he never had a second 'd' in his name…
My experience in the pool
Guildford Swimming Centre's outdoor pool is not the kind of place you're likely to find Australia's next generation of Olympic champions working out. It's a bit of a miniature pool, being about half the size of your typical Aussie outdoor pool at 25m in length, with only 4 lanes and barely reaching 1.5m at its deepest point.
I liked it though. Not least, because of the magnificent gum tree towering over half the pool, providing a good area of shade even on this early spring morning.
With air temperatures just tickling the 20C mark, the warm sun on my back was still welcome, while the shade from that tree shocked my head first and my body seconds later as I headed north on each alternate lap. But in mid summer, this enormous eucalyptus must be welcome to most swimmers as its leggy branches will give people a rest from those rays.
It's a quirky little place, this pool in Sydney's Little Lebanon of Guildford. If I had turned up a week earlier, there might have been a big debate about whether or not I could go into the outdoor pool at all: if the air temperature stays below 20C in the winter months, the outdoor pool stays closed.
I know these temperature restrictions from frustrating summer's days in South Australia, when you can be basking in 25C in the sun and they won't let you in the outdoor pools, even if lifeguards are on duty! The 20C rule in winter is probably more due to economics than some bizarre health & safety rule, but I was glad it was September…just.
Maybe some sports scientist can help me here too: the lifeguard at Guildford swimming centre reckoned the outdoor pool was 25m long, but my stroke count was 3 or 4 less than I would normally need for a 25m lap of freestyle. So should I just give myself a break, as the friendly lifeguard suggested, or is it actually easier to swim in more enclosed and shallower water? Or is Guildford's outdoor pool actually nearer 20m or 22m?
Since the complex was only built in 1973 and Australia was well and truly decimalised by then, I think it's unlikely to be a 22m pool, and I guess it doesn't really matter anyway: let's just say I swam my usual 1km with 40 laps of the pool here, putting in lots more backstroke than I would normally because I had the pool to myself for most of my laps, but also because of the views of the lovely gums.
Getting there, getting in, getting changed
For once I drove to this pool. I parked at Guildford train station, though, once I realised that to get across the railway line would mean a 2 mile detour to get to the pool. It's a 10 minute walk from Guildford train station.
The depth at both ends of the pool is marked as 1m, but it is surely more like the 1.35m marked on the posts by the pool. Just be aware of that if you slide in off the side as I did because the only other option for getting in were those awkward steps that allow you just a toenail hold and are clumsy to use getting out, let alone into the water.
Nothing remarkable about the changing rooms. Welcome warm showers with no charge for the warm water.
Other practical points
$6 entrance fee for 2016-17
25m outdoor pool.
There is a toddlers' paddling pool but presumably this is only open in summer. The indoor pool is certainly open all year and the outdoor pool is supposed to be an all year round facility too, but just be aware of that 20C cut off temp for opening up during winter months.
History and stories of the pool
Local press articles from 1970 suggest the Council hoped initially to build an 8-lane Olympic pool and a learners' pool. So I wonder what happened? Did the Olympic Pool get buried under the indoor facility or did they decide to start off with just the smaller 'learner's' pool and ditch the Olympic pool idea? Anyone know?
People I met in the pool
Nobody to talk to here, apart from the lifeguard who was safely inside in the warm. There was a sprinkling of other users around the centre, though. A real reflection of the cultural mix in Guildford, though remembering what they told me in one of my recent pools, I'm guessing the local Arab population only come out to swim in real summer months.
What's your story? Any memories of swimming here? Any stories to tell? Or did you just have swimming lessons in days gone by?
Whatever you have to say, however brief, I'd love to hear from you and will add any stories to this section of the site as and when I receive them.  Add your comment or story under 'Leave a Reply' below.
Links to other articles on this pool
I found no other articles about Guildford Swimming Centre, though the pool gets a mention in the entry for Granville Pool on Therese's Swimming Pool Stories website
Coffee, tea or milkshake after the swim?
Given Guildford's ethnic mix, it was appropriate that I found a coffee shop run by a really friendly Afghan guy. His coffee shop is right opposite Guildford train station – on the pool side of the track, so nearer the pool than most of the other cafés in Guildford.
Coffee House – 131A Military Road, Guildford, NSW 2161
Open Daily 5.30am – 4pm
Coffee House reviewed by the Fancy a Cuppa website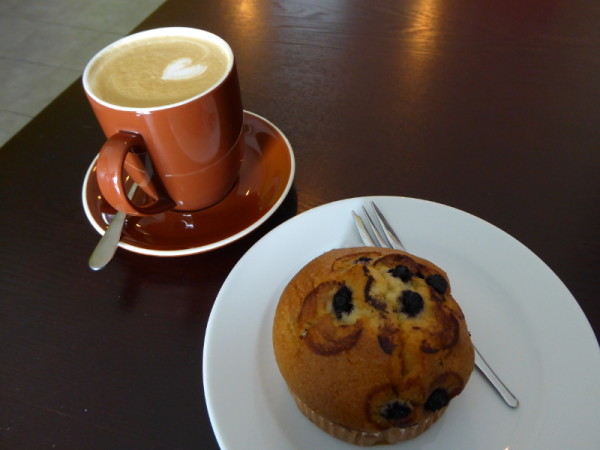 This is no fancy eastern suburbs third wave coffee shop, but the coffee was a decent brew and whoever roasts it for The Coffee House packages it in nice-looking bags branded just for this coffee shop. They also do a good little selection of teas from a company I hadn't come across before called Diva. Freshly-baked muffins filled that gap in the stomach after my 1km swim. Ali is a really friendly guy. We chatted briefly about that novel written about a coffee shop in Kabul and about his initial dreams of opening up in Melbourne. But for coffee in Guildford NSW, I would say this is the place to go, especially given that it did not come up in my Google search when I tried looking for coffee shops in Guildford!