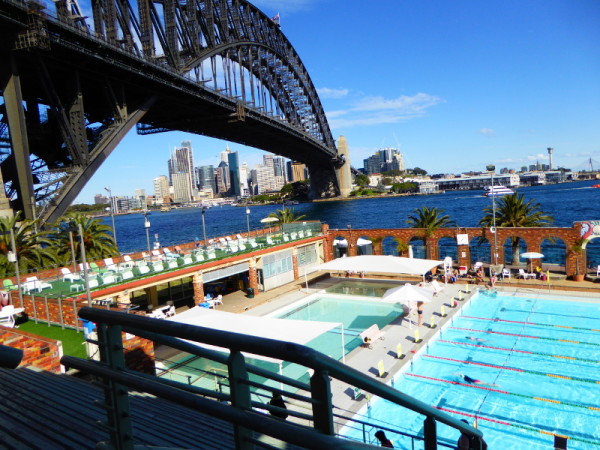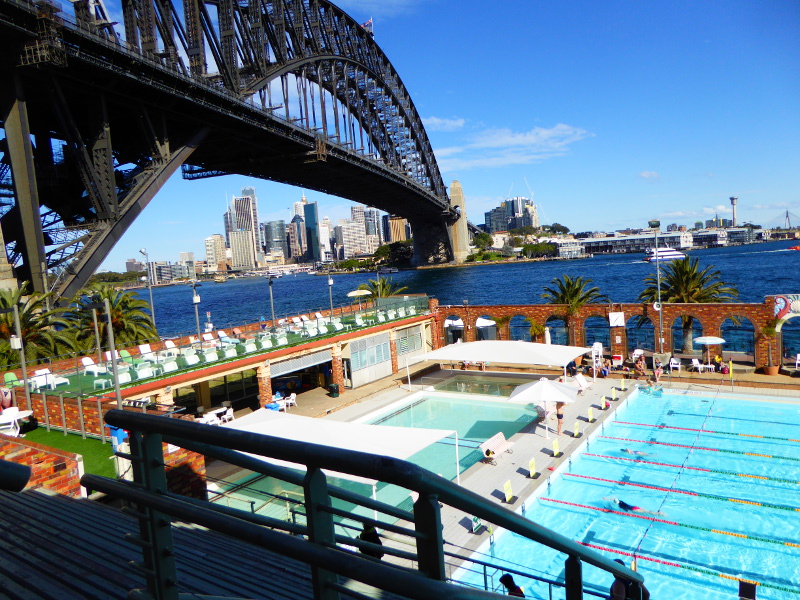 Surely the best views in the world for a swim: Sydney Harbour Bridge & Luna Park entrance
My experience in the pool
My first visit here was after work time on a hot, summer's day in January. The pool was heaving with bodies ploughing up and down the lanes, though they always a keep one wider lane free for fun swims, so the kids tend to go in there.
Don't forget, this is a salt water pool (I overheard one child complain to his Mum: "It's too salty"), though it has all the appearances of a normal 50m Olympic pool you'd find anywhere inland…Except, of course you have those great views of the Sydney Harbour Bridge at one end and the Luna Park entrance at the other.
For my second visit – on a bright winter's day on a Sunday mid-morning – the pool was very quiet. I even had one lane to myself for a couple of laps, allowing me to do one length of back stroke staring up at the Harbour Bridge, such a wonderful experience that I almost wished the pool had been 100m long.
Of course, it used to be a little bit longer, since it was built for the 1938 Empire Games, when the 'Olympic' size was in yards rather than metres, so they shortened it in 1964 to adapt to modern days.
There's a lovely gallery showing the history of the pool round the back of the changing room area by the pool – more on that in the 'Stories' section.
The pool lanes are very organised – there's even a pool etiquette leaflet – and if you choose one of the slow lanes, note that one might say 'no freestyle', while the other may have 'no breaststroke' – so beware what you're planning on doing. And quite a few people were dipping under the lane dividers to switch lane in mid-swim.
I love this place, though. From the cockatoo carvings on the wall, through the glass viewing windows out to the harbour as well as the pure delight of the water in the sunshine. My favourite Sydney swimming pool.
Getting there, getting in, getting changed
The pool sits right under the Harbour Bridge. Nearest station is Milsons Point, which is a five minute walk away. It's only 20 minutes' walk from the other side of the Harbour and The Rocks so on a good day, it can really round off a Sydney outing.
From the entrance area, to get to the Olympic pool outside, you have to clamber down the steepish steps of the old spectator area, which looks over the pool. On busy days, it's easiest just to slide down into the lane you choose at the shallow end, but there are steps in at either side.
Big changing rooms, but note that if you want a warm shower, you need to buy a token in advance on the way into the complex (50c). There are beautiful old cubicles, but all with coded locks – these are apparently hired out on an annual basis, coming up for renewal at the end of every tax year (end of June). Current holders have first refusal and I'm told they rarely change hands. They look almost as priceless as those Edwardian beach huts at popular resorts back in the UK.
Other practical points
There is an indoor pool, but who wants to use that? There's also a smaller paddling pool.
Deep end is 3.8m
History and stories of the pool
Built in 1936-7 in what must have been an amazingly exciting period to live in Sydney (Harbour Bridge built in 1932, Luna Park opened in 1935). It was built as part of a project to help people find work after the Depression in 1936. It was originally known as The Wonder Pool, and must have been a fantastic setting for the 1938 Empire Games.
The slight shortening for new Olympic measurements in 1964 wouldn't have bothered me too much. But what a shame the high diving board (which appears on many of the posters in the history gallery) was removed in 1970, and even more of a shame that the deep end was brought from over 5m to its present day 3.8m in 1980.
I am rather glad they began to heat the pool in 1972, though.
I loved the 1956 photo in the gallery showing the pool full of people basically out for a day's fun in the water, a far cry from  today's serious lap swimmers (and lane etiquette leaflet).
Don't miss also the Honour Roll of World Records made in the North Sydney Olympic Pool, and get a sense of the really great swimmers who have been here before you.
…
What's your story? Any memories of swimming here? Any stories to tell? Or did you just have swimming lessons in the cold of winter in the 1960s?
Whatever you have to say, however brief, I'd love to hear from you and will add any stories to this section of the site as and when I receive them.  Add your comment or story under 'Leave a Reply' below.
Links to other articles on this pool
Swimming blogger Therese had an extraordinary 20 year gap before returning to the Wonder Pool in 2009.
Swimming blogger Seana took her kids along.
Kiwi Angelica shows that some people do choose the indoor pool…
I rather like this blog of a Mum whose son was taking part in the swimming carnival here
And this pool has its own Facebook page, too, though it hasn't been updated for a while
Coffee, tea or milkshake after the swim?
There is a kiosk at the pool side selling a decent coffee, so you may well be tempted to sit around and watch the others working out after you've done your bit.
But I think it's worth going the extra half mile (or less) back to Milsons Point Train Station for:
Ricky's Café under the Bridge – Ennis Road, Milson Point
Open daily from early breakfast to late lunch
There's always been a queue here for coffee when I've come by early in the morning. No surprise as Ricky is there every day at the espresso machine. He uses the lovely Allpress Coffee and he knows all his regulars once they've been there a couple of times. Lovely decor too, and some nice banana breads to go with the coffee.