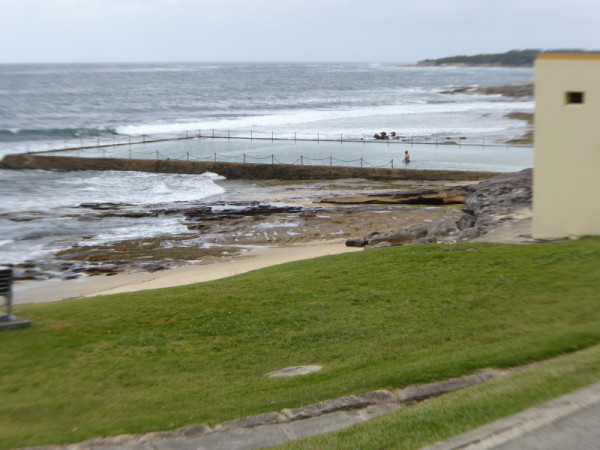 Home of the Brass Monkeys
My experience in the pool
I don't normally swim on cloudy days while I'm blogging, not because I have some aversion to cloud cover – I'm used to it being from East Yorkshire, and it's probably safer here in Australia – but because ocean pools really are only at their best with blue skies, blue water and a sprinkling of white from the surf.
There was none of those at Shelly Beach Rock Pool when I pitched up on an early December morning, but that clearly didn't deter locals and a handful of people were in the water doing their laps.
Like its neighbour down at Oak Park, this is a rock pool that merges into the beach, so you enter on the sand and gradually wade deeper. With the pool temperature at a brisk 18C, though, the guy getting out as I waded in was pushing me to dive straight in and get swimming. The thing is, though that 18C is still comfortable for me so I didn't rush.
Once in, this is a lovely pool, too. It must be about 30m wide and most people seem to do widths rather than lengths since those end up in ankle-deep water on the beach! There's a nice flow of the tide through the pool, so the water feels fresh and clean, with clumps of seaweed on the pool floor and waves gently lapping over the wall on the ocean side (I was there on an incoming tide but three hours off high point so I guess the waves here submerge the pool wall at high tide).
It's a nice soft, sandy floor and the water is a comfortable depth at around 1.5m, with some uneven patches as rocks sit on the pool floor in places.
On a weekday morning this pool had a good enough number in it to feel like it is well-used by the community, but by no means crowded, with lots of room for me to do my wayward backstroke (though I miraculously kept to a fairly straight line, perhaps due to the pool being shorter than most).
There's a great community feel to Shelly Beach Pool, with the little pavilion for the Brass Monkeys, where you'll also find notes on today's water temperature (Ted's notes), and even a little mention on the poolside shower (installed in 2007) for the local lady who led the campaign to get the shower put in.
Getting there, getting in, getting changed
Shelly Beach is about 15 minutes' walk from Cronulla Station, or slightly longer if you choose the more scenic route along the promenade.
Good to see a disabled ramp heading straight into the water; a rare sight indeed. Everybody else enters via the beach and there are no steps at the deep end. In fact the chain fence around the edge is one of those that stops you from walking round the walls of the pool, which is a bit of a shame.
There is a shower by the poolside. It's then 50m up to the Brass Monkeys shelter, and I think some of the Brass Monkeys might change in there (good towelling techniques needed – no privacy there); or it's up the 100m to the Shelly Beach Pavilion, where there are showers and a changing area (covered in the men's, unlike at neighbouring Oak Park).
Tidal differences
I was there three hours off high tide and it was perfect. But I can imagine that this pool is usable in all tides. It just might be a bit dodgy in a storm swell, but I'm happy to bow to locals' knowledge if anybody cares to add some in the comments below…
History and stories of the pool
Residents built the initial pool at Shelly Beach in the early 1900s, but it only became a formalised ocean baths when the walls were put in under the very useful Unemployment Benefit Scheme in the 1930s.
There's a real community feel to this pool. Don't miss the Brass Monkeys shed, where Ted puts up daily water temperature and other social announcements. There are photos of current and past members. There's even a Matriarch of the Brass Monkeys. Now I'd love to meet her one day.
People I met here included
Tony has lived locally for many years and swims in Shelly Beach Pool regularly, though he is not a member of the Brass Monkeys (he's not keen on the 6am start or the cold waters in winter). It's thanks to Tony that I clarified the Nuns' Pool question: yes, the local café (see review below) named itself after the local swimming hole, but Shelly Beach Pool is not the same spot; no, 100m north towards Cronulla is a now disused rock pool which used to be directly below the local convent (now a nursing home). You can just see the outline up the coast, and that apparently was the Nuns' Pool.
What's your story? Any memories of swimming here? Any stories to tell? Or did you just have swimming lessons in days gone by?
Whatever you have to say, however brief, I'd love to hear from you and will add any stories to this section of the site as and when I receive them.  Add your comment or story under 'Leave a Reply' below.
Links to other articles on this pool
Fellow blogger Seana's Sydney kids website came here in 2012
The Post Card Sydney site has featured Shelly Beach rock pool
Coffee, tea or milkshake after the swim?
If you fancy a milk shake and traditional salad sandwich, don't miss Shelly Park Shop, which I reviewed for the Oak Park Pool. But for top quality coffee and cake…
The Nuns' Pool, 103 Ewos Parade, Shelly Park, Cronulla
Closed Mondays. Open Tuesday – Sunday 8am – 3pm
The Nuns' Pool reviewed by the Fancy a Cuppa website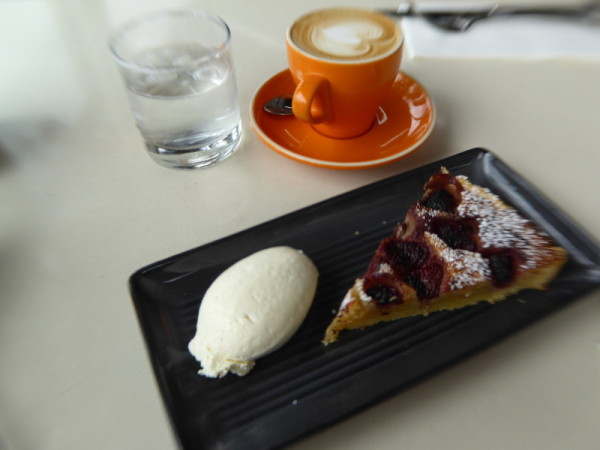 This place has more the look of a posh restaurant than my normal coffee shop haunts. But it's worth climbing the steps up to the terrace and taking a seat looking out over the park and ocean beyond. The coffee here is excellent, from Bassett roasters. They have a single origin on offer if you like your coffee black, but the milk-based coffees come with a house blend, which is pretty good anyway (I just wish we flat white drinkers could also benefit from the single origins sometimes too). They change the single origin on a weekly basis too, which makes me even more envious. The cakes are baked in-house and fresh every morning: I had a delicious strawberry frangipani with fresh cream. No need for lunch after that plateful – delicious.