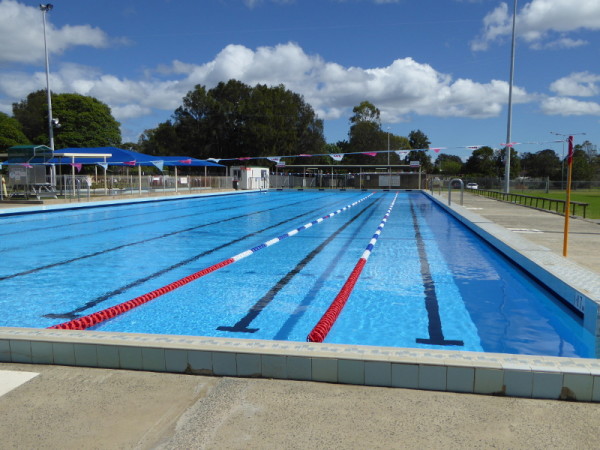 Only open 5 months of the year
My experience in the pool
I first swam here before I knew that this blog would end up covering freshwater outdoor pools as well as ocean pools. That was towards the end of the 'season' – Warilla Pool closes for seven months of the year. But I needed to come back to review the place, and I jumped at the opportunity when I got a message from fellow swim blogger – Kenton who writes 1000pools.com – to say he'd be down in Warilla and did I want to join him.
It's always good to cross lanes with other swimmers so I got back in the water only a day after my North Curl Curl swim to join Kenton in the only lane open to the public while school lessons were going on for lots of local kids in the other parts of the pool.
It was a warm morning building up towards a high of 35C. That and tired muscles from the previous day's swim meant I limited my swim to just 10 laps. This is a nice pool, though, and although some of the fittings are little tired, it seems clean and friendly. I just hope the local community rallies around Warilla Pool to keep it open, as the local Shellharbour Council flagged it up as a facility in line for closure as part of a money-saving exercise.
There was no shortage of bodies in the water while we did our laps, with all the school kids getting their summer swimming lessons. There are no frills to Warilla Pool, but I like the place for its simplicity and I'll try to get back here again before the summer's out.
Getting there, getting in, getting changed
It's only a few minutes' walk to the main intersection where cars turn towards Shellharbour, Oak Flats or Warrawong, so very easy to get to with lots of buses also passing close by.
Nothing particular about the steps and stairs in to this pool. Just be aware that the deep end is nearer to the entrance, which somehow feels counter-intuitive.
The lifeguards sent me to the family room to get changed so that I wasn't having to mix in with the hundreds of excitable school kids in the main changing rooms. That did mean I missed my notes on the facilities, but I seem to remember them having warm showers.
Other practical points
Entry fee $4 in 2015.
Open November to March only
History and stories of the pool
I have found no stories about Warilla Pool. If anybody has any, I'd love to hear them.
People I met in the pool
I was pleased to share the lanes with Kenton, who had this week introduced me to his fantastic blog and website, in which he logs all the pools he swims in the world over, as he swims his way towards his target of swimming 1000 metres in 1000 pools. He's in no rush but he's already approaching 400! You can follow his progress at 1000pools.com
What's your story? Any memories of swimming here? Any stories to tell? Or did you just have swimming lessons in days gone by?
Whatever you have to say, however brief, I'd love to hear from you and will add any stories to this section of the site as and when I receive them.  Add your comment or story under 'Leave a Reply' below.
Links to other articles on this pool
I found no other online stories or articles on this pool. There was just a discussion on the local newspaper website the Illawarra Mercury, when the Council last suggested price increases and potential closure of the pool in 2013.
What struck me though, as an avid searcher for online resources, is that when I typed in the words 'Warilla Olympic Pool' into a Google search engine, I was sent first to Oak Flats Pool – a sign of things to come, maybe?
Coffee, tea or milkshake after the swim?
You need to go back to the main intersection for Warilla's small set of shops, and there is a bakery which does rather good cakes and reasonable coffee…
Café on George at RJ's Bakery – 17A George Street, Warilla
Open Mon-Fri plus Saturday mornings till 1pm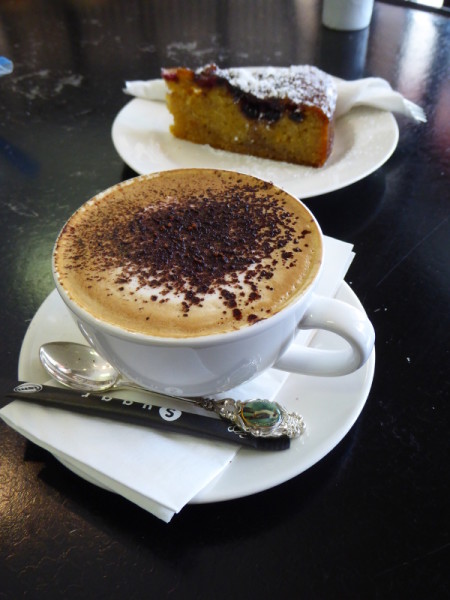 It's not a third wave espresso bar, but it's the best coffee in Warilla in my view. I've been here twice now, with my second cup actually being very overheated (so you might want to ask them to tone down the heat a bit to avoid scalded tongue). But once it cools, the coffee is decent enough not to be ruined by burning. They do rather good pies here too, as it's basically a bakery, so don't miss some of the cakes and pastries to go with your post swim coffee.