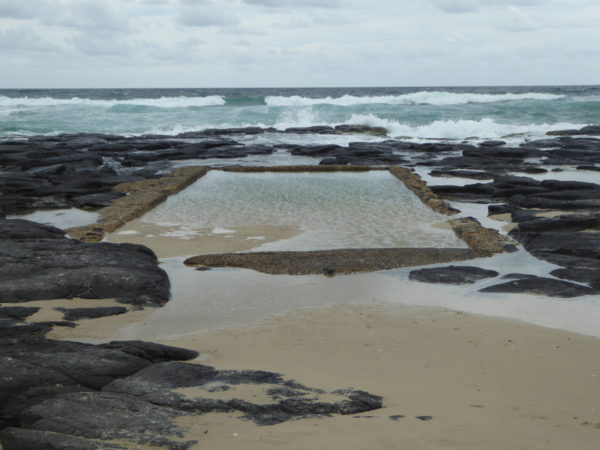 Ballina probably has both Irish and Aboriginal connections linguistically
My experience in the pool
Ballina Information Centre at first shook their heads when I asked about the whereabouts of the ocean pool in town. "Well, there's a local campaign to have a new ocean pool built in Ballina," they said, "but there isn't one yet".. When I pressed them and mentioned a wading pool, they still looked bemused, but finally a face lit up and one lady talked of the children's pool, 'but it's tiny and the water is only knee-deep,' she said.
When we drove over to Ballina East and parked up by Shelly Beach, we spotted a little walled area on the rock platform that clearly was the pool. It really looked tiny, and from the top of the cliff it looked as if it was full of sand, with the water maybe ankle deep.
Still, anti-climax though this might have been, we were determined to give it a go, especially as this was the last of my real ocean pools on the quest I began almost three years ago.
We changed into bathers and made our way down to the rock platform and the pool, which is truly only about 10m long and perhaps 3m wide. At the 'shallow' end, it is indeed filled with sand to such an extent that there is really no water to paddle in even.
But go a few steps further and the water did become a pleasant depth, just above my knee and well up Anita's thigh. It's not a swimming pool as such, but it is a delightful spot, where you can lie back and watch the waves come in beyond the little low wall or peer back up to the beachside path and wave at passers-by as you loll around in the water.
On a hot day in Ballina, this must actually be a delightful place to cool off, and a lovely safe place for fairly small kids to play in the water.
We were there half way between tides and it seemed perfect. I think at high tide the pool is completely covered and probably not even visible under the waves. So if it is high tide, you need to find the spot on Shelly Beach just level with the toilets and the little rock pool is built into the rock there.
It was a joyous moment for me as it marks the culmination of my journey to swim (or at least get into the water somehow or other) in all the NSW ocean pools. We celebrated with a smiling selfie with those ocean waves rolling in behind us.
There are still a few netted enclosures I want to swim in, and there are still countless outdoor aquatic centres around the state I have yet to visit. So I can certainly continue to update this site as we go.
Obviously Ballina may gain a new ocean pool, and there is also a campaign in Port Macquarie for another new ocean pool. If those campaigns bear fruit, I'll be back to swim in them. But other that, any new pools from now on will not strictly speaking be ocean pools, so my mapping job is basically done.
I hope you have enjoyed the journey as much as me!
Getting there, getting in, getting changed
Head to Shelly Beach in East Ballina and park up as near to the toilets as you can.
Well, this pool is so small, there aren't too many options. I guess you could jump in from the 'deep end'…
There are showers back up on the beach path and toilets to change in within sight of the pool.
Tidal differences
We were at Ballina Pool between tides and it was clearly visible out on the rock platform. I think it is submerged at high tide.
History and stories about the pool
I didn't find any information online on Ballina Kids Pool so if anybody local can shed any light I'd love to hear from them.
People I met by the pool
We were totally alone on Shelly Beach for our dip, though another guy walking on the rock platform did spend a few minutes staring into the water…without going in!
What's your story? Any memories of swimming here? Any stories to tell? 
Whatever you have to say, however brief, I'd love to hear from you and will add any stories to this section of the site as and when I receive them.  Add your comment or story under 'Leave a Reply' below.
Links to other articles on this pool
I found no links to any other articles on Ballina Wading Pool.
Coffee, tea or milkshake after the swim?
About 200m up the road heading north from the pool is a lovely little neighbourhood coffee shop.
The Belle General Café – 12 Shelly Beach Road, East Ballina, 2478
Open daily 8am-3pm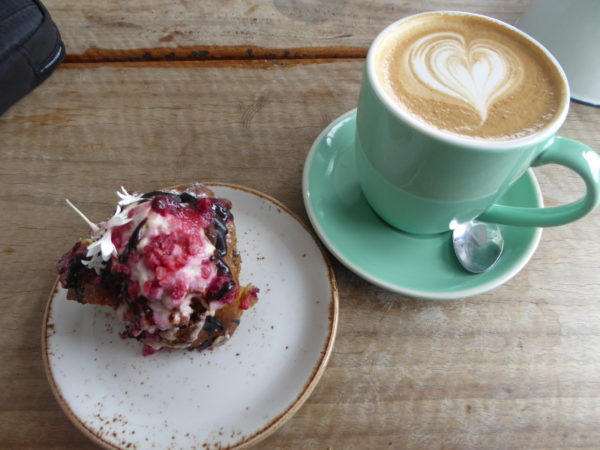 Nice Allpress Coffee, delicious home-baked muffins and just a stone's throw from the beach, though no ocean views from the Belle General. Nice community coffee shop in East Ballina.