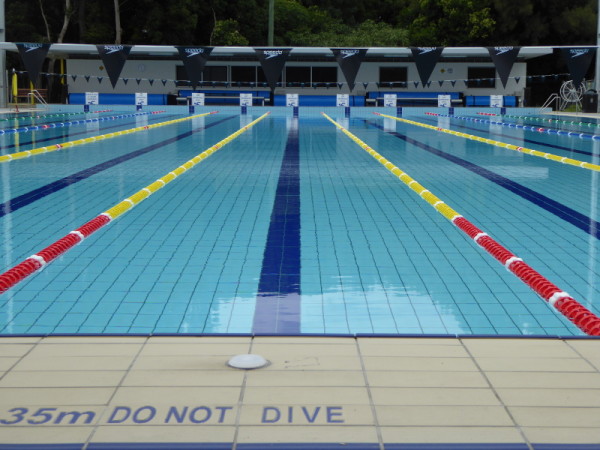 A real 21st century swimming pool
My experience in the pool
Nowra's new state-of-the-art aquatic centre only opened its doors in October 2015 after being closed for complete overhaul for two years. This really feels like the future of outdoor swimming pools, with fun facilities like the kiddies' splash-about area with lots of water spouts and stairs to climb plus the soon-to-be-opened water slide, which should be fun for adults and kids alike.
For me, it was a chance to return to 50m lap swimming after a break of a couple of weeks. There were just three of us in the nine lane Olympic Pool for the whole time I was in the water, which was wonderful on a warm, but cloudy Monday morning.
By the time I left, on the dot of midday, the lunchtime crowd was arriving, and as I chatted to the lifeguards for ten minutes a dozen swimmers must have come past ready for a lunchtime workout. The only other thing there was in great quantity this morning was flies. Yes, as soon as you leave the changing rooms or get out of the water, you're surrounded by the things. The warmth of early summer seems to have brought them out in force this year, but they are particularly annoying around Nowra pool.
Fortunately, when actually doing my laps, I was not aware of them at all, so maybe the pool water itself is not an attraction.
And I do love this new facility right by the Shoalhaven River in Nowra. They even have deck chairs so if you want to sit and watch friends and family rather than getting wet yourself, you can lounge around the poolside or back up against the fence with the river behind you.
The pool is a lovely 1.35m at the shallow end, dropping to 1.85m after about 20m and then keeping the same depth right up to the deep end. There's a handy step at the deep end so you can rest and adjust goggles or whatever else you might need to do.
And there's a wonderful sloping ramp allowing for really easy wheelchair access to this pool; and according to the lifeguards this has proved really popular with wheelchair users in the few weeks the pool has been open.
It's open all year round, too, so I can imagine a return visit when those ocean waters get a bit chilly for my liking.
Getting there, getting in, getting changed
The pool is right by the Shoalhaven River with the main bridge heading north out of Nowra visible from the complex. It's about a ten minute walk from the centre of Nowra, and there's a brand new car park by the pool entrance.
That wonderful ramp makes for easy disabled access. Mind you, it means if you want to walk in that way, it's a bit of a long way round, so I just jumped in because there are no other stairs or steps to get into this pool.
Beautiful changing rooms. I don't often say that, and they aren't the most important thing to me usually, but there's lots of room and lots of warm water in the shower cubicles.
Other practical points
Entry fee $5.20 in 2015/16.
Open all year round
History and stories of the pool
Thanks to the Nowra Swimming Club website for their potted history of the Nowra Pool, which was first built as a river pool with walls around it as a safer alternative to actually swimming in the Shoalhaven River. This pool had a high diving board and its base was a mud floor. But there were safety concerns after a few deaths linked to that pool so a decision was made to build a 50m Olympic Pool that was not just a river baths enclosure.
There's  a great story of the fundraising activities by the Nowra community to raise enough money to get this original Nowra Olympic Pool built in the 1950s. It opened in 1957.
There's less in the history page about the pool's progress and highlights for the following 50 years, but after moves were beaten off to close the whole complex and sell off the land in 2009, the local authorities decided instead to invest in a new swimming centre for Nowra, which opened only a few weeks ago in October 2015.
People I met in the pool
Nobody actually in the pool. The three of us just got on with our laps. But Reggie was on the front desk and a great enthusiast for both of my passions: swimming and coffee. In fact, when I joked about them serving such good coffee at the pool kiosk she'd be needing a barista training course next, she responded quickly that she used to be a barista herself so didn't need any more training (and the coffee she made for me after my swim was very good…). Reggie is as excited about the new facilities as me and clearly has a connection with the regulars who came by while we were chatting. She's particularly enjoying the exclamations of wonder from those that knew the old swimming pool at Nowra…Which reminds me…
What's your story? Any memories of swimming here? Any stories to tell? Or did you just have swimming lessons in days gone by?
Whatever you have to say, however brief, I'd love to hear from you and will add any stories to this section of the site as and when I receive them.  Add your comment or story under 'Leave a Reply' below.
Links to other articles on this pool
It's only a short promo video for the launch of the new pool in 2015 but it gives you a nice perspective on the setting for Nowra Pool.
Swimming with kids blogger Seana went  to the old Olympic pool at Nowra and previews the new facilities too.
Coffee, tea or milkshake after the swim?
Right by the pool itself is a kiosk…
Open Daily when the aquatic centre opens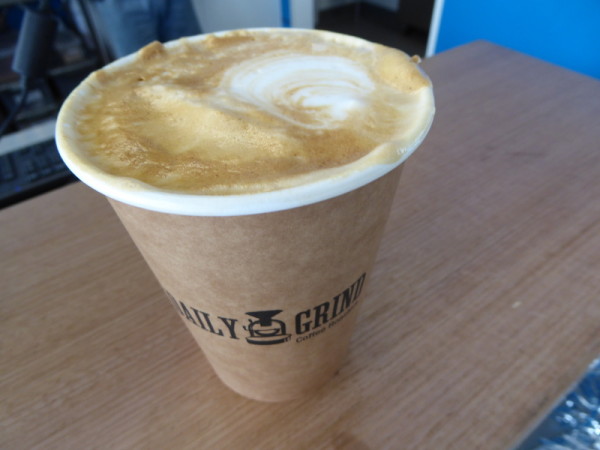 They do the excellent coffee from Daily Grind roasters in Gerringong. And they have two espresso machines in the one kiosk just in case it gets busy. One is by the actual reception desk and one by the window looking out to the pool itself. They've also started doing basic food, mainly nibbles kept in the fridge, but also catering for a light lunch sandwich crowd.
If you want to sit down, though, it's going to be in one of those deck chairs by the entrance and side fence.
The alternative for best coffee in Nowra is to go back into town for my local favourite:
Hyper Hyper – 85 North Street, Nowra
Hyper Hyper reviewed by the Fancy a Cuppa website