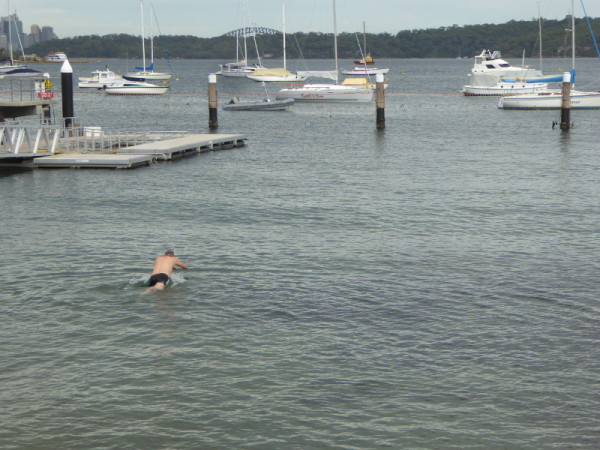 The bay is named after an early 19th century harbour pilot and harbour master
My experience in the pool
Wow, lap swimming in proper Sydney Harbour water with views of the Harbour Bridge just out on the horizon. What a nice spot, Watsons Bay Baths.
This is a great space. It's all very securely shark-netted, it has a 50m laned section, disabled ramp and pontoons to sunbathe on or pause and hold on if you want to catch your brief between laps.
On a warm March morning, there was a trickle of swimmers over the time I was around Watsons Bay, either in the water myself or grabbing a cuppa in the tea room over the road. It was mostly keep-fit retirees, but then it was a Friday morning when most people of my age and younger are slaving away at their desks.
I think I was there on one of the lower tides since there was a bit of beach, and some swimmers were opting to take the slow way in over the sand, testing the water before taking the plunge. Others like me took the very steep stairs down into the water, though you need a head for heights to get into these as the water is some way down, and it's well over head height at 3m or so depth so once you're in, you're well and truly in.
The disabled ramp looked excellent and there were even wheelchairs available (under lock and key, but some sort of system where I assume disabled people have a generic key that fits). It did look a bit slimy, though, so I preferred my long walk down those steps to slip-sliding into the water down that ramp.
Once in you have lots of pontoons to aim for or grab hold of: one set allows for a 30m or so swim, the other – with proper lanes and handles at both ends of the lanes – marked off a 50m stretch. Yes, this is a serious pool, and great facilities for the locals in Watsons Bay. Thank goodness the Watson Bay Baths Working Party got together and made something really beautiful but practical out of the existing structures here.
Water temperature was perfect, probably around 21C; a few fish to watch deep down as you swim freestyle; and nothing but a few leaves to be picked up in the hands as I swam. A real pleasure.
Getting there, getting in, getting changed
Buses to Watsons Bay from the CBD are 324 and 325. There are also regular buses up from Bondi.
Three options for getting into the water: over the sand in via the beach; down that disabled ramp, slippery though it was for my visit; or down various sets of metal stairs that might remind you of getting into or off a larger than average boat or ship if they don't manage to get the landing ramp in place.
One fresh water shower by the baths, and excellent changing rooms next to the tea room across the road. Three showers in those changing rooms, and toilets.
A gate separates the baths and beach from the street, but this does not look as if it gets locked so the Watson Bay Baths look as if they are accessible 24/7. And the shark net looks pretty permanent so not seasonal, like some of the neighbouring baths in Sydney Harbour.
Tidal differences
I don't think tides affect the ability to swim at Watsons Baths. There is a sign about how the new 'lanes' were put in to enable swimming at low tide, but I don't honestly see what difference the tides will make when the water is about 3m deep up by the shark net anyway.
History and stories of the pool
A plaque just on the shoreside of the baths at Watsons Bay tells the story of this harbour pool…
There was a sharkproof public swimming enclosure here as early as 1905. Soap was provided and you could hire swimming costumes, but of course you had to pay (2d a swim or a 1/- a week in 1915) and men and women were swimming at different times. The charges were stopped in the 1970s or 80s, but the lifeguards were also withdrawn, and for a period the baths were underused.
More recently, new funding in 2010 saw a new disabled access ramp, submersible wheelchairs available and a new 50m lane swimming made available in the section nearest the shark net.
People I met here included…
There was only one other swimmer in the water at the same time as me; we exchanged a grunt and a comment on the water temperature, but this is not the kind of pool where you can pause at the end of a lap and stand in shallow water for a breather.
What's your story? Any memories of swimming here? Any stories to tell? Or did you just have swimming lessons in days gone by?
Whatever you have to say, however brief, I'd love to hear from you and will add any stories to this section of the site as and when I receive them.  Add your comment or story under 'Leave a Reply' below.
Links to other articles on this pool
Swimming blogger Therese was here in 2012 looking for sea horses.
Sydney swim blogger Mrs G Spot came to Watsons Bay Baths in 2013.
Watsons Bay Baths are the first entry on this blog post from the Lazy Swimmer in 2009.
Coffee, tea or milkshake after the swim?
Right opposite Watsons Bay Baths is a rather nice tea garden
Watsons Bay Tea Garden – 8 Marine Parade, Watsons Bay, 2030
Open daily in summer: 8.30am – 4.30pm
Closed Mondays in winter and hours reduced to 8.30am – 4pm Tuesday – Sunday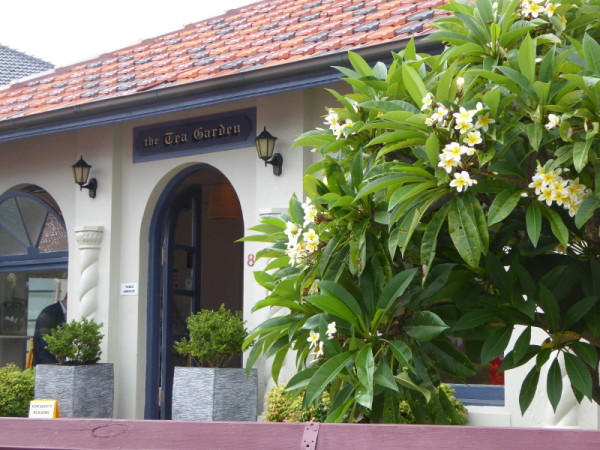 Pick the right seat and you have Harbour Bridge views from the terrace of this tea room in Watsons Bay. Mind you, it's often busy here apparently, so you may be lucky to get a seat at all. It was fairly quiet at around 10am on a Friday morning when I was here. I wouldn't normally go for tea and scones at that time of day, but it's not often you get a chance for loose leaf tea and home-made scones with jam and cream so I gave it a go and was not disappointed. Not bad for an Italian-run cafe, since afternoon tea isn't such a tradition in that part of the world. But this is a nice spot for that post swim cuppa.
If it's a post swim coffee you're after…
For coffee, I tried a relatively new place up in Watsons Bay by the bus stops. Nautica is more a restaurant than a coffee shop but they did me a decent brew, if a little dark roasted for me. But worth a go for coffee in Watsons Bay.