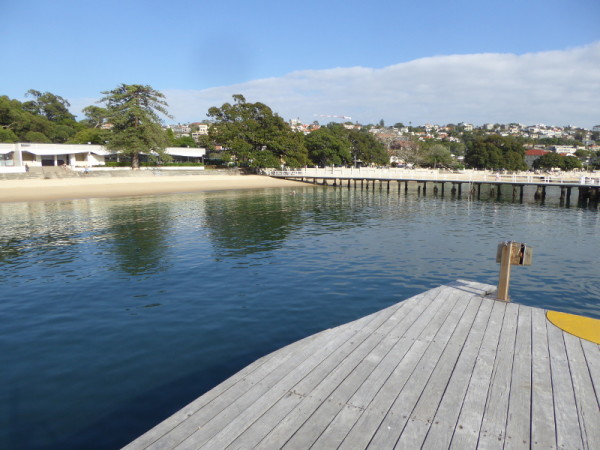 Named after the Royal Estate in Scotland
My experience in the pool
Apparently Balmoral Beach was my family's favourite when we lived in Sydney's northern suburbs in 1967-8. When I got there on a warm Friday morning in March 2016, I have to confess I had no recollection of the place.
A whole bunch of people were doing leisurely freestyle up the beach when I arrived, and I passed the time with a few of them. They seemed more interested in the fact that I now live in Kiama since we had been in the news the night before after the shark attack at Bombo this week. But I did manage to find out that the swimming enclosures at the next beach up (Edwards Beach) had been taken out some time ago, so taking them off my list of ocean and harbour baths to swim in.
Balmoral Baths are a really beautiful presence on this bit of the harbour. They have a walkway that runs in a semi-circle around the perimeter, and you can swim right under the boardwalk if you swim right to the shark net round the enclosure.
The water was warm, perhaps as much as 22C, and this beach has no waves to speak of (though check out the history bits because back in 1974, there must have been quite some waves…). So it's actually very like swimming in a normal swimming pool, except there are no lanes as such (though I have the feeling the section furthest from the beach might well be for competitions and could just be 50m long).
Lie back in the water and watch people strolling round the boardwalk, see the diners at the plush Boathouse Café looking over the water, or just float and listen to the kookaburras in the trees nearby. It is a really idyllic spot.
It was full of older people than me on the morning I was there, but maybe that's just who likes most to go for a daily swim, because the café was full of younger folk afterwards. I imagine Balmoral Baths get really full on weekends and during school holidays.
Getting there, getting in, getting changed
Apparently there used to be ferries to Balmoral but that stopped some years ago, though you can still get a Water Taxi here to the same wharf where the ferries used to dock. I caught the bus from Wynyard and walked down from Spit Junction, though there are hourly buses direct to Balmoral Beach.
You could clamber down the vertical steps into the deep part of the baths, or dive in from the boardwalk as many do on a hot day, but I went for the popular option of wandering in via the beach. That way you can gently slip into the warm water.
There are nice changing rooms just above the beach with three showers outside available day and night, and two more in cubicles inside the toilets, which are closed at night.
Tidal differences
I don't think tides affect the ability to swim at Balmoral Baths.
History and stories of the pool
Balmoral Baths first opened in 1899, four years before open sea bathing in daytime was even legalised, so presumably the law didn't cover harbour baths in the same way as ocean beaches?
The shark-proof enclosure was only completed in 1958, so again I assume for the first 50 years here you were swimming with whatever seat water beasts cared to join you (though judging by the swimmers off Balmoral Beach who far outnumbered those inside the Balmoral Baths enclosure on the day I was here, there isn't much threat from sharks down here anyway).
The Balmoral Swimmers even have their own website, with a nice historical page, which includes some nice stories of how they got going back in 1922. They have weekly get-togethers and again, judging by the numbers in the water on the March day I was here, quite a few of them swim every day here.
In 1974 there was a massive storm, throwing up waves big enough to dump yachts from the harbour side of the shark-proof fencing into the baths enclosure. Hard to imagine on the came autumn day I was there, but this also gets a mention on the Balmoral Swimmers site.
People I met here included…
Martin and Justin were two of the locals who swim along the beach within the yellow buoys and have no fear of sharks ('no attack in 70 years here and long may it continue'). They were part of the very friendly bunch of swimmers drying off as I arrived. Within the Balmoral Baths themselves, swimmers tended to be lone individuals, except for the couple wading from side to side together in the shallow part, so I didn't manage any more bathing chats at Balmoral.
What's your story? Any memories of swimming here? Any stories to tell? Or did you just have swimming lessons in days gone by?
Whatever you have to say, however brief, I'd love to hear from you and will add any stories to this section of the site as and when I receive them.  Add your comment or story under 'Leave a Reply' below.
Links to other articles on this pool
The Let's Go Swimming site came here in January 2016. Balmoral is the fourth entry here.
The Manly Local Studies group put out a search for memories of Balmoral Baths in 2014
Balmoral Baths come in the top five swimming spots for my swimming buddy aiming at doing 1000 pools.
Seana of Hello Sydney Kids website came in 2011.
And it was back in 2010 that the Lazy Swimmer blogger came to Balmoral Baths.
Coffee, tea or milkshake after the swim?
Coffee in Balmoral Beach can be taken looking over the Baths
Boathouse Café – 2 The Esplanade, Balmoral Beach, 2088
Open daily: 7.00am – 4.00pm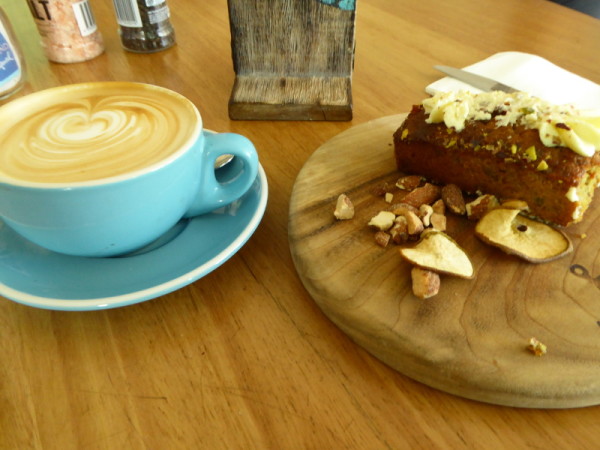 The Boathouse Café was not here when I was a kid in 1968. In fact it only opened a few years ago, but was so busy on the Friday morning I pitched up that I was tenth in the queue to order my coffee, and most people were ordering elaborate breakfasts, some with a glass of Bollinger to wash it down.
Yes, this café reflects Balmoral's changed demographic. I wouldn't normally bother with such places, but actually the coffee was excellent (Single Origin Roasters I believe) and the pistachio cake a really well-presented treat. Stick to coffee and cake and the Boathouse needn't burn a hole in your wallet (my bill came to $10, though the guy in front of me who ordered champagne spent $70!!)
Great views over the baths, and given the coffee quality, I'd definitely recommend trying this place for your post swim coffee in Balmoral