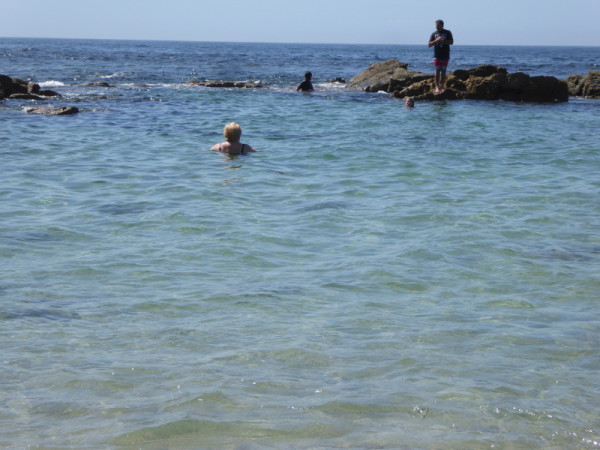 Possibly named after a type of albatross: the mollymawk
My experience in the pool
It took several visits to Mollymook Bogey Hole before I actually got in the water.
This was partly because I did a reccie of the area after swimming in the ocean pool at nearby Ulladulla some months ago, and had no plan to strip off for a second time that day. But also because if you want to swim at Mollymook Bogey Hole, you have to get the tide right. Don't bother going at low tide because the water will barely cover your ankles, and it's not even really  worth it at mid-tide when the water still gets only to waist level on someone over 6' like me.
So when we needed to go down the NSW South Coast in mid-March, I checked my tide timetable and found the high tide suited our schedule perfectly. The weather was kind to us also, so we had a beautifully filled bogey hole and scorching sun overhead, making the water sparkle in that irresistible way.
It was one of those days when it just feels so wonderful to be on this quest to swim in all the NSW ocean pools.
It also happened to be our wedding anniversary, so what better start to our celebration than a dip in the fresh waters of Mollymook.
When there's nobody around – in winter, say – and it's low tide, it's actually quite hard to work out where Mollymook Bogey Hole is. You need to drive through the golf course and park up by the water, but some way south of Mollymook Beach itself. Then follow the path around the headland till you see a big rock standing about 4 metres up – this more or less marks the southern boundary of the bogey hole.
The water was perfect for our visit. The waves flow freely over the ring of stones once it's high tide, so you have the constant ripples of water, which get more dramatic as you approach the outer edge of the ring of stones.
One old guy swam out and stood on one of the stones, letting the waves flow gently over his feet, but I imagine this is something you'd only want to try on certain calm days.
It's not really a spot to do laps, or even circular swims around the ring of stones. The water is only deep enough to swim for a few metres, but it is an utterly delightful spot for a dip, and given how busy it was at Mollymook Beach, we were surprised how few bathers there were in the bogey hole.
It's a wonderful place to swim and float around on a hot day. Just remember to get that tide right…
Getting there, getting in, getting changed
It'd be hard to get here by public transport. By car, you need to drive through Mollymook golf course, taking care when you cross the two fairways to make sure nobody is about to tee off, and then take the winding road down the headland to the car park by the bay.
The bogey hole is an extension of the sandy area, interspersed with rocks. So there is no alternative but to paddle in from the beach.
Toilets and changing facilities – and a shower – are back just beyond the car park about 200m from the bogey hole. Only inconvenience is that if you have no shoes on after your swim, the car park is a bit gravelly and it's painful walking across to those showers and toilets to change.
Tidal differences
Big differences. Don't even bother at low tide or for a few hours either side of low tide. Best time to get a decent swim is right on high tide.
History and stories of the pool
The ring of stones may have been here for hundreds of years, but public swimming here only began around 1900 when the owners of the local beach made the beach public for a few years. According to the excellent AllintoOceanPools website, it was silica mining at the end of the first world war that made the spot a better place to swim as it increased the area where swimming was possible.
People I met here included…
The old couple we chatted to had been married 50 years and congratulated us on our anniversary. They are regulars down here and like it as their secret quiet spot. They seemed a bit concerned that I was about to reveal the Mollymook secret to the world via this blog, though I have to say my readership is not so massive that this entry alone will ruin their peace and tranquillity
What's your story? Any memories of swimming here? Any stories to tell? Or did you just have swimming lessons in days gone by?
Whatever you have to say, however brief, I'd love to hear from you and will add any stories to this section of the site as and when I receive them.  Add your comment or story under 'Leave a Reply' below.
Links to other articles on this pool
Swimming blogger Sally came here in 2009
It was 2006 when the people behind the excellent All Into Ocean Pools website came to Mollymoook
Coffee, tea or milkshake after the swim?
There is nowhere by the bogey hole to get a coffee or tea. I'd probably head back into Ulladulla for good quality coffee, but nearer than that is the kiosk by Mollymook Beach, just round the headland to the north (but at high tide, you may need to drive to reach it)
Beach Hut Café – Ocean Street, Mollymook
Open daily: 7.15am to dusk
They serve up a decent coffee from the Daily Grind roasters in Gerringong. It's busy with beach visitors at the weekends though, so you may struggle to get a seat.