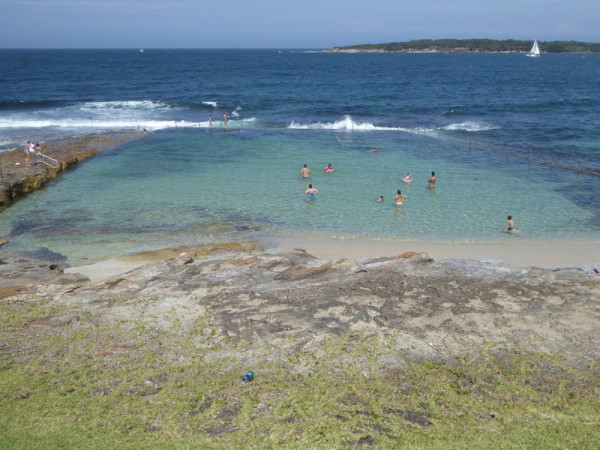 Area known locally as 'Sandshoes'
My experience in the pool
The swim at Oak Park Rock Pool was a bit of a spontaneous act on our way home after aborting a planned dip in a beach up the Central Coast. It had been too grey and miserable those few miles further north and it made me realise how important sun and blue sky (and water) is to making these pools irresistible.
By the time we were swinging by Cronulla heading south, the sun was out, so we just said to each other: 'shall we?', and ten minutes later we were parking up at Oak Park, just opposite the Royal National Park at the mouth of the Port Hacking estuary.
This pool is a walled extension to the sandy beach at Oak Park (or Glaisher Point). This means you can do a mad dash into the water from the sand, which is something the kid in most of us just has to try on a hot day.
There was a bit of a swell on, though, and we watched in awe as fairly large yachts were pushed almost 90 degrees onto their side to face us as they sailed past the pool (and I was then struck by the story from only a few weeks ago – in the links below – of a boat that ran aground right by the pool here, so it's clearly a tricky spot to navigate round).
Oak Park Pool is a delight to swim in, though. It's not a big pool, though the sideways laps are good enough to stretch out, and those waves lapping over the edge make for a fun swim rather than a serious lap count.
There's a sandy base to the pool and it gets quite deep by the ocean side (too deep for me to touch the bottom by then and I'm 1m90); there are quite sharp clams or shells clinging to the pool walls so watch out for those cuts to toes as you push off from the sides. There's also a bit of sea weed, which is no surprise given how open this pool is to the southerly swells.
Great spot, though. Good for kids too, since it's easier for them to paddle at a safe distance from the beach. And it's also apparently popular with learner scuba divers, who often jump off the far wall of the pool into the deeper waters.
Getting there, getting in, getting changed
We parked at the end of the little street leading down to the pool. There are buses down here from Cronulla Station, but it is also perfectly walkable, at about 25 minutes from Cronulla.
Some nice options for getting into the water: enter gently via the sandy beach and gradually reach a depth where you can start swimming. Or take one of the stairways half way down the pool edge, but beware of them being slippery, and actually easier to use for getting out, since you need to find footholds just below the water level to pull yourself up, and that's just not possible when you're on your way down into the water, so you'd be better off jumping off the top step.
The lovely old Oak Park Pool changing rooms are open to the elements (in the men's side, anyway; I hear the ladies' side has a roof). There's a shower out in the open on the rock platform above the pool, or go for one of the cubicles inside the changing rooms.
Tidal differences
We were there midway between high and low tides and some waves were still lapping over the pool edge, so I imagine this pool is pretty well submerged at high tide (though happy to hear corrections from anyone who knows better)
History and stories of the pool
According to the excellent but now defunct nswoceanbaths website, local residents carved out the first bathing area here in around 1909.
How times have changed, though, bearing in mind the Sutherland Council notice put out in the 1920s calling for 'no parading or loitering on the beach only in swimming costumes'. I'd surely have been arrested for wearing only speedos, especially give the outrage even in the 1930s that men were seen round here wearing 'only shorts'…
The pool in its current form was finished in 1931.
The Oak Park Pool had some difficult years round the 1980s and 90s when there was a fair bit of pollution, and there were reports of pollution, excessive seaweed and leaks causing the pool to drain even as recently as 1999. A new sewage pipe installed some years ago seems to have solved that and the pool looks very clean these days.
People I met here included
The Sunday afternoon crowd at Oak Park Pool is mainly families with small kids but I did manage a brief chat with an elderly lady just heading down to the pool for her daily swim: 'good for my arthritis', she said, adding that she swims in the pool every day of the year. Congratulations to her. I'd like to think I'd do the same if I lived close by.
What's your story? Any memories of swimming here? Any stories to tell? Or did you just have swimming lessons in days gone by?
Whatever you have to say, however brief, I'd love to hear from you and will add any stories to this section of the site as and when I receive them.  Add your comment or story under 'Leave a Reply' below.
Links to other articles on this pool
A few weeks before our visit, the local newspaper The Leader covered the appearance of a boat on the sand right by the rock pool at Oak Park.
The Post Card Sydney site featured Oak Park pool in May 2015
Swimming blogger Mrs G Spot's 2013 tour of Cronulla began at Oak Park Rock Pool
Sydney City blogger Jim came in 2012
The Lazy Swimmer has a brief entry on Oak Park Pool
Swimming blogger Sally came here and blogged as early as 2008
Coffee, tea or milkshake after the swim?
There is nowhere immediately by Oak Park Rock pool for a cuppa of any description. Walk five minutes back towards Cronulla and you pass a restaurant, where you may well get a decent coffee, but we plumped for a traditional milk shake and salad sandwich at 10 minutes' walk from Oak Park Pool…
Shelly Park Shop, 117 Ewos Parade, Shelly Park, Cronulla
Open Daily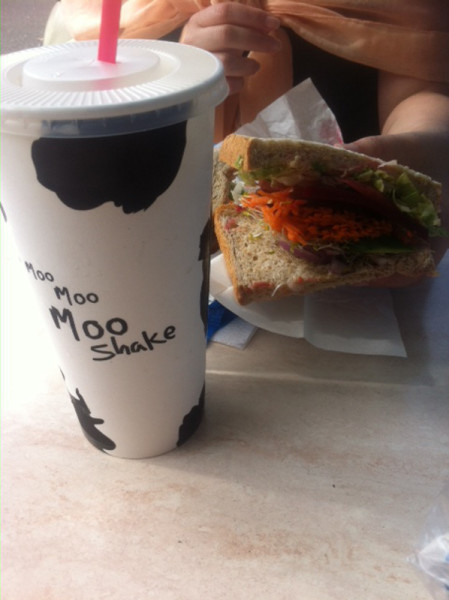 The sort of place where you can get a massively healthy salad sandwich and a good long milkshake are getting harder and harder to find in Australia. All they needed to make it perfect was a metal milk shake container, but still, this felt a trip down memory lane to the kind of place we loved as kids. Great spot to stop for a shake and sarnie after the swim at Oak Park.
There is a good coffee shop nearby too, but I'm going to review that one for the post swim coffee at Shelly Park Pool, but wanted to give this classic corner shop a plug too…