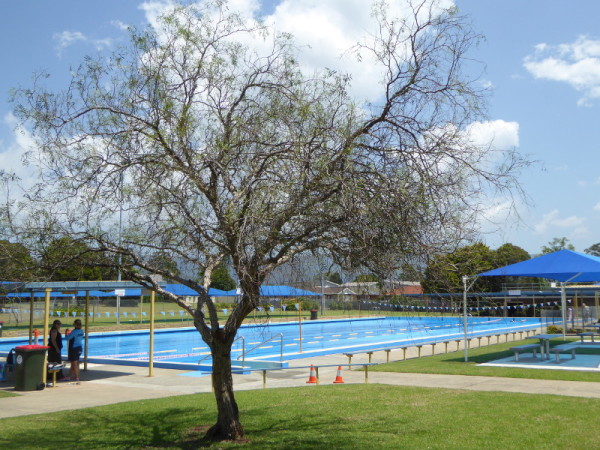 Only open 5 months of the year
My experience in the pool
I arrived mid-morning on a sunny day in mid-November. There was only one lane set up for lap swimmers and one lady in there already. But lots of schoolkids were being herded about the premises so I knew something was up.
Actually unlike on those school carnival days in January/February, when the public really can't get into the water, the swimming lessons and tests for young schoolkids worked well with a couple of lap swimmers plodding their way up and down the middle of the pool.
The lifeguards were friendly and welcoming, suggesting I stick close to the lane dividers until the lady in there already finished, and that worked well, with the Education Department people giving the kids a long pre-swim talk, allowing me to get into my stride before they took the plunge.
It's actually really encouraging to see so many kids learning to swim and/or having their technique tested. It made for a busy pool and that can only be good for the future of the pool, which I noted in a recent Shellharbour Council report was listed as destined for potential closure due to falling numbers using the facility.
No sign of shortfall today, thankfully and it's a great resource for the Albion Park community.
It's a lovely 50m Olympic Pool, starting at 1m depth at the shallow end, with a beautiful 2m depth at the deep end. I was pleased to be back on my 20 lap sessions, with my neck and shoulder almost fully recovered now, and I promised myself a freshwater swim every week to keep those proper laps going.
There's nothing fancy here, though I quite liked the murals out the front designed to draw people in. No celebrities are remembered as coming here; no sports stars on rehab or relaxation after a tough match. The nearest thing to a sports star, the lifeguards reckoned, was one of their own, who competes regularly in triathlons.
Getting there, getting in, getting changed
A good car park right by the pool. Getting here by public transport is trickier with the Albion Park train station a good few kilometres away, but there are buses that stop quite close to the pool.
Gentle and wide steps in at both sides at the shallow end.
Given that the changing rooms were full of lively school kids, the lifeguards encouraged me to use the family room (really for use of people needing disabled access or baby-changing), which meant I forgot to check the facilities in the general changing area. Nice warm showers, though.
Other practical points
Entry fee $4 in 2015.
Open November to March only
Closed Thursday mornings for maintenance
History and stories of the pool
I have found no stories about Albion Park Pool. If anybody has any, I'd love to hear them.
People I met in the pool
The other swimmer doing laps was a lady slightly older than me who had a rather useful line in goggles with mp3 player attached so she could listen to music as she swam. 'Helps me relax and breathe more calmly, especially for the first few laps,' she said. What a great idea!
What's your story? Any memories of swimming here? Any stories to tell? Or did you just have swimming lessons in days gone by?
Whatever you have to say, however brief, I'd love to hear from you and will add any stories to this section of the site as and when I receive them.  Add your comment or story under 'Leave a Reply' below.
Links to other articles on this pool
This local blogger came here during a 45C heatwave in 2013
Back in 2009, the local newspaper the Illawarra Mercury published a story about the reduction in opening hours at Albion Park Pool
Coffee, tea or milkshake after the swim?
The place I used to go to for coffee near Albion Park closed down, but I believe Niu's Kitchen serves up Swell Coffee, and that's a decent brew so that'd be my tip for coffee in Albion Park.