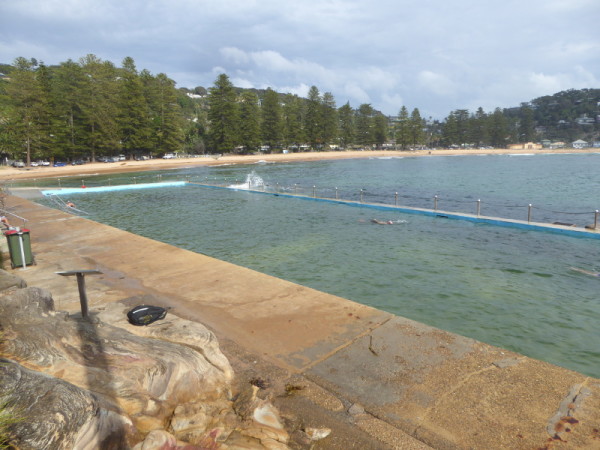 Named for the cabbage-tree palms which grow around here.
My experience in the pool
Palm Beach is as far north as you get within Sydney's official boundaries. Palm Beach Rock Pool sits at the southern end of the beach, so you can look back up the curve of the bay towards Barrenjoey Lighthouse and out to sea where the next bit of land becomes the NSW Central Coast.
This is multi-millionaire territory, the home of film stars and other celebs, not just from Home & Away, which is set along this bit of coastline. So the rock pool gets a fair few visitors as well as those lucky locals who live round here.
It's a 50m pool with a nice flat bottom, though no lane markings to aid my very wayward stroke. With high tide approaching when I arrived one March morning, every few waves would wash over the pool wall, adding a bit of interest to the swim. Nothing too dangerous on the day I was there, though they were bringing in a fair bit of seaweed with every surge.
The seaweed lay in big clumps on the floor of the pool in one patch, so thick that my arm brushed through them on every freestyle stroke for a few metres. The water was also speckled with little bits of what one regular in the pool reckoned was red algae: nothing to worry about, he said. Just imagine you're having a Sushi as you swim, if you take in a mouthful.
I kind of liked the humour of the regulars who were in the water this morning. There was the woman wading up and down in her wide-brimmed straw hat, quite the lady of leisure; there was the couple huddled up in the far corner, having a great time in a kind of private jacuzzi as water bubbled over them into the pool via the pumping machine: I bet that's the best spot on an incoming tide…
This was no Bondi Icebergs squad-type of morning. Even the lap swimmers were on a leisurely roll up and down the 50m. That was no bad thing with the seaweed to contend with, the waves rolling in and the need for me to look up every few strokes to make sure I wasn't on any collision course. But the relaxed mood of Palm Beach Rock Pool somehow makes me think they wouldn't mind too much if I did plough head first into someone else.
Getting there, getting in, getting changed
The half hourly bus L90 drops you by the SLSC building, a short stroll from the rock pool. There is parking by the beach, too, but it's ticketed with an hourly fee. And I don't imagine it's easy to get any space on a weekend in summer.
There is a ramp into Palm Beach rock pool, but it's the steepest rock pool ramp I've ever come across, and I held onto the handrail as I walked down it, before plunging into the water as soon as I could. I can't imagine the ramp is very wheelchair-friendly, because it would be a hell of a job to stop the chair from rolling quickly down into deep(ish) water. There are steps also half way up the pool.
There are showers outside by the poolside, but none inside the toilets there. In fact, there's only one small bench to help with changing so it's all quite cramped in here. If you like space to dress and you want a leisurely shower, best go back to the excellent facilities at the SLSC building.
Tidal differences
High tide sees waves coming over the pool wall, which means the pool gets washed through or, in the case of my visit, it gets filled with algae and clumps of seaweed. The waves can wash up along the path to the pool but locals I spoke to said they had never seen waves get up onto the steps by the toilets, so you're pretty safe leaving your things there.
History and stories of the pool
Post war Australian swimming coach Forbes Carlile started his coaching career in 1946 at Palm Beach Rock Pool. 25 years later he was the guiding hand for Shane Gould's world records in virtually every swimming distance in the 1970s.
John Jack Carter now in his 80s taught youngsters here from 1947 – I found this great blog post about him, with some lovely comments below it from the people he has taught in the rock pool.
Palm Beach is of course the setting for the TV soap drama Home & Away
People I met here included…
Alison is a local lass who now lives in LA and misses the rock pools of her home. She explained how some swimmers like to leap from edge of the pool and swim back to shore that way rather than walking. The section of water just to the west of the rock pool is known as Kiddies' Corner because it rarely gets much surf or rips, so parents often get their young 'uns into the water here for the first time and teach them surfing or body boarding.
She also spoke of a gent who has been giving swimming lessons in Palm Beach rock pool since the 1960s, and still does to this day. Shame he wasn't around that morning, but I can't help wondering if she actually meant John Jack Carter…
What's your story? Any memories of swimming here? Any stories to tell? Or did you just have swimming lessons in days gone by?
Whatever you have to say, however brief, I'd love to hear from you and will add any stories to this section of the site as and when I receive them.  Add your comment or story under 'Leave a Reply' below.
Links to other articles on this pool
Swimming with kids blogger Seana wrote about Palm Beach in 2014
Swimming pool story teller Therese came here in 2010
And the Lazy Swimmer blogger also visited Palm Beach in 2010. You need to scroll down this entry to find his thoughts on the place.
Coffee, tea or milkshake after the swim?
There is a little cluster of shops and cafés right by the bus terminus, so if you are on public transport, you can keep an eye on the next bus, and if you just miss one, get another coffee (or tea)…
2108 Espresso – 24 Ocean Road on the corner opposite the beach and right by the bus stop
Open 8am – 3pm Tuesday – Friday; 7.30am – 3pm Saturday – Sunday
Closed on Mondays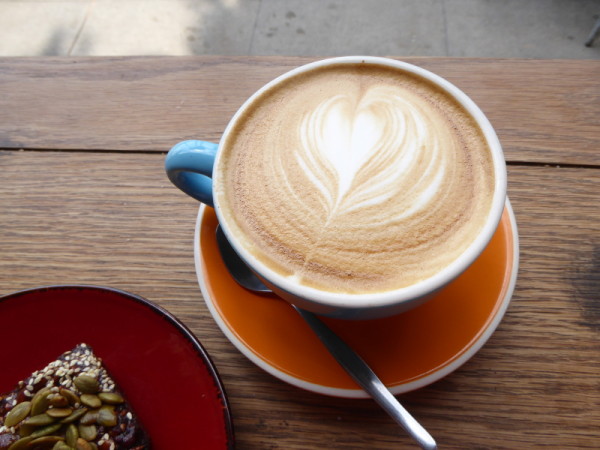 Great spot right opposite the beach, so you can sit and watch the surf as you sip on your cuppa. I liked this place right on the corner by the bus stop. And they do coffee and tea from excellent suppliers: Tippity Teas are always good, and the brother of Tippity's owner runs The Little Marionette coffee, which is also top notch. Throw in a great selection of healthy-looking energy bars (I chose a fab fig and date one), and you have all you need for an excellent post swim coffee or tea. Relaxed and friendly for my visit, but I can imagine this place is heaving in summer.