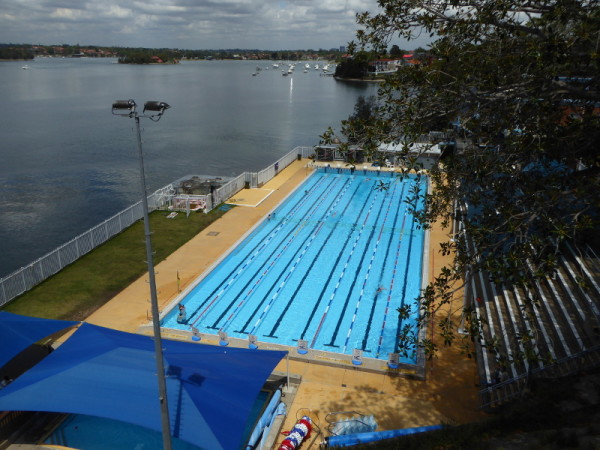 Known by many as 'Crummy Drummy', but I like the place
My experience in the pool
Ok, staring at Iron Cove Bridge as you do your backstroke laps at Drummoyne Olympic Pool is not quite the same as North Sydney with its Harbour Bridge views, but I liked Drummoyne Pool and didn't find it at all 'crummy'.
According to the excellent history of the pool I found on the Drummoyne Swimming Club's website, the name 'crummy drummy' dates back at least to 1950, when a 14 year old Dawn Fraser reluctantly came up here to train. My Dad's diary of our year in Sydney in 1967 suggests our family came here a few times since our first flat was in Drummoyne, but I have to confess I have no recollection of it – I was intrigued, though, to see that a world record for 800m freestyle (men) was swum here at the pool in 1967, so I'm starting to wonder if I was anywhere near that day, too.
Drummoyne Pool probably has as many early morning lap dashers as North Sydney, but by the time I arrived at about 10.30am, there was just one person per lane, so it was ideal for a good swim in this lovely waterside Olympic pool.
I'm only managing one proper 20 lap 1km swim a week at the moment, so sometimes I struggle to swim as efficiently as I'd like when I do do serious laps. But the salt water in Drummoyne Pool did seem to slide past me easily and I even found myself managing a lap in three or four strokes less than I usually do my 50m laps. I wonder what I was doing differently, or was it something to do with the salt, or the way the water at Drummoyne Pool laps over the pool edge along the sides (but not the ends), perhaps creating fewer waves to swim against?
The paintwork looks a bit tired in places and you can tell the pool hasn't been refurbished for a few years, but I don't mind all that. This is a lovely pool, in a beautiful setting right by the water's edge. Long may it continue.
Oh, and you may not have the Harbour Bridge to stare at, but I was swimming right under the flight path for planes landing at Sydney Airport – I could almost have given the new arrivals a big wave as I swam.
Getting there, getting in, getting changed
There are lots of buses to Drummoyne from Central Station or Circular Quay. The pool is on the Drummoyne peninsula right by the Iron Cove Bridge.
Lots of steps to get into this pool. There is a lift I think from the entrance, but if you are walking, you go down to the changing area and then down again to poolside. No modern, easy steps into the water. This has only the vertical foothold steps – OK for someone like me, but not sure what access there might be for less able bodied?
Not often you get changing rooms with a view. The men's changing rooms anyway look right over the harbour (though no views from here of cruise liners or Harbour Bridge). Warm water in the showers if you want it. I actually wanted a cold shower on a hot day and made the mistake of pressing the water button that was not red – so be aware: red tap here means cold water!
Other practical points
Entry fee $6.20 in 2015/16.
Closes for winter
There is a shaded children's pool next to the Olympic Pool. Quite deep, though, at 0.45m to 0.75m.
History and stories of the pool
Thanks to the Drummoyne Swimming Club website for its fantastic history of the pool. What a shame they don't make more of this, with photos and displays along the lines of what Granville Pool has done.
The first pool here was built in 1902 – what I'd like to know is whether that was a tidal pool built into the harbour itself or a separate swimming pool already (I'm imagining the former). I loved the note on the Drummoyne Swimming Club's website about swim wear back in the early days, when 'men's trunks had to have skirts (?)' and go down to 2" below the 'fork of the inside leg' (not sure I can quite visualise that).
There were famous swimmers here as early as the 1920s, with a local Drummoyne lad competing in the 1924 Paris Olympics. John Bennett swam a world record for 800m in this pool in 1967 (anyone out there know which month? – I'd love to know if it coincided with my time in Drummoyne that year).
There have been other world record swims in Drummoyne Pool, but the ones I enjoyed reading about more were by Shane Gould, who swam 200m and 800m world records here in 1971 (always had a soft spot for Shane, even if I was only 11).
Water Polo is also big here, and by the sounds of it, there's been a bit of competition between the water polo players (some of whom compete for Australia) and the swimmers here over which sport rules the roost (and judging by the photos all over the – locked – room by the entrance gate, it looks so me as if water polo is winning that battle right now. Nothing against water polo, and if it helps keep the pools open, I'm all for it, but I'd love to see more of the Drummoyne swimming history on display too…
People I met in the pool
No chance to talk to anybody here today, though the girl at reception was helpful in steering me towards the Drummoyne Swimming Club website for more information on the pool's history.
What's your story? Any memories of swimming here? Any stories to tell? Or did you just have swimming lessons in days gone by?
Whatever you have to say, however brief, I'd love to hear from you and will add any stories to this section of the site as and when I receive them.  Add your comment or story under 'Leave a Reply' below.
Links to other articles on this pool
Lots of bloggers have been to Drummoyne Pool. This one agrees that it isn't crummy at all, from their visit in 2013.
This blog post also results from a 2013 visit to Drummoyne.
Scroll half way down this blog about pools in Sydney's Inner West to find their thoughts on Drummoyne.
This blogger took a shot of Drummoyne Pool during the winter off-season. A very different looking place…Again, scroll down to find it
This swimming blogger came in 2009
And our old friend swimming blogger Sally blogged about Drummoyne as long ago as 2007!
Coffee, tea or milkshake after the swim?
It's worth the 10-12 minute walk into the heart of Drummoyne for the best coffee around here
Three Rosettas Espresso Bar & Café – Lyons Road, Drummoyne
Open Monday to Saturday 6.30am – 4.30pm (slightly shorter on Sat)
Closed Sundays
Three Rosettas reviewed by the Fancy a Cuppa website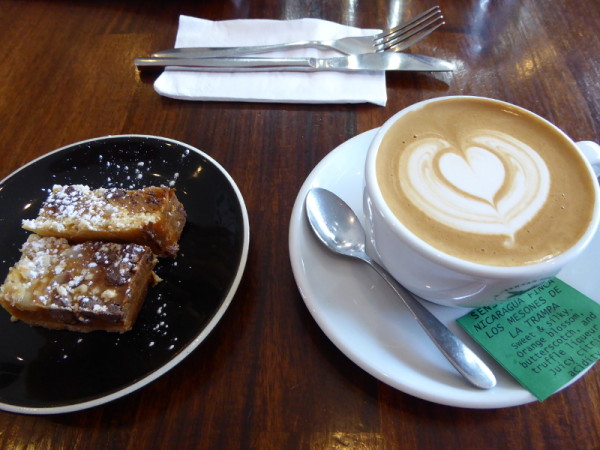 I'm a great believer in going the extra half mile if it brings you the best coffee or tea for that post swim cuppa. And Three Rosettas is one of those venues. Surely the best coffee in Drummoyne. They get their coffee from the excellent Sensory Lab roasters in Melbourne; and their tea from a Melbourne supplier I also didn't know, called Karma Sutra! I loved watching the care with which the barista prepared my single origin flat white and it was such good quality I had to have a second, opting for more of the same rather than the – apparently – darker roast house blend. Seats out the back outside if you want, or sit inside under the wall covered in pictures of latte art and other coffee paraphernalia.