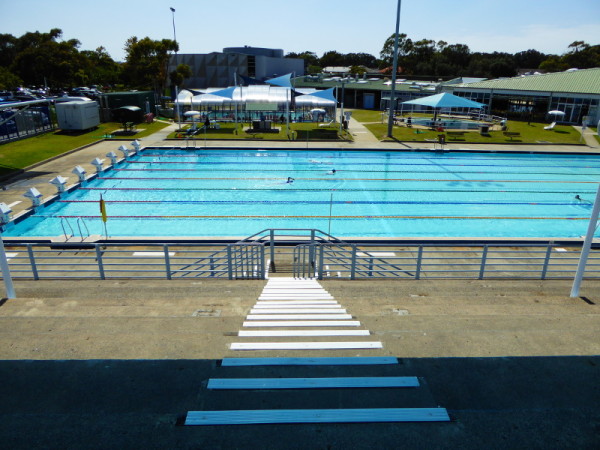 Des Renford was a marathon swimmer who swam the English Channel a record number of times.
My experience in the pool
The Des Renford Aquatic Centre sits far enough away from Maroubra Beach to make me think: OK, the beach and rock pools are one thing, but an Olympic Pool and various other swimming facilities are still worth having as an additional resource for the community. On this sunny Friday morning in November, there were crowds all over the complex, with a sprinkling of toddlers in the baby pool, a heaving mass of young 'uns in the teaching pool, a primary school swimming carnival in the 25m indoor pool, and a fair few doing laps in the 50m Olympic outdoor pool. Oh, and there is a fifth pool too on this extraordinary site not far from where they used to have speedway racing in this residential part of Sydney's eastern suburbs.
I actually enjoyed myself here. The lane laps are wide enough to fit two swimmers passing each other very comfortably, but I was lucky to have my lane to myself for the full swim, so could flip over and do backstroke when I wanted.
It was kind of fun to hear the chants and even some songs from the crowd watching the swim carnival indoors. And the starting buzzer sounding every few minutes added a bit of competitive spice to the occasion.
I was wondering at first why they held the carnival indoors, hoping it wasn't good old health & safety keeping kids out of the sun. But I was reassured by the lifeguards that this was the primary school champs and they use the 25m indoor pool, whereas the big kids from high school will be in the Olympic Pool early next year. And when they come for those competitions, the onlookers will have a fabulous raised stand from which to watch the swims – I took a walk up to the top after my laps to check it out: there is something special about looking down on competition swimming.
It's the most elevated viewing area I've been on since I swam at Port Kembla pool many moons ago (and I don't count the Olympic Pool in Homebush because that of course is just indoors).
Des Renford Aquatic Centre pool doesn't score highly on depth (maximum 1.7m, so I was never out of my depth) or on backstroke views (best to swim northwards, when you at least have a few trees to look at). But in terms of range of facilities and good shaded areas to sit and rest afterwards, this is one of the best pools I've visited.
Getting there, getting in, getting changed
I took a bus to Maroubra Junction and it's then a 10 minute walk to the Aquatic Centre. If you're lucky you can catch a bus that'll drop you off much nearer Heffron Park and the pool. Lots of parking if you have your own car.
Nothing special about the ways in to the water. I actually opted for a deep end start so that I could store my things in the shade nearby. Vertical metal steps at the deep end; nice wide and shallow steps at the shallow end.
Large changing rooms with good showers.
Other practical points
Entrance fee $6.40
1m depth at the shallow end, 1.7m in the deep.
Five pools on the site. Most are open all year round, but the Olympic Pool outdoors closes for the winter. Its actual opening dates vary according to the onset of autumn and how early or late spring starts.
History and stories of the pool
The plaque outside the Centre commemorates the year it changed its name to remember Australia's premier marathon swimmer, Des Renford. That was in 2011 and the pool seemed to have a re-opening officially in 2013.
But I found references to school swimming carnivals at the Heffron Park Olympic Pool as far back as 1965.
If you swam there then, or know more about the dates of the pool being built or how it differed from the aquatic complex of today, please leave a comment below.
People I met in the pool
When a pool is this busy, it is ironically harder to stop and chat to people, so I didn't manage to glean any stories from regulars at Des Renford pool. A bit of a search on social media suggests to me that Des's son Mal (?) still organises things around here, and may well still be involved with the local swimming club, so it's nice to see that family name carrying on today.
What's your story? Any memories of swimming here? Any stories to tell? Or did you just have swimming lessons in days gone by?
Whatever you have to say, however brief, I'd love to hear from you and will add any stories to this section of the site as and when I receive them.  Add your comment or story under 'Leave a Reply' below.
Links to other articles on this pool
Fellow swimming blogger I'd Swim That came to Des Renford Aquatic Centre earlier this year in May 2016.
Other than that, the only article or blog piece I found making reference to this pool is actually about the speedway track that used to be over the road. It's quite an interesting article, though, so thought I'd include it anyway.
Coffee, tea or milkshake after the swim?
I was heading towards Maroubra Beach after my swim at Des Renford Aquatic Centre, but it was almost a half hour's walk to get to the nearest café for my post swim coffee.
North End Café, 24 McKeon Street, Maroubra, NSW 2035
Closed Monday-Tuesday
Open 7.30am – 10pm Weds – Friday; 7.30am – 4pm Saturday-Sunday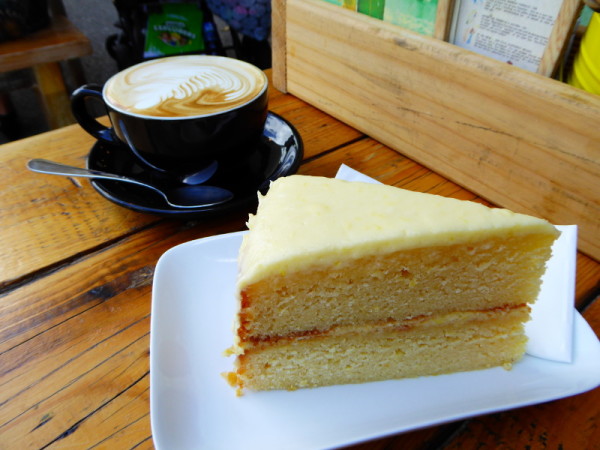 Great coffee from Salvador Coffee Roasters in Darlinghurst. A slab of delicious lemon cake to go with it and fill the gap from those laps and that hike.
This is a quirky coffee shop, with lots of art on the walls, some lovely vintage surf ads on the menu boards, great t-shirts of the North End, and even a nod to the local celebrities, the Bra Boys, with the book by one of the infamous gang on sale at the counter.
It's a slightly odd place, too, though. It's very hard to find in any google search for coffee in Maroubra, so I stumbled across it as did the only other person I found who reviewed it previously. The service was far from friendly and really quite slow and, having just watched a documentary on TV about the famous Bra Boys and their love of 'localism', I began to wonder if it's one of those coffee shops where locals are made welcome but random passers-by can take it or leave it.
I'll let others judge it before I decide. The coffee was great, as was the cake. But I'm not sure I'll be adding it to my coffee shop reviews website just yet.