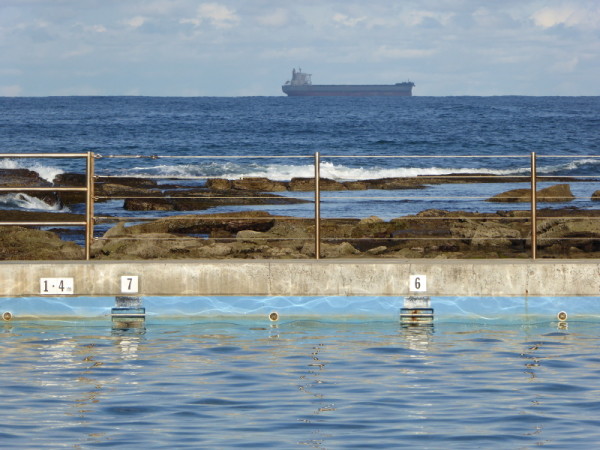 The 'Pelican Capital of Australia', where Natalie Imbruglia went to school!
My experience in the rock pool
At least there was already one guy swimming in this pool when I got there on a cool July afternoon, so I knew it was possible. But he was wearing a wet suit and all I had were my brief bathers, having left at home my wet suit and my goggles.
But the warm(ish) afternoon sun made the pool look irresistible, and I couldn't help thinking: if he can do it, so can I. And there's always Ilkley Lido to remember (where the water can often be around 12C as it's never heated).
I must admit I only managed two laps, though it was the stinging of salt in my eyes that was putting me off as much as the temperature of the water. Someone said the water was about 14C, and certainly I could feel it fizzing with cold against the back of my head as I ploughed along on those two laps.
It's a wonderful spot, though, with one wall facing directly out to the ocean, where waves are breaking and ships can be seen on the horizon. To the north are the beautiful beaches of The Entrance, and some way north is the impressive white of a light house, which switches on as you get closer to dusk. It's an idyllic spot, and a really beautiful pool.
It's a proper Olympic length and has lane markings so it's clearly been used for competitions, and has a big enough viewing area to suggest that it still is.
It reminded me of Shellharbour's beautiful Beverley Whitfield pool in its layout and setting. And the nice thing about the safety fence they have installed around the three sides of the pool that may be exposed in high tide is that it does not prevent you from walking right around the pool edge and so jumping in if you like it from any spot on any side.
1.1m at shallow end to 1.4m at deep end does not sound very deep but actually it was perfectly deep enough for a decent swim.
Getting there, getting in, getting changed
The Entrance Ocean Baths are a short walk from the town centre a little way round towards the south. There's no car park as such so you'll need to park in town or try on street parking if you want access, and then walk down the steps to the pool side.
Lots of steps and stairs into this pool. The gentle, slow way in is half way up the length of the pool, and wide enough for you to dither and not block the way of others who might be bolder than you or on their way out.
Two fresh water showers at the side of the pool and then a changing room beside the toilets higher up by the surf life saving club. A sign indicated the water had been switched off because of water restrictions, but I'm guessing these work in high season.
Tidal differences
The weather was calm for our visit so the tide didn't make an enormous difference to the swim. I think it might be a bit different during a storm, though…
Other practical points
As well as a full 50m Olympic pool, there is an interesting wading pool, which has two sections to it, joined in the middle by a shallower section of water.
History and stories of the pool
Dawn Fraser was brought up here to train for the Melbourne Olympics in 1956.
Pool caretaker Phil was looking with foreboding at the forecast for more storms in the days after our visit here. He had had the enormous job in April 2015 of clearing out the pool after the big storms hit that time. Sand filled the whole pool to 1.4m and had to be cleared by hand (and shovels) by Phil and a few volunteers. Thanks to him for the photos of both the storm when it hit the pool and the morning clear up afterwards. I offered to help out if a storm hit overnight while we stayed, but he said the next pool clearance was not due till the following week so he wouldn't be touching it if something similar happened again. It looks an enormous job, but vital since sand can block up the channel needed to drain the pool. And in April 2015, it even knocked down a live electricity-bearing pole onto the pool edge, as well as denting those poolside showers…
What's your story? Any memories of swimming here? Any stories to tell? Or did you just have swimming lessons in the cold of winter in the 1960s?
Whatever you have to say, however brief, I'd love to hear from you and will add any stories to this section of the site as and when I receive them.  Add your comment or story under 'Leave a Reply' below.
Links to other articles on this pool
This is one of the few pools that has its own Facebook page, with regular updates. Look for 'The Entrance Ocean Baths'
There's a history of the pool on the Central Coast website and blog.
Coffee, tea or milkshake after the swim?
It's about a ten minute walk from the pool to this café in the centre of The Entrance.
Café Kuhmoov –  1A Ocean Parade, The Entrance
Open daily 7.30am – 2.30pm – later closing in summer
Café Kuhmoov reviewed by Fancy a Cuppa website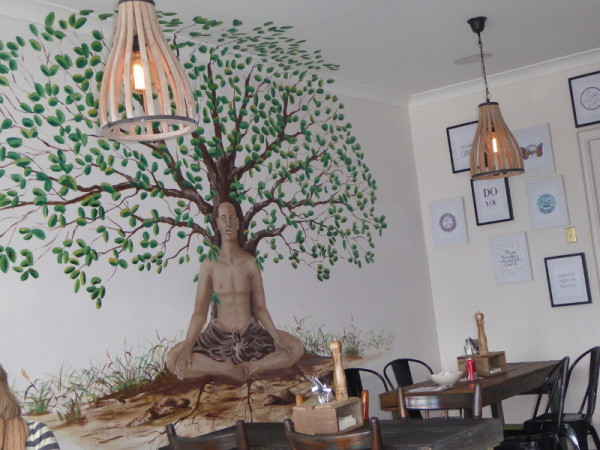 It's nice to get a warm cheery welcome in a café when you go for the first time, and even better to be recognised and welcomed again when you return for a second visit. They also do excellent coffee and loose leaf tea, so no matter what drink you want to warm you up after your swim, this is the place to go. Nice food, too.