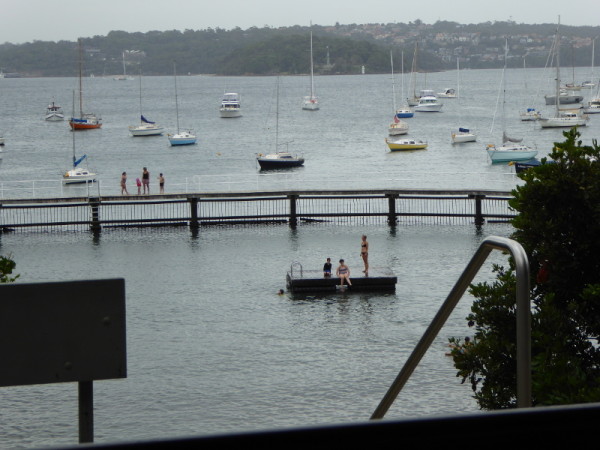 Named after a gold medallist who learned to swim here as a toddler
My experience in the pool
The best thing about swimming at Murray Rose Pool in Double Bay (formerly Redleaf Pool) is surely its setting right on Sydney harbour. Just beyond the shark netting perimeter of the pool there's a sprinkling of yachts anchored in the bay; beyond that a handful of boats are out in the harbour with sails unfurled, and if you time your glance out to the horizon, you may spot the Manly Ferry drifting slowly through the harbour on its way to or from Circular Quay.
This was my first time in one of Sydney's harbour baths, where the swimming area is basically just formed by a fence or net to keep out any undesirable creatures and there is no defined pool length for laps. The Murray Rose Pool is probably about 90m wide and maybe 40m from the water's edge on the sandy Seven Shillings Beach to the perimeter fence. There are two pontoons about 30m apart, which I ended up using as my markers for approximate laps (it really is hard to get out of the habit of swimming to a defined distance once you get used to swimming in pools).
Those pontoons are popular with kids for safe points from which to launch themselves into the water and a target for them to reach if they are setting out from the shore. They're a bit wobbly, mind, as they are just floating in the bay really, so you need your sea legs on if you plan on standing for any length of time on them.
It was an overcast morning when I pitched up, but the pool was relatively busy given that it was the first Monday of the school summer holidays, so there were lots of kids here, and maybe 100 people either in or by the water.
I'm sure it'll see busier days in the weeks to come, though it probably never reaches the attendance figures of earlier years when it's reported that 1,000 people would swim here on a hot day.
I love the history of this pool, not only for its link to Australia's former gold medallist Murray Rose who learnt to swim here shortly after the pool opened in 1941, but also for the press clippings I found which report on the rather awkward job of Beach Inspectors in those days when people had fixed ideas of just how much of your body you could reveal without causing offence.
I was pleased not to be the only guy in Speedos today, though there were a good few toddlers running around displaying everything, making me wonder how the beach inspectors of the 1950s would have dealt with that kind of exposure?
For such an affluent part of Sydney, there was actually quite a cultural mix in and around the pool, with as many old guys talking Italian among themselves as there were more typical eastern suburbs blondes with good tans and two kids in tow.
Don't miss a stroll round the boardwalk which runs above the perimeter fence; it's one of the distinguishing features of Murray Rose Pool and has been there since the pool was first built.
Getting there, getting in, getting changed
I took the train to Edgcliff and then walked about 15 minutes to the pool. There are buses from the City, and there is limited parking nearby, though there are warnings in the Council car park above the pool that swimmers should not use the car park during office hours, and if they do there's a half hour limit.
The pool is directly behind and below the Woolahra Council building in Double Bay. Quite a few steps to get down to the beach and then it's a simple wade into the water from the sand.
There are showers on the concrete just above the beach, and proper changing rooms with shower cubicles on the same level as the pool café.
Tidal differences
Obviously Sydney Harbour is tidal, but this does not affect the ability to swim in Murray Rose Pool. It just reduces the size of the sandy beach as the tide comes in.
History and stories of the pool
"We must have a physically fit nation, and no exercise is better than swimming" said the NSW Premier at the opening of Redleaf Pool in December 1941.
Murray Rose learnt to swim in Redleaf Pool – He was 2 and almost 3 when the pool first opened; by age 5 he was under the tutelage of a swimming tutor and at 17 was winning gold medals at the Melbourne Olympics. He lived in California for much of his life, but came back to the Double Bay area later, so it's no surprise that they renamed this pool after him when he passed away in 2012.
It cost 6d in 1951 to swim at Redleaf Pool. I wonder when such charges were dropped, because it's certainly free to swim here now – if anybody knows, do get in touch…
There were beach inspectors in the early years of Redleaf Pool, and the incidents they had to deal with often made it into the local – and even national – press. In 1950, for example, a man was arrested by beach inspectors. But the local magistrates threw out the case, arguing that a towel was not 'offensive' wear.
Beach inspector Reg Irons was often in the papers at the time after he evicted some swimmer in scanty swim wear. I think Reg got quite used to talking to journalists on the subject – he reckoned the bikini costumes got more attention in the papers, but men were the worst offenders 'some costumes being beyond the bounds of decency', he told one newspaper. I wonder what he meant?
There was a 1951 report of 1,000 bathers watching as one poor chap waded into the water wearing a pullover, with the sleeves as legs; Reg Irons again, responding to a complaint from a female bather, called the police when the man refused to leave. He had been washing his clothes in the changing rooms and had no money to buy a costume; he had sold bottles (remember getting a few cents for empty bottles?) to pay his pool entrance fee. I felt kind of sorry for the guy, really, and wondered also when beach police like Reg lost their role in keeping up perceived ethics at the pool?
People I met here included
Most people at the pool today were busy parents keeping their eyes on lively kids, so I didn't want to disturb them. I did engage a couple of older gents in conversation to find out – I hoped – why there were gates with locks on them at both sides of the beach from which Murray Rose Pool extends. One of the gents reckoned these gates were closed every evening at dusk, but the pool remains accessible at all hours, he said. He thought the gates were to protect local residents whose properties led down to the neighbouring beaches. If you know a different reason, do tell…
What's your story? Any memories of swimming here? Any stories to tell? Or did you just have swimming lessons in days gone by?
Whatever you have to say, however brief, I'd love to hear from you and will add any stories to this section of the site as and when I receive them.  Add your comment or story under 'Leave a Reply' below.
Links to other articles on this pool
Mr 1000 Pools came here not long before we met in 2015
Swimming blogger Mrs G Spot came here in 2013
The I'd swim that swim blogger also came in 2013 and had a good time
Seana's Sydney for Kids blog came in 2012
This is a popular spot for bloggers to write about. Here's another from 2012. Me too …
This is a rather moving piece about Murray Rose himself, with several mentions of the pool he learnt to swim in
This is not so much a pool as a fenced off section of beach, according to these bloggers who visited in 2011, before the pool's name change
This Sydney blogger wrote about the then Redleaf Pool in 2010
But Swimming blogger Sally wrote about this pool before anyone else I tracked down – her visit back in 2008.
Coffee, tea or milkshake after the swim?
Just above the pool is the Redleaf Pool Café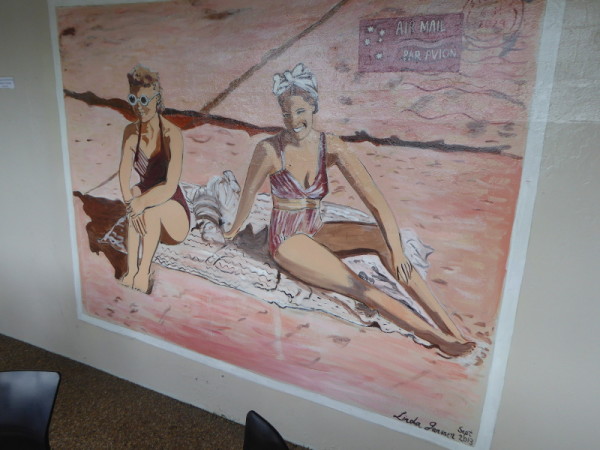 The best thing about the Redleaf Pool Café is the fact that you can sit and admire the views directly over the pool, and the wonderful murals painted onto the concrete walls by the café depicting scenes from the pool as it might have been in earlier years.
The coffee is a decent brew and if you are in desperate need of a cup after your swim or fancy just a pause for thought after your dip, this place will do fine for the post swim coffee.
Real coffee lovers should go the extra half mile, though, to:
Filosofy Coffee, 45a Bay Street, Double Bay
Open daily 6am – 3.30pm (slightly shorter hours on Sundays)
Filosofy Café reviewed by Fancy a Cuppa website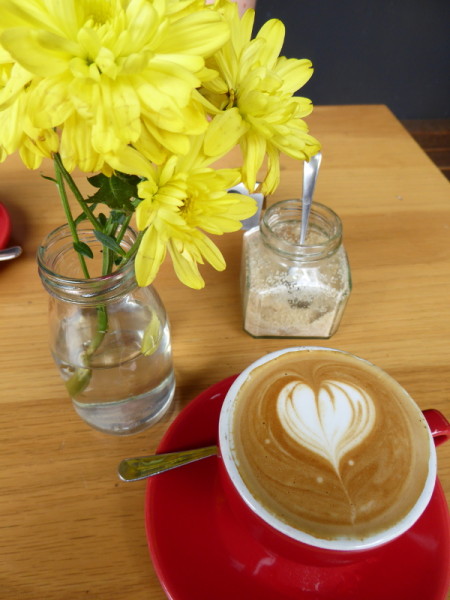 Surely the best coffee in Double Bay (though I confess I didn't try the little coffee roasters Elbon Coffee because you can't actually sit down there). At Filosofy, you have a choice of the single origin of the week or the house blend; I tried both. The single origin was a rich but smooth Nicaraguan, with a really distinctive taste. The manager has family ties to their roaster Salvador Coffee Roasters, and the barista is a keen coffee lover, though his favourite single origin is the Kenyan they use sometimes. I liked this place for its relaxed neighbourly feel, too; much nicer than some of the foodie joints around the block in Double Bay.