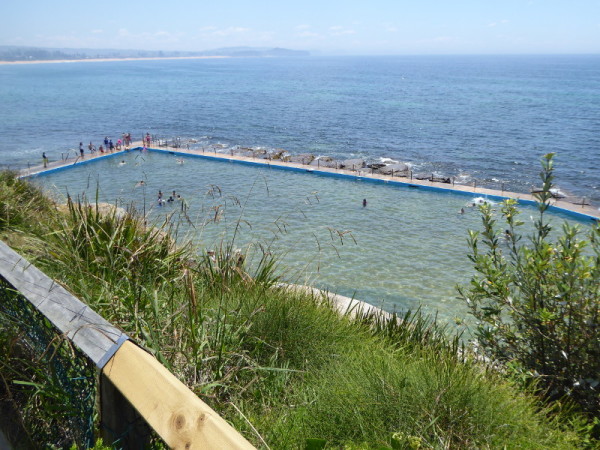 Named after a ship that ran aground here in 1881
My experience in the pool
By arriving here on a hot Friday morning towards midday when schools are soon to finish for the summer, I learned a couple of things at Collaroy Rock Pool. First thing was just how hot the concrete next to a pool can become in the midday sun, so should have brought my pool shoes, but for a completely different reason to normal.
Second thing is that Australian school classes at this time of year on a Friday are just as likely to be found on or near a beach as they are in the classroom. Personally, I think it's great that mobs of teenagers are taken to the water and have their swimming (and survival) skills tested. So, I wasn't too bothered to find Collaroy Rock Pool heaving with some 50 or so kids.
The teacher was great, too, when I asked how long they were likely to be in the water for: just as long as it takes to cook those sausages, he said as he pointed back to the barbie smoking away a short distance away. And sure enough, by the time I'd taken a few photos, slapped on the suncream and hobbled over the hot concrete, the pool was virtually deserted.
I like Collaroy Rock Pool. It's kind of a 50m pool; kind of because it is not a traditional oblong, so unless you swim up and down one of the numbered 'lanes', chances are you will be coming up against a pool wall a little sooner than you expect, especially with my perfect 45 degree arc backstroke (well you try swimming straight with a cloudless blue sky above you).
The depth goes from about 1.4m at the shallow end to about 1.7m in the deep so it's a very gradual slope. And three hours after high tide there was no sign of waves coming over the pool walls. Still, the water seemed beautifully clean, in spite of 60 adolescents having just been in there…
And the views from the pool are fantastic: it's right at the southern end of the 3.5km long beach at Collaroy and Narrabeen, so you can't really see the other end of the beach from the pool. Just one long expanse of sand and surf.
Getting there, getting in, getting changed
There are lots of buses from Wynyard in Sydney's CBD that stop in Collaroy. Fastest are those that are heading further north like the L85, L88 or L90. There is parking nearby but it looked like tickets were needed and I didn't see what it cost.
Lots of alternatives for getting into Collaroy Rock Pool: there's a wheelchair ramp with gradual slope and handrail on both sides; there's a steeper ramp at the shallow end, and there are lots of vertical metal stairs around the pool.
Not much shade anywhere near the pool at midday. But you can leave your things on one of the many concrete steps by the poolside. There are showers by the pool, but if you need toilets and changing rooms, you have to go back 300m to the Collaroy SLSC building, and the toilets are at the back. Opening hours are an extraordinary 4.30am – 11pm, which somehow says it all about the Sydney Northern Beaches lifestyle…
Tidal differences
No problem swimming in any tide, though the waves must flow over the pool wall at high tide and I imagine they come crashing in during a storm. When I was there, on a calm day at three hours after high tide, the occasional wave lapped over the edge of the pool but nothing flowed into the pool itself.
Other practical points
There is also a wading pool next to the main rock pool; more like a paddling pool really so great for small kids.
Nice that they have built the chain fence round the ocean side of the pool leaving enough room to be able to walk right around the edge of the rock pool at Collaroy.
History and stories of the pool
Collaroy Rock Pool was officially opened in 1926, though it was actually there earlier. It was deepened and made into a proper 55 yard pool in 1937. See one of the links below for photos of the barbed wire laid across the rock pool during World War 2.
People I met here included
In midday sun at 35C it wasn't really ideal for lingering to chat with others, especially with no shade anywhere, so I'll have to come back earlier in the day to meet some of the regular locals who swim in Collaroy Rock Pool.
What's your story? Any memories of swimming here? Any stories to tell? Or did you just have swimming lessons in days gone by?
Whatever you have to say, however brief, I'd love to hear from you and will add any stories to this section of the site as and when I receive them.  Add your comment or story under 'Leave a Reply' below.
Links to other articles on this pool
The new All Into Ocean Pools website has this on Collaroy
Swim blogger Sally came here in 2013
The Three Bathing Belles were here in 2012
Australia's Daily Telegraph reported on Collaroy Pool with a beautiful photo from the 1920s.
And this is a fascinating piece on Collaroy during the Second World War
Coffee, tea or milkshake after the swim?
Two great options and both very different in feel
Stay Grounded, 1093 Pittwater Road
Open Daily 6.30am – 4pm
Stay Grounded reviewed by Fancy a Cuppa website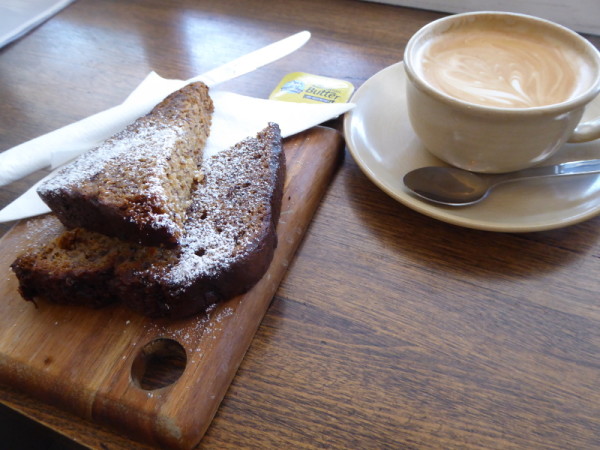 Probably easiest to find as it's on the main road directly over from the level of the rock pool. I loved the coffee at this place, with the excellent Will & Co roasters. If you want tea, they do the loose leaf teas from Teacraft. It's a very laid back place, with fans overhead to keep you cool and a good vibe helped by the Buddha icon they have on all their barista tee-shirts.