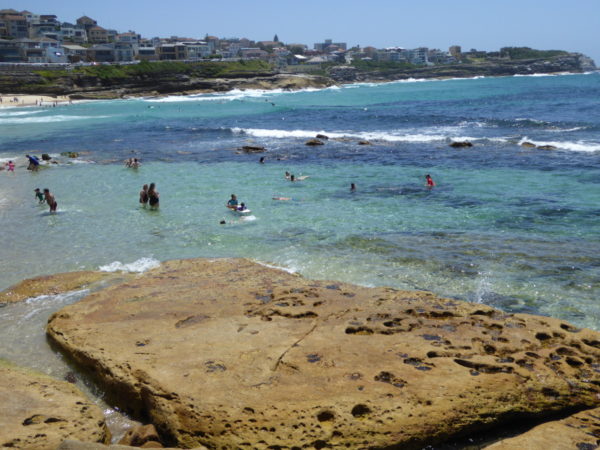 My experience in the pool
Bronte Bogey Hole has always taken second place on my previous visits to the area because Bronte Rock Pool is one of my favourites of all the NSW ocean pools. But I needed to have a swim in the bogey hole one day to complete my coastal quest.
I'd partly shied away from trying to swim in the bogey hole because I couldn't work out exactly where the swimming area actually was. But my friend, and fellow swimming blogger, Therese put me right when we met last weekend: she told me the tide was all important for swimming at Bronte Bogey Hole and that the best tide was about midway between high and low.
A quick study of weather forecasts, tide times, train times (from the South) and bus times (over to Bronte) showed me that I might just get lucky on the Wednesday before Christmas, and sure enough it was perfect.
The water at Bronte Beach that morning had that turquoise look you associate with holiday brochures advertised in even more exotic places overseas, and the bogey hole space was absolutely clear, with quite a crowd of people in the water.
The water was perfect. A nice cooling temperature on a hot morning and crystal clear. It never reached a depth that took me beyond about chest height but the slope of the beach is enough to give you enough water to set out on a reasonable freestyle stroke shortly after getting in.
This is not a lap pool area; it is much more for fun; catching a gentle wave, lying on my back, trying a few strokes to go a bit deeper, and just enjoying the screams of kids (and adults) enjoying the water.
Some might say a bogey hole like this isn't a real NSW ocean pool, but in fact you could argue that places like this predate even the arrival of European settlers, as Aboriginals have been swimming here for countless years before Captain Cook even spotted the place.
For me, it felt utterly magical. A reminder again of just why I'm on this quest swim in all the state's pools: it is the most joyous activity imaginable here in NSW, and totally free! How lucky we are to have places like Bronte Bogey Hole on our doorsteps.
Getting there, getting in, getting changed
There are regular buses to Bronte Beach from Sydney CBD or from Bondi Junction. Once at the beach itself, the bogey hole is at the southern end of the beach.
Most people enter the water at Bronte Bogey Hole via the beach itself. There are steps down into the ocean from by the rock pool, though this water is not strictly speaking in the bogey hole so if you enter this way, you'll need to swim a bit through open ocean before you get the protection of the stones forming the bogey hole.
Changing facilities, showers and toilets are at the southern end of Bronte Beach by the rock pool.
Tidal differences
Best time to go is midway between high and low tides.
At high tide, the rocks that form the bogey hole are submerged and at low tide the waters are too shallow.
History and stories of the pool
See the links below from fellow bloggers who have discovered more about the history of Bronte Bogey Hole than I could. It seems to have been around for a very long time, probably pre-dating European settlement in Australia.
I rather liked the story one of the articles found about the guy who was bitten by a (presumably) small shark in the bogey hole and went to hospital for treatment with the shark still hanging on to his arm. Do we really believe he later ate it for dinner, though?
People I met here
Just one local lady who clearly loves coming down to the bogey hole as often as she can. Other than that, as it was the start of the school holidays, I got the impression that many people in the water were visitors or holidaymakers, less interested in engaging with strangers than locals often are!
What's your story? Any memories of swimming here? Any stories to tell? Or did you just have swimming lessons in days gone by?
Whatever you have to say, however brief, I'd love to hear from you and will add any stories to this section of the site as and when I receive them.  Add your comment or story under 'Leave a Reply' below.
Links to other articles on this pool
Swim blogger Sally came to Bronte Bogey Hole a few years ago, and includes some historical information from the former NSW ocean baths website, run by the same people as now have the All Into Ocean Pools site.
I also loved this description of Bronte Bogey Hole from swimming friend and blogger Therese, with some great pics of the bogey hole at low tide
Coffee, tea or milkshake after the swim?
The coffee shop I went to last year for a post swim coffee after Bronte Rock Pool has since closed down. In the same run of cafés down by the bus stop, there is a place called the Bogey Hole Café, and since I'd been in the bogey hole today, I felt that had to be my new choice for a post swim coffee…
Bogey Hole Café – 473 Bronte Road, Bronte Beach, NSW 2024
Open Daily 7am – 4pm