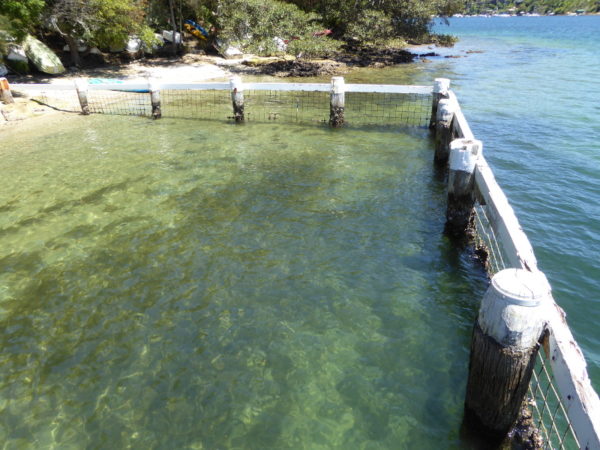 George Pickering was an early settler in the area near these baths.
My experience in the pool
Pickering Point Baths on Middle Harbour near Seaforth are an idyllic place for a dip on a hot afternoon. I came here on the bus from Manly after sitting for twenty minutes looking at the swimming enclosure next to Manly Ferry wharf and deciding it was just too windy and the water not tempting enough for my swim that day.
It's a ten minute walk down steeply-winding streets from where the bus drops you on the road out of Seaforth towards Frenchs Forest, and then there's a further steep climb down about 66 steps before you come out at Pickering point wharf.
That walk takes you past some beautiful properties and then the waterside bush with fabulous gum trees, populated by two of my favourite Aussie birds: the kookaburras and the whip birds. Those bird calls were joined by human screams (of delight, I should add) as I dropped down closer to the water's edge.
And there were the Pickering Point Baths. A little 12m square shark-netted area, completely sheltered from that nasty wind blowing over Manly earlier, and although the tide was only slowly coming in from low, still deep enough to have a wonderful cooling dip.
The beach that is exposed at low tide is strewn with broken oyster shells, so after my cutting experience in a rock pool last year, I whipped out my pool shoes and strode into the water, not worrying about potential lacerations from those sharp sharp shells.
I'm guessing at high tide there's no beach, so just be aware of those shells if you are there when the sand is covered.
12m doesn't take long to swim so this was hardly a lap pool, but it gets top marks for setting, among the bush on Middle Harbour, with scores of yachts moored on the bay beyond the shark net.
There's a wooden boardwalk along one side, leading to almost vertical steps down to the 'deep' end. I watched a little girl maybe 5 years of age, being taken down those stairs on her dad's shoulders first and then encouraged to paddle ashore. After succeeding in that feat, she then ran along the boardwalk and did it all by herself four times, with her parents looking on.  And I couldn't help thinking: THAT's how you teach a little one to swim and feel comfortable in the water, unlike my experience in Australia at the age of 7 being dragged by the band of my trunks and forced to splash along in murky green water (but more of that when I revisit that pool 50 years on next year).
There were three teenage girls jumping into the harbour just outside the protected enclosure. I asked one of the local lads present if that was safe with sharks about: and his answer would not have reassured me if I was those teenagers.
'Only baby sharks come into the shallows, he said, and that only if they're hungry. But I wouldn't swim out in the middle of the harbour here, where it must be 10m deep, and there are lots of big bull sharks. They also swim around those mangrove trees,' he said, pointing to the trees that can't have been more than 50m away. 'And they're the most aggressive, testosterone-filled sharks in the water.'
What amazed me, after hearing that story, was that he then just slotted into his kayak – as did the dad and his five year old, by the way – and paddled off towards… the middle of the harbour.
Well, I stuck firmly to the shark-netted enclosure at Pickering Point Baths, and utterly delightful it was, too.
No changing facilities, though, and no waterside shower. You need good towelling technique and you'll stay salty until you get home, but wow what a great find was Pickering Point Baths in Seaforth. One of the delights of this NSW ocean pools tour.
Getting there, getting in, getting changed
There are buses direct from the CBD to Seaforth and beyond, to the stop ten minutes walk above the swimming enclosure at Pickering Point. Bus 169 goes to Wynyard. Bus 132 to Manly. Even if you go by car, you'll still have to negotiate the 66 steps down through the bush to the pool.
Take the vertical steps at the 'deep end' or enter via the beach. Beach almost certainly covered at high tide.
No showers nearby. No changing rooms. So bring a big towel for privacy!
Tidal differences
Yes. I was there two hours after low tide and the water was a good depth near the shark net. I imagine you could still just swim at fully low tide, but this pool will be best at high tide.
History and stories of the pool
I love the feature article in The Australian Women's Weekly from June 1972 headlined: Filming murder on a foggy day on Middle Harbour, The article tells of American actor Robert Lansing filming some episode of a TV series called 'The Evil Touch', in which he wanted to kill his wife by drowning her, so that he could get together with a younger woman (classic 1970s TV scenario). He was supposed to push his wife overboard in the middle of Middle Harbour near Pickering Point, but he was as wary of the sharks as me and wanted to film the scene inside the Pickering Point pool enclosure.
The trouble was, it was raining that day so they had to delay filming, and by the time the weather cleared, the tide had gone out and the water wasn't deep enough to film the scene. They tried to get a local 'shark watcher' to help be in the water for the bits where Lansing himself was to be in the deep water beyond the baths, but could find nobody, so he had to get in the water to make the scene work, and they did the whole thing in one take. No stunt doubles in those days, clearly. And a lesson for picking your tide well at Pickering Point…
People I met here
The local in his kayak who told tales of bull sharks in the nearby mangrove swamps…But I've already recounted his stories…
What's your story? Any memories of swimming here? Any stories to tell? Or did you just have swimming lessons in days gone by?
Whatever you have to say, however brief, I'd love to hear from you and will add any stories to this section of the site as and when I receive them.  Add your comment or story under 'Leave a Reply' below.
Links to other articles on this pool
I only found one other blogger, the Lazy Swimmer, who has written about Pickering Point Baths.
Coffee, tea or milkshake after the swim?
You've got to hike up those steps and then the steep roads before you even get back to the main road where the buses run, and even then it's a fair walk further to get to my favourite coffee near Pickering Point Baths…
Four Brothers Espresso – 38 Frenchs Forest Road, Seaforth, NSW 2092
Open Daily 5.30am – 2.30pm Monday – Friday; 7am – 1pm weekends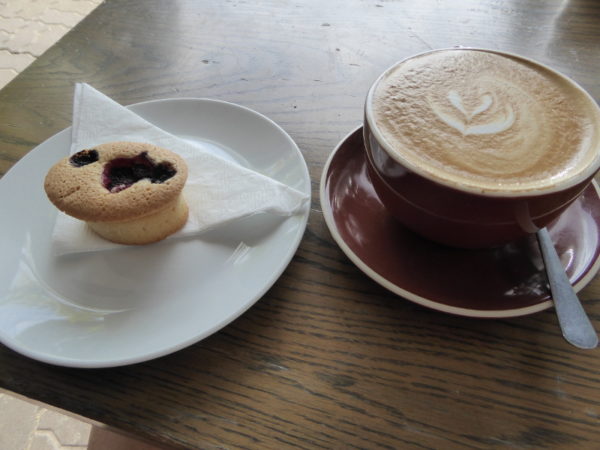 Four Brothers Espresso is one of those coffee shops you need to know is there. If you're just looking for coffee by chance, you might miss this one, as it's tucked away around the corner out of sight of the main road from Seaforth to Frenchs Forest.
It's the best spot for a post swim coffee after a dip at Pickering Point Baths. They get their coffee from a roaster in Frenchs Forest and it makes a good brew. It's always good to support coffee shops that buy from local roasters so that ticked my box, as did the friand I had with it.
I don't always want too much coffee when the temperature gauge tops 30C, but at Four Brothers Espresso I couldn't resist.