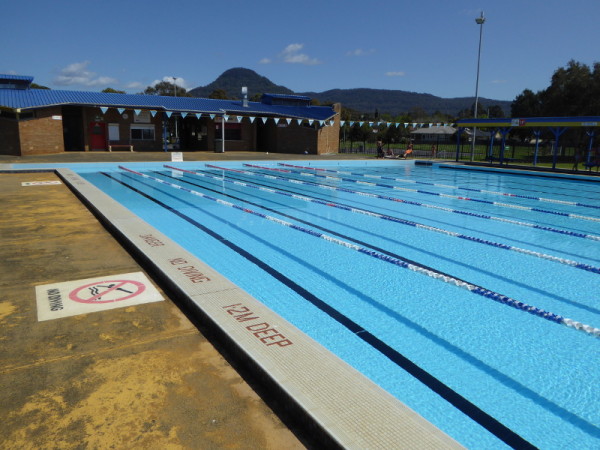 Aboriginal word for junction of two creeks
My experience in the pool
I initially came here when I didn't know I would be blogging also about freshwater open air pools, so didn't take any notes. But I do remember being delighted by the views of the bush-covered mountains in the distance behind the pool, and relishing the swim even more because these excellent facilities – with Olympic Pool, 25m pool and toddlers pool – are totally free to use. Hats off to Wollongong Council for this.
I returned less than a week after the pool had reopened for the spring, not knowing that a 'heated' pool takes some time (weeks, sometimes) to get up to the optimum temperature for swimming.
Having swum in Oak Flats at 17.5C last week and felt the chill, my heart sank when I saw the sign saying 16.5C here. But the cheerful lifeguards were more positive, saying the sunshine and solar heating might well have pushed it up another half degree, and it may even reach 18C by the afternoon.
So I braved it, egged on by the hardy lass in the next lane who took the plunge and got straight on with her laps. The lifeguard was the second old-hand to recommend I get myself a good swimming cap, though – for heat loss rather than hygiene!
This was a pretty chilly swim, so I began with a couple of lengths of backstroke – it somehow eases the entry when those vital organs aren't immediately exposed, and I couldn't help wondering how long I'd be appreciating getting the sun's warmth on my face as I swam (when does that switch to a desire for shade?).
It's school holidays now and it was good to see 20 or so kids splashing around in both the main pools by the time I left. As the lifeguard said as I was leaving, it's basically free childcare for the day, so amazing there aren't hundreds in there on such a nice, sunny morning!
Great swim, though, and being at no cost DOES make it all the sweeter.
Getting there, getting in, getting changed
Lots of parking here at the pool complex, which is just a few metres from the Princes Highway (NOT the Motorway) a mile or so north of Unanderra.
Nice graded steps to get into the water, though having watched my neighbour jump straight in, I realised the gradual entry into cold water is never a good idea, and I ended up jumping into my lane too rather than stepping gingerly down those steps.
No warm showers here. Lots of space in the changing rooms.
Other practical points
Free entry to these pools
Olympic Pool depth goes from 1.1m in the shallow to 2m in the deep.
25m Pool and toddlers pool, the latter being under shade.
The pools close for five months of the year, from last week of April to mid-September.
History and stories of the pool
I've not found any article or blog referring to any history of the pool.
What's your story? Any memories of swimming here? Any stories to tell? Or did you just have swimming lessons in the cold of winters past?
Whatever you have to say, however brief, I'd love to hear from you and will add any stories to this section of the site as and when I receive them.  Add your comment or story under 'Leave a Reply' below.
Links to other articles on this pool
I found no blogs or articles written specifically about Unanderra's Western Suburbs Pool. According to the local newspaper, the Illawarra Mercury, there was a petition over two years ago to have the Council extend the pool's season beyond the end of April. So far that seems to have fallen on deaf ears, but the article gives some nice background on the pool's place in the community. See that discussion in the Illawarra Mercury here.
Coffee, tea or milkshake after the swim?
There is nothing worth drinking in the immediate vicinity, so you'll need to trek back down the Princes Highway (about a mile, or 2 minutes in the car) to:
Country Grocer, 120 Princes Highway, Unanderra
Open 5.30am – 4pm Monday – Saturday (closed Sundays)
Country Grocer reviewed by Fancy a Cuppa website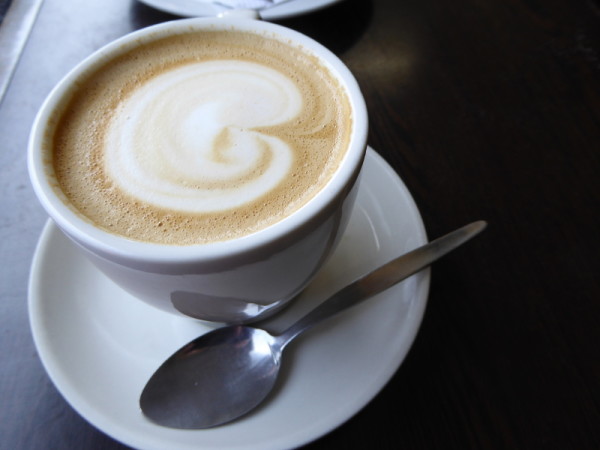 Good coffee roasted by the excellent Paul Bassett, former World Barista Champion. Made for a silky, smooth flat white and you can choose to sit on stools in the bar area, or out on the terrace under cover from the elements. This café is attached to a rather good independent grocer in Unanderra, though it opens much earlier in the morning, meaning you can come for a cuppa before work if you are having a pre-commute swim. Nice selection of cakes and muffins (my only reservation was that they were refrigerated and cold cake is never the best).
.