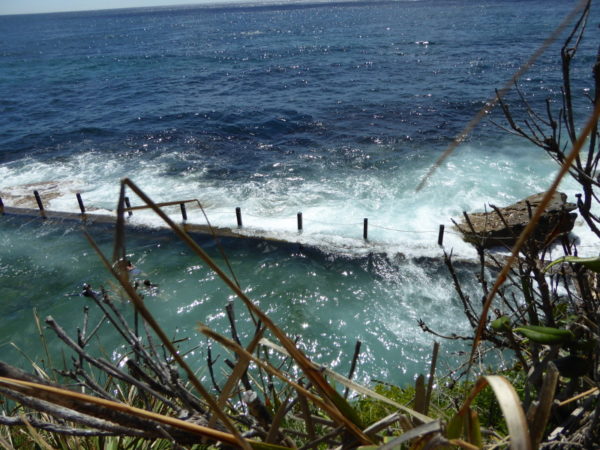 Sydney's women-only rock pool is named after Rose McIver, who was founder of Randwick & Coogee Ladies Swim Club in 1922.
My experience in the pool
This wasn't of course 'my experience in the pool' – fortunately my wife was able to jump in and give her impressions of swimming at McIver's Baths.
Two female friends joined me, and the day we visited there was quite a swell, with waves crashing over into the pool, and a bit of a 'washing machine' effect in the baths.  One friend, a strong swimmer, was just about able to do laps, but the other friend and I just treaded water and chatted close to the steps, until the wash started to drag us over rocks.
At that point we got out and stood on the steps with our feet in the water, talking and watching the keener swimmers.  Later, the strong swimmer told us that one of the women in the pool was a lifeguard, who was keeping an eye on the swell and on those who were braving it.
It was a hot day with strong sunshine, and there isn't much shelter in the baths, so a good sunscreen and a rash vest is recommended – some women were keeping hats or caps on in the water too.  Many women go topless or nude in the relaxed, female environment.  Unusually for image-conscious Sydney, the atmosphere  is totally unselfconscious, and all ages, shapes and sizes were represented.  I really appreciated and enjoyed this aspect of the experience.
The pool is no more than about 15 -20 metres long, but it's not rectangular so the length in places is even less, but it is possible to do laps.  It is deep, though: once I left the entry steps I could rarely touch bottom (and I'm 1m70).  The bottom is rocky, and occasionally I could touch down on a rock – these could potentially be sharp, though.
Getting there, getting in, getting changed
McIvers Baths can most easily be reached by bus from Sydney's Central Station.  There is no train line (yet) out to the Baths, and although it is certainly possible to drive, by all accounts finding somewhere to park in the neighbourhood can be challenging.  From the road where the bus drops off, it is a 5-10 minute walk to the seafront, and then along a pedestrian path, to the entrance to the baths.  The entrance is staffed by volunteers, and a gold coin donation is requested, although the official entrance fee is 20c.
Whilst the entrance is more or less at road level, as are the changing rooms, after that the path down to the baths, which threads its way through some small grassy areas and rocky areas where women sunbathe, is steep with many steps.
There are two potential access points to the baths, both steep, rocky, and slippery in parts – on the day we visited only one access point was usable due to the strong ocean swell.  All in all, good mobility is needed to access the baths, although there are rails in places.
The changing rooms are basic but adequate; a low concrete building with an open area with benches around the walls for changing, a few changing cubicles and some toilets.  The only shower I saw was an open air one at the top of one of the access points.  The changing rooms do have a lovely open air window looking down on to the baths.
Tidal differences
McIver's Baths can be swum in on all tides, though as we found on high tide in a strong swell, the waves can make the water a bit of a washing machine. If you want a calm swim, come at low tide.
People I met here
The pool at McIver's was very busy on the Saturday we visited, with many women relaxing on the grassy and rocky banks around the pool and the many access steps from the changing room to the baths.  Many had the Saturday papers with them, and/or friends, family and children and looked like they were settling in for the day.  Even despite the rough water in the baths, there were also quite a number of people in the pool.  I stopped on the steps to chat to an older woman who had been visiting the baths regularly for years, and enjoyed swimming there in the relaxed environment.
What's your story? Any memories of swimming here? Any stories to tell? Or did you just have swimming lessons in days gone by?
Whatever you have to say, however brief, I'd love to hear from you and will add any stories to this section of the site as and when I receive them.  Add your comment or story under 'Leave a Reply' below.
Links to other articles on this pool
This blog post from 2010 by Therese of Swimming Pool Stories blog has the best potted history of McIver's Baths.
Therese is something of a regular at McIver's – this blog post was published in 2013.
Another regular swim blogger, Sally, has written about McIver's Baths three times, and she calls McIver's her favourite. This her last post from 2014,.
I loved the photos of McIver's on this blog post from 2016 by Amelia Herbertson.
The Mrs G Spot swimming blog covered McIver's here.
A first link from this site for the Barronessa blog on McIver's Baths.
McIver's brought in a whole set of new writers I haven't seen before. Here's another.
The Lazy Swimmer blogger couldn't swim here but covered McIver's anyway in 2014.
The ABC news website published this fantastic photo of McIver's Baths during a big storm in 2016.
 Coffee, tea or milkshake after the swim?
My favourite spot for a post swim coffee in Coogee closed down so I am looking for a new coffee tip in Coogee…