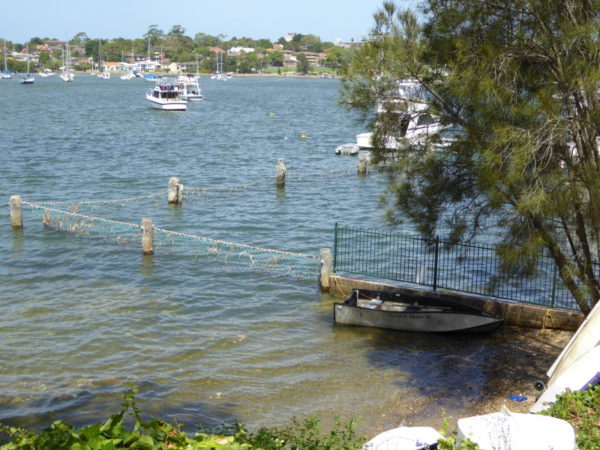 Chiswick is named after the riverside suburb of London
My experience in the pool
Chiswick Pool in south west London is where I finally learnt to do front crawl, or freestyle as they call it in Australia. That was back in the 1990s. But I couldn't help thinking of those swimming lessons as I strode into the water at Chiswick Baths. The name is about where the similarities between the two Chiswicks end, though. And the Thames is a very different beast from Sydney Harbour.
Chiswick Baths are one of those shark netted enclosures along the waterfront in Sydney – this one officially on the Parramatta River – with the ever-present yachts anchored just beyond the shark net and lovely views along the waterfront in both directions.
I had heard that Chiswick Baths are best at high tide so timed my visit pretty well to meet the waters at their highest. There was a tiny corner of beach which wasn't at first visible when I arrived here from the ferry. It's only when a mum and her son appeared up the stairs out of nowhere that I realised they must have been playing quietly somewhere, and looked over the fencing to see the small triangle of sand, where I could leave my things.
I reckon on a king tide even that bit of beach would disappear, but there is a handy little concrete square where you could leave your things while you swim if you didn't trust the water not to creep up quickly.
The water temperature felt like a warm bath as I entered from the sandy edge, though it cooled off quickly as I got further out. Not that you can swim very far out. The shark net provides you with a nice 25m length but only about 10-12m out from the side, and probably even less at low tide, which is probably why it isn't worth trying Chiswick Baths at low tide.
I liked the little plaques built into the concrete just above the pool, which commemorated locals who had either helped get the enclosure built or had swum in it regularly. There was nobody else in the water while I swam, but 3pm is a lot less popular as a swimming time than my usual morning swim times, and I reckon Chiswick Baths are still fairly well used these days.
I do love how there are so many netted enclosures up and down the various waterways around Sydney. A handful have fallen into disrepair or been taken away since my Sydney street directory was published about 10 years ago, which is why I had wasted journeys to Henley and Sangrado recently, but it makes me wonder how many such enclosures there once were when swimming was in its heyday in the 1950s, say?
Getting there, getting in, getting changed
Best way to get to Chiswick is by ferry. Catch the Parramatta service and hop off at Chiswick, from where you have a five minute walk to the baths. I caught a bus back to Sydney CBD afterwards, though it takes a while and is less picturesque than the ferry.
Only way into the water at Chiswick Baths is via the small sandy beach, though you need to negotiate the 8 or so steps down to the water so no disabled access here.
There is a shower on the concrete looking down over the baths and a toilet also, but no actual changing area. I managed to change in the not-so-clean toilets though I kind of wished I'd gone back down to the little triangle of beach and changed there since it is out of view of the parkland above the baths.
Tidal differences
Big difference. Best at high tide. I'm not sure how deep the water at Chiswick Baths will be at low tide, especially as they don't extend very far into the river.
Other practical tips
Finish your swim at Chiswick Baths before 3pm if you want a post swim coffee (see below)
History and stories of the pool
Chiswick Baths were built in 1956 for the 220 residents of Chiswick at the time. Stan Little was Mayor of Drummoyne and his role is commemorated in a plaque near the pool.
For the best summary of the history of Chiswick Baths, go to this blog on Canada Bay and to the Canada Bay Council website, where there are good articles giving an overview.
People I met here
There was nobody else in the water with me at Chiswick Baths, just a young woman and her toddler boy playing on the small sandy area. So no stories to swap this time…
What's your story? Any memories of swimming here? Any stories to tell? Or did you just have swimming lessons in days gone by?
Whatever you have to say, however brief, I'd love to hear from you and will add any stories to this section of the site as and when I receive them.  Add your comment or story under 'Leave a Reply' below.
Links to other articles on this pool
Chiswick Baths are not so popular with other swim writers and bloggers, it seems. I only found this one piece by blogger Mrs G Spot on her visit to Chiswick.
 Coffee, tea or milkshake after the swim?
There is one café just beyond the park above the baths at Chiswick. Blackwall Café looked good and had a nice Marzocco espresso machine, but they close at 3pm and by the time I got there at 3.20pm everybody was clearing up and I was sent away. So, I can't vouch for the coffee here at Chiswick, but having caught the bus right outside the coffee shop I can confirm that there is nowhere else nearby for that post swim coffee, so maybe that's why nobody else was in the water with me at 3pm!