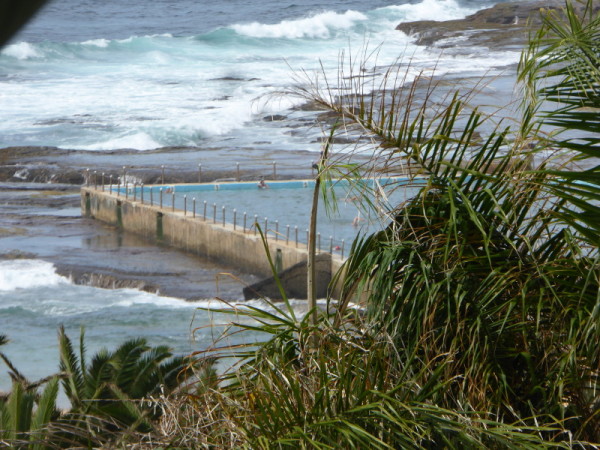 Named after an Aboriginal term meaning 'swirling waters'.
My experience in the pool
For one of the swimmers who contacted me since I began this tour of NSW ocean pools, Bilgola Rock Pool is the best. So I was keen to see what made her make this claim.
The pool was a lot busier for a weekday morning than any other I have been in, so Bilgola certainly has a sizeable fan base, and most of those I chatted with made the same claim: it's got to be the best rock pool in Sydney, they all said.
It is a beautiful pool, and I'd definitely put it on my list of pools to return to at the end of my quest. It's a real 50m pool, which means it does get used by local schools for training. In fact the ladies I spoke to at the shallow end reckoned a school group had been due in that morning, so we got lucky.
The shallow end of Bilgola rock pool is – counter-intuitively – at the eastern end of the pool, furthest from the SLSC building and the beach. It slopes gently up from about 1.5m in the shallow to nearer 1.8m at the deep end. And it has a concrete floor, though no lane markings on that floor, so it's always safe to put your feet down, but if you're a bit wayward in your stroke, you have little guidance for staying straight.
With the pool so busy, I needed to peer up now and then to check I wasn't on any collision course, and certainly didn't risk my backstroke, which tends to go off at a 45 degree angle if I don't have some clear landmark to fix on.
Next to the main pool – and separated by a chain fence with a 10m gap so that you can move between the two pools – is a wading area, which was unusually busy with…waders, many of them on some sort of regime involving elaborate sideways steps, looking great for testing those adductor muscles, I guess.
Right along the base of the cliff is a bench, where some sit and chat, some were sunbathing, and others just left their clothes. The cliff itself is now netted all the way up following earlier stories of rock falls causing injuries to walkers and bathers in the past.
Yes, I liked Bilgola Pool, and I'll definitely come back, but for its type, I almost prefer Freshwater Rock Pool, which – as its name suggests – has possibly a fresher feel to the water.
Getting there, getting in, getting changed
Contrary to one blogger I read before travelling up to Bilgola, I found getting there on public transport fairly easy. The L88 and L90 buses drop you off just two minutes' walk from Bilgola Beach, a downhill walk through rather lovely bushland. There is parking by the beach, and there were spaces free on this fine March morning, but I can imagine it's hard to park at the weekends and at the height of summer.
There is a good sloping ramp down into the wading pool so disabled access is good, though you wouldn't be able to use the path I took from the bus stop. There are steps too, half way up the pool, which take you into the water nearer that gap in the chain fence if your aim is to swim laps. Or just dive in at the deep end (nearer the SLSC) at 1.8m you should be fine.
There is a long bench alongside the pool to leave your things. The actual changing rooms and toilets are back along the beach just past the SLSC building, with a couple of showers on either side of the path about halfway back to those toilets.
Tidal differences
Not sure on the tidal differences at Bilgola. If anyone knows best times to come for a decent swim, let me know…All I did hear from locals were tales of times when the surf is strong and entering the pool (see below under People I Met…)
History and stories of the pool
Bilgola Rock Pool is a relative newcomer on Sydney's beaches, having been built in the 1960s. The main stories of the last 50 years seem to relate to rocks coming off the cliff face and causing damage or injury, but that has been solved by netting now all the way up the cliff face.
The Avalon Bilgola Swimming Club meets here every Saturday morning between October and March, so the pool gets busy then.
People I met here included…
Abby, Jenny, K and Lynda were a friendly group of ladies finishing their daily swim while I was there. Like most users of Bilgola Rock Pool, they are lucky enough to live locally, and just like me, they were heading off for a post swim coffee afterwards. They were enthusiastic story tellers of times when the pool gets rough. Two of them showed me the scars they still have from some of those occasions, and Abby has even been rescued from the pool twice, although she never felt in actual danger there, but just couldn't easily get back to the pool side during big seas.
What's your story? Any memories of swimming here? Any stories to tell? Or did you just have swimming lessons in days gone by?
Whatever you have to say, however brief, I'd love to hear from you and will add any stories to this section of the site as and when I receive them.  Add your comment or story under 'Leave a Reply' below.
Links to other articles on this pool
New to the links on this site is blogger Isabella and India. Bilgola is the last entry on this post from November 2015.
Swim blogger Sally came to Bilgola in 2013
The Three Bathing Belles bloggers were here in 2012.
The Lazy Swimmer blog wrote about Bilgola in 2010.
The Sydney Morning Herald covered a rather alarming story from Bilgola Rock Pool in 2010.
Coffee, tea or milkshake after the swim?
Follow the curve of Bilgola Beach till you reach the beach kiosk, and that's where you'll find a decent brew for that post swim coffee
Bumbalino's Café – Bilgola Beach, NSW 2107
Open: Daily 6am – 5pm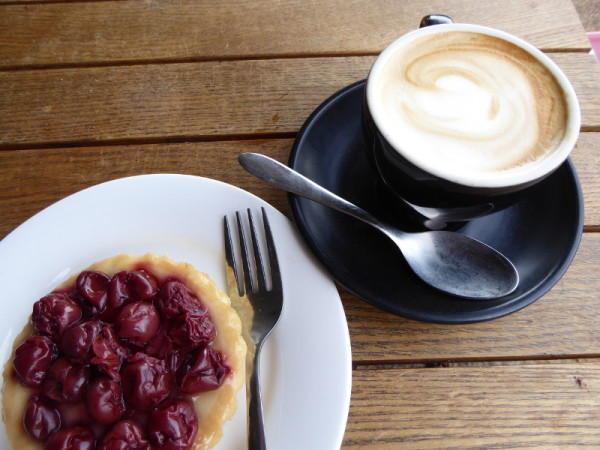 Watch the surf, sit under the shade of the Norfolk pines and pick up the happy hum of other coffee drinkers, many of whom will also have gone for a swim in the rock pool earlier. Apparently, even in the early morning, there are more swimmers than surfers coming here for a cuppa. The Aroma Coffee makes a decent brew and the tarts on offer the day I was here were excellent.