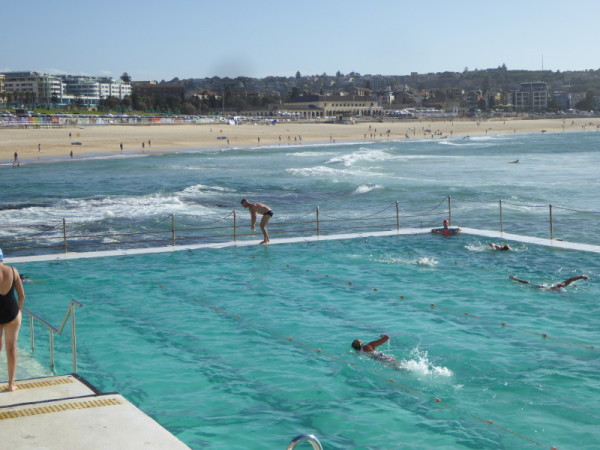 Named after the winter swimming club which began here in 1929.
My experience in the pool
You need to pick your time well if you want a quiet swim at Bondi Icebergs, with maybe a lane to yourself. According to the manager on duty as I left, the best time for that is between 8am and 9am on Monday or Wednesday.
It certainly wasn't quiet on a warm Friday morning in March, with lots of lane swimmers ploughing up and down by 9.15, when I arrived.
But it's not just the 50m pool that fills up; there's the 25m pool, sitting at right angles to the Olympic pool, there's the sauna, the massage room and the café, not to mention the various layers just below packed with bodies sunning themselves before things got too hot, even in the late summer sun.
If all the NSW ocean pools were to form a city, Bondi Icebergs would surely be the CBD, judging by the crowds there. And I've never seen so many people around the swimming area so constantly on their phones – were these family and friendly chats, or corporate calls from a lovely vantage point?
It was hard to tell, but it didn't make for many friendly chats with others around the poolside. And it wasn't much better in the water.
I mean, Bondi Icebergs is a beautiful pool, and with its clearly marked lanes (both roped off and marked on the pool floor), it was the first pool in a while where I felt like doing a few serious laps. But that's also part of its problem: there really is little else to do in this pool than serious laps (one lane of the 50m pool and the whole 25m pool busy with swimming lessons), and the lap swimmers were taking it all so seriously that nobody – but nobody – paused even to say hello or pass the time of day. So, a lovely spot, almost idyllic, but little joy here, I felt.
Getting there, getting in, getting changed
Getting to Bondi Beach is easy and Icebergs easy to find at the southern end of the beach
Good changing rooms, though I was a little put out that there was ONLY hot water in the showers. On a hot day, there's nothing nicer than a cool shower.
Tidal differences
I was there at low tide and all was calm in the pool water but I have walked past during high tide and during storms when those waves crash over the sides, making for an exciting swim.
Other practical points
Closed Thursdays
Open 6.00am – 6.30pm with slight changes at weekends and in winter.
$6.50 entrance fee
History and stories of the pool
There's been an ocean pool on the site since the 1880s, but the baths were renovated and rebuilt in the 1930s and then again in the 1950s, when the two-pool format we know today was established. The current complex, with super Icebergs multi-storey building by it, was opened in 2002
The Bondi Icebergs' own website gives a brief history of the club.
The original members of the Icebergs, who used to swim off the rocks at this part of Bondi Beach, were known as the 'Ratbags'.
The All Into Ocean Pools website has the best history of both the Icebergs pool and club, and the development of bathing in Bondi.
I enjoyed a press article from 1949 (in the wonderfully-named Truth magazine) when some local swimmers were outraged at a doubling of the cost to enter the baths at Bondi from 3d to 6d. "Many fellows won't be able to pay and will take to the surf," said one Iceberg swimmer (though the Club itself supported the charge over costs of improvements to facilities). I wonder what the swimmer would make of the current $6.50 charge to get in here? Probably take to the surf himself, or go to Wally Weekes at high tide…
Probably without any charge to enter Icebergs, the pool would be 'ridiculously overcrowded', as the baths were in 1945, according to another article from Truth.
People I met here included…
Thanks to Marie from France, who moved to Bondi four months ago and was the only person at Icebergs to give me the time of day and a friendly smile. She's a regular here and loves the place.
What's your story? Any memories of swimming here? Any stories to tell? Or did you just have swimming lessons in days gone by?
Whatever you have to say, however brief, I'd love to hear from you and will add any stories to this section of the site as and when I receive them.  Add your comment or story under 'Leave a Reply' below.
Links to other articles on this pool
Bondi Icebergs have their own website, full of branded gear for sale and all the information you'll need to know for making the most of your visit here. Wow, this is a professional opertion, unmatched anywhere else among NSW ocean pools…
Swim blogger Sally came to Bondi Icebergs in 2008
Swimming blogger Therese had better luck than me engaging with local swimmers at Icebergs. Scroll down this post to find her interview with Grant, who learnt to swim in this pool quite a few years ago.
Coffee, tea or milkshake after the swim?
There is an extremely busy café right above the pool at Bondi Icebergs. Sit in if you're lucky and look down on the pool and Bondi Beach beyond.
The coffee is a decent brew from The Blind Coffee Roastery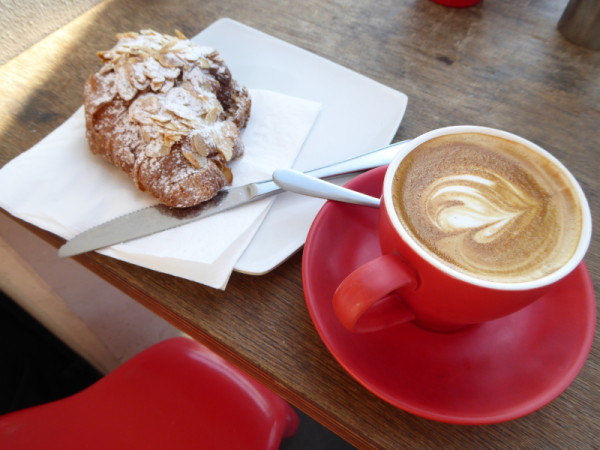 But if the coffee is as important to you as the swimming, or if coffee is really your thing and the swimming is just a starter for your coffee main course, take a ten minute stroll through to the back of Bondi Beach shopping area where you can have one of the best coffees in Sydney, surely.
Coffee Bondi Beach – 135 Curlewis Street, Bondi Beach, NSW 2026
Open: 6.30am – 3.30pm Monday – Friday; 8am – 3pm Sat-Sunday
Coffee Bondi Beach has been reviewed on the Fancy a Cuppa website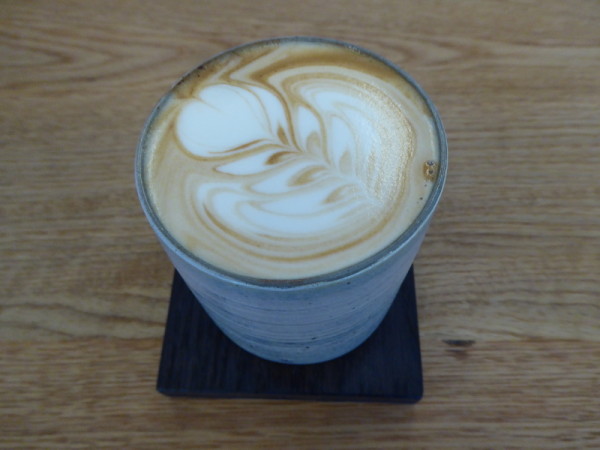 Owner Cameron is a bit of a coffee guru and has advised and trained some of the best baristas in the world. I spotted his coffee shop in Bondi only a couple of weeks after it opened its doors, and was bowled over by the decor, the coffee quality and the attitude of the main man there, Cameron. i even liked his taste in motor vehicles, which aren't usually my thing. Check out his website for a hint of what he drives around.
And don't miss this place for the best coffee in Bondi without a shadow of a doubt. Don't go there hungry, though, or wait till he has started getting a few nibbles in. This is a place that specialises in coffee. The new roasting machine was not even up and running when I dropped by, but it probably is by now so they roast their own on-site, or will be very soon.