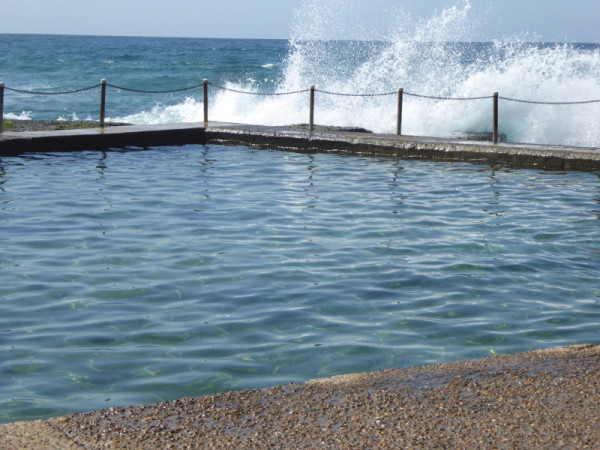 Named after the island in Celtic mythology
My experience in the pool
I liked Avalon Rock Pool as soon as I saw it. It was not just its unorthodox shape – a kind of parallelogram jutting out towards the surf – but also its clear water which looked temptingly fresh and deep as I walked along the pool edge taking my shots for the blog.
It's only about 22m long, but when a pool is as beautiful as this, who cares about serious 50m lap swimming? Its depth does help with Avalon Pool; it was up to my chest at both ends so felt comfortable but spacious. And it was so clean, it made swimming freestyle a delight, peering down at the little clumps of seaweed growing on the floor of the pool, not in a seaweed-getting-in-my-way kind of way, but in a this-could-the-barrier-reef way, only there was no coral of course and not even any fish swimming around. But it was all just so clear.
The tide was pretty perfect too, with every few waves splashing up over the far wall and giving me a bit of a shower when I paused at that end, but nothing to drench me any more than I wanted. The sand leading up to the pool was pretty wet, though and there was a line of seaweed left there, so I reckon at high tide, you may have to paddle out to the pool at Avalon, but locals said that on most days they have no problem leaving their clothes on the concrete steps by the pool, and if it gets really bad the lifeguards come along and close the pool.
No need for that on this beautiful April morning, with the water temperature still up over 20C and the air a few degrees warmer still.
Swimming in bright sunshine with glittering water, refreshingly cool and deep, it all reminded me why I began this whole pool quest in the first place. What a pleasure, and I so envy the locals I spoke to who are fortunate enough to live here and have Avalon Rock Pool as their local.
Getting there, getting in, getting changed
Catch either the L88 to Avalon itself or the L90 bus to Palm Beach and Avalon Rock Pool is at the southern end of the beach. There is parking but it looked full even on a midweek morning in April and it is ticketed so you will be paying a fair bit for the privilege.
There's just one set of steps into Avalon Rock Pool, they are broad and metallic, and fairly shallow steps. No ramp, though.
No toilets or changing area at the pool itself. Halfway back along the beach towards the SLSC building, there is a shower on side of the path. But the main changing rooms and more showers are to be found in the SLSC building itself, though don't do what I did and walk all the way round it, past all the coffee drinkers in the kiosk, past the lifeguards and round the other side. They are on the road side of the building at the southern end.
Nice Norfolk Pines peering over into the men's changing rooms, and kookaburras laughing away as I showered. Showers are under cover but changing area is exposed to the elements.
Tidal differences
High tide sees the ocean come up to the cliff edge just west of the pool, so you may have to paddle through the water to get to the rock pool.
Other practical points
There's a lovely little toddlers pool next to the main pool. Just the right depth for a three year old to wade around up to his knees. I wish I'd come here when I was that age.
History and stories of the pool
I didn't find any good stories or history of Avalon Rock Pool, so if anybody out there has any, do get in touch.
There is of course the shark story – see the links below…
And of course there's the wonderful tale of the Baywatch TV producers making one episode from Avalon Beach and liking the set so much that they planned a whole series to be filmed there. Such was the local uproar and opposition (because it would have meant closure of the beach – and its rock pool – for long periods during filming), that Baywatch switched their film plans to Hawaii. That's how good Avalon is!
People I met here included…
Another guy, with a bit of a northern English accent was there with his toddler. Also living locally, he is actually an Aussie but lived in Manchester for many years and picked up the accent it seems.
Dale is a local lass who is an artist but also likes to write and has published books which sound not dissimilar to my own. Her grandparents had the good fortune to own four blocks down here many years ago when it was probably less sought-after, but Dale is lucky enough still to live in the area and counts Avalon as her local pool.
What's your story? Any memories of swimming here? Any stories to tell? Or did you just have swimming lessons in days gone by?
Whatever you have to say, however brief, I'd love to hear from you and will add any stories to this section of the site as and when I receive them.  Add your comment or story under 'Leave a Reply' below.
Links to other articles on this pool
Swimming blogger Sally came to Avalon in 2013 and loved it
Seana of Hello Sydney Kids website thinks Avalon is one of the best Sydney beaches
Avalon Rock Pool hit the headlines in the Sydney Morning Herald in 2011 for an unlikely visitor…
Coffee, tea or milkshake after the swim?
Avalon on the Beach is a nice looking kiosk with a decent looking Marzocco machine and great views of the beach and the rock pool beyond. But I had heard good things about a coffee shop in Avalon 'village' centre so wanted to give this a try and was pleased that I did
The Sneaky Grind – Official address is 48 Old Barrenjoey Road, but you need to cut down a little alleyway called Chelsea Lane (there should be a blackboard pointing the way in Old Barrenjoey Road)
Open 7am – 4pm Mon-Fri; 7am – 3pm Saturday; 8am-2pm Sunday
The Sneaky Grind reviewed on Fancy a Cuppa website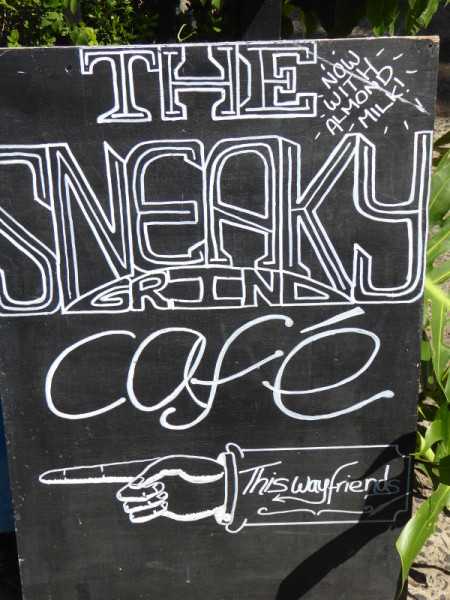 I love this coffee shop in Avalon. Very relaxed feel with lots of space either outside or under cover in a lovely arty area at the back. And the coffee is top quality. Charlie Coffee is a Sydney-based roaster and The Sneaky Grind have a really good blend on offer which suits my taste for a lighter roast, or you can go for their single origin (a delicious Ethiopian on the day of my visit). If tea is your tipple, they do the rather good loose leaf teas from Teacraft, too. Oh, and it's run by a Pom. James has been in Australia a few years now but decided to run against the usual tide of Aussies opening coffee shops in the UK, by running this great coffee shop in one of the most delightful of Sydney's northern beaches. Worth finding down the little alleyway of Chelsea Lane – you won't regret it.