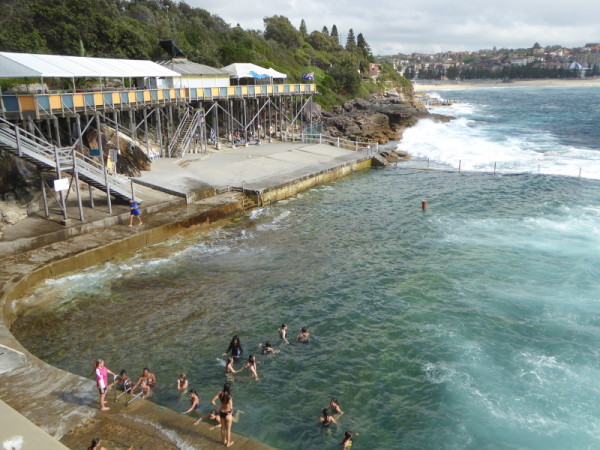 The oldest surviving communal sea baths in Australia
My experience in the pool
They'd closed Wylie's Baths the day before I came in February 2016. Strong surf from the remnants of Cyclone Winston was battering the east coast of NSW, making swimming dangerous, even in ocean pools like this one.
Winds had dropped by the time I turned up and the pool was open (thankfully, because I'd come a long way for this swim), but lifeguards were on hand to make sure visitors didn't go anywhere near the far end of the pool, where there was still some danger of being washed over the side.
And that's the first thing that struck me about Wylie's: the lifeguards all over the shop. Well, no the first thing was actually paying the $5 entrance fee (Wylie's is one of the few ocean pools to charge for a bathe – slightly less than the exorbitant Bondi Icebergs, though).
It's a friendly place, though, and busy (though, again, nothing compared to Bondi Icebergs). It was just that, with those waves still crashing over into the pool, they actually needed the lifeguards to keep an eye on things, and I was there several hours after high tide, so presumably the surf had been higher a little earlier.
It is a fantastic setting, with the lovely old walkway and sheltered area up above the pool. They have a real sense of the pool's history, with lots of statues, plaques and even a book for sale on the story of Wylie's. So, in that respect, I didn't begrudge paying my $5, and it's a lot less than I'd be paying back in the UK for something as beautiful as this.
With only half the pool 'open', it wasn't really possible to do laps the morning I was there. But it was fun just to feel the coolness of the water in the bright sunshine, and enjoy the occasional buffeting from a rogue wave, still breeching the pool walls and causing screams from the party of high school kids who were also there that morning.
By the time I'd had coffee and looked around a bit, another hour had gone by, so when I walked up the stairs back to the cliff walk and looked back down on the Baths, I could see that the tide had fallen enough for people to be doing leisurely laps, without the waves getting in their way. I was tempted to rush back down and jump back in…
As I passed the car park next to the pool, I bumped into two older ladies heading down for a swim. They were cheerfully friendly: "Well, I'm glad you discovered it," was a much nicer comment than the frequent "Don't tell anyone about it" I have thrown at me when I tell people I'm writing about NSW ocean pools.
So, Wylie's may be a bit of an institution, and my initial reaction was to raise my eyebrows at the entrance fee, but actually I warmed to this place the more time I spent there. And now, of course, I have to go back to try it out when laps are allowed…
Getting there, getting in, getting changed
I walked up along the cliff path from Coogee Beach. There are lots of buses to Coogee from the CBD. Those two ladies I met at the car park were very thankful that the parking here is free – it would ruin their daily swim if they had to pay to park as well, they said.
There was only one set of steps in use because of the waves the morning I was there. And you had to pick your moment to even attempt a descent into the water. But I think on calmer days there are several sets of steps.
Lovely old changing rooms back up the stairs in the wooden pavilion construction. Don't worry about the 20c needed to make the showers work: that's only if you want hot water. No need for that with 30C outside…
Tidal differences
Tides do affect the swimming at Wylie's. Three hours after high tide, even with those Cyclone Winston waves, the pool had calmed down enough to do laps. But high tide seems to bring waves into the pool anyway, and with staff always on duty, I guess they have their criteria for when to close the pool completely or restrict swimming to leisure, not laps.
Other practical points
I didn't get a chance to measure the pool length, but I'd guess about 30m if you were doing laps. The pool floor is natural rock and it can be quite shallow in places, so much so that I actually grazed my knee as I was pushed by one wave onto a very shallow bit.
The pool is open 365 days of the year. But opening hours are around 7am to 7pm, with a 5pm closure in winter. Wylie's Members can get a key and are allowed to swim two hours either side of opening and closing.
History and stories of the pool
Wylie's Baths even have their own website, with a history page, so I'm going to link straight to that. My favourite bits of the pool's history are: that Henry Wylie was an early 20th century long distance swimmer who got permission to dig out a pool on the rock platform here.
His daughter Mina (see her statue as you begin the walk down from the cliff path to the baths) and another swimmer here, Fanny Durack (see the plaque in her honour) were the first two female Olympic swimmers from Australia at the 1912 Stockholm Games. I loved the photo of Mina and Fanny in the book on Wylie's, which is on sale at the counter: Fanny looks very 19th century, severe and austere; Mina looks very much the modern woman, and if you took away her 1912 swimming costume, you could think here a contemporary woman…
Wylie's Baths was one of the early ocean pools to allow mixed gender swimming (it's still women-only at the next pool back down the path at McIver's).
From 1959 to 1978 the pool was renamed Sunset Pool under new private owners, but it then reverted back to Randwick Council control and they gave it back its original name of Wylie's Baths. Since 1996, the baths have been run by a Trust.
People I met here included
I chatted briefly to a cluster of Mums and babies over coffee, but Wylie's on that Friday morning didn't conjure up many magical memories from fellow swimmers: maybe the real locals knew not to come in at the time I arrived because it was really too rough for a proper swim. Now, those two ladies in the car park on the other hand, could have been good for a story or two…
What's your story? Any memories of swimming here? Any stories to tell? Or did you just have swimming lessons in days gone by?
Whatever you have to say, however brief, I'd love to hear from you and will add any stories to this section of the site as and when I receive them.  Add your comment or story under 'Leave a Reply' below.
Links to other articles on this pool
This blogger DBarronessa must have bee at Wylie's Baths around the same time as me. She has some great pics of the pool in the wild waves.
Ocean swimmer Dallas Kilponen captured one of the 2015 storms in this video which shows just how bad it can get in the waters of Wylie's Baths.
Our old swimming blogger friend Therese has swum in Wylie's many times, but this is the most recent write up on her blog – from 2015, too.
Another regular ocean pool writer Seana came here in 2013
Even The Guardian newspaper had a guest blog from Vicky Frost on Wylie's Baths
Swimming blogger Sally came here on a calm day in 2009, when the pool was laid out with lane ropes.
I'm not sure when swim blogger The Mrs G Spot came to Wylie's but ignore her words on entrance costs; that must have been a few years ago!
Coffee, tea or milkshake after the swim?
For once, I'd say stay and have coffee at the kiosk by the pool. After all, you've paid your $5 to get in here, so stay a while and take in the views over a half decent coffee. I wonder if they allowed coffee round here when Mina Wylie and Fanny Durack were swimming here – maybe a thermosflask?
All served by the same staff that take your entrance fee.