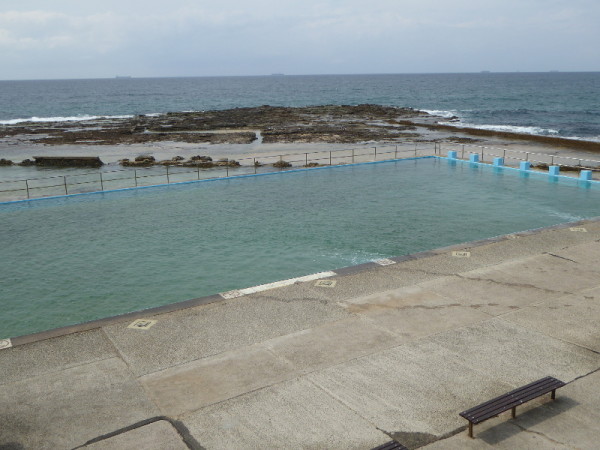 'Place of young wallabies' , though the swimming group that meets here on Sundays through winter is called the Ockies…
My experience in the pool
This is a breathtakingly beautiful pool, perched up on a rocky headland; it's not really a rock pool as such anymore, as it has been built into a proper Olympic size pool with lanes (though the lane markings are largely faded now).
Water quality and temperature were excellent for my visit in early March. And there's a great spirit among the local regulars, most of whom shout loudly about how awful and cold the water is, in order apparently to discourage others from discovering how delightful the pool actually is!
It's a great pool for swimming laps, though there's also space enough for those who want to mess around or just do their wading exercises.
Lovely depth too at both ends; about 1m50 at the shallow end and I can just about bounce on tiptoe at the deep end (with my 6'2" height), though apparently at the far corner of the deep end it is even deeper (designed to let the water flow out after high tide).
Great views too from all three sides, down Bellambi beach to the south and up towards Bulli beach to the north. Out east there is the big wide expanse of the ocean and inland don't miss Collins Park where the look out point has information on Captain Cook's attempts to come ashore near here. So there's lots of history too.
Getting there, getting in, getting changed
It's not as well signposted on the nearby roads as some pools. You need to head towards the Woonona SLSC building and then continue round to the left until the road ends at a car park. If you arrive by train, you must also walk past the SLSC to get to the pool.
There are lots of steps at each end and along the sides of the pool. The shallowest steps are at the shallow end, but there's no ramp for disabled access.
There are changing rooms with showers on the headland directly above the pool.
Tidal differences
The pool is raised a couple of metres above the sandy beach on both sides so high tides rarely get up to the pool itself, though I haven't been back to check this during a winter storm…
Other practical points
History and stories of the pool
The Woonona Royal Hotel (sadly no longer with us) apparently donated beer to the volunteers who built this pool in the 1920s. That pool opened in 1928 and was apparently much longer than the current newer pool. (You can still see the old walls of the original pool if you look south of today's pool – see one of the pics in the gallery)
The Woonona Ockies meet here on Sunday mornings through the winter (starting in April). According to Beryl (see below) they don't stay in for more than a length or so and then decamp to the pub or the barbecue if they have one…
People I met here included:
The wonderful Beryl, who at 84 years of age, has the remarkable record of 81 years swimming in this pool. And she's still down here every morning, if you want to share a few memories with her. Apparently, she and her car appear in a local calendar for 2015 which shows vintage photos of the pool…I just hope I'm that lively and full of humour when I reach that age.
Alongside Beryl was Jean, who looked nearer 63 than 83, but says she only began swimming here about five years ago, even though she emigrated to Oz back in the 1960s.
Then there was Vic, a young lad in comparison, who said he was born in Woonona and has been coming to the pool all his life.
This is the most community-based pool I have come across yet, although it may just have been the time of day I came, with all the regulars just finishing their daily swim around 9am.
What's your story? Any memories of swimming here? Any stories to tell? Or did you just have swimming lessons in the cold of winter in the 1960s?
Whatever you have to say, however brief, I'd love to hear from you and will add any stories to this section of the site as and when I receive them.  Add your comment or story under 'Leave a Reply' below.
Links to other articles on this pool
The Illawarra Mercury featured Woonona pool during its series on rock pools in 2014.
In May 2014 Swimming story teller Therese wrote about her visit to Woonona.
Coffee, tea or milkshake after the swim?
For coffee  and the best cake in the area, it's definitely worth going the extra mile to Woonona centre on the Princes Highway…
At All and Sundry
Down a little alleyway next to 383-387 Princes Highway
At All & Sundry reviewed by Fancy a Cuppa website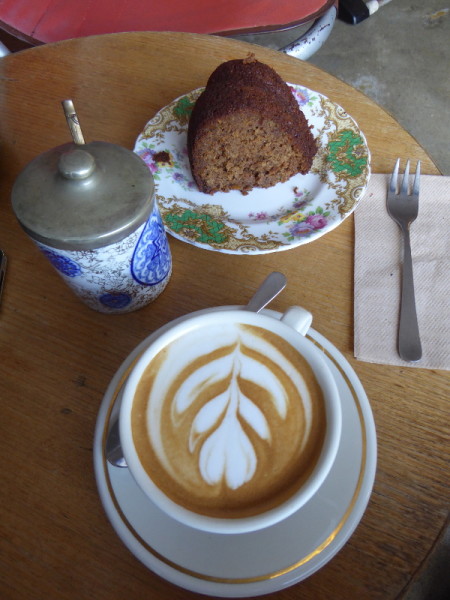 Open Monday – Saturday (7am-4pm M-F; 8am-3pm Sat)
Closed Sunday
One of my favourite coffee shops in the Illawarra, with great options for tea, coffee and cake. They have two choices of roasts on offer for the coffee, which is divine; the teas are top notch; and the cakes are to die for: if you're lucky there'll be a chilli and ginger sponge. But you might need to do a few extra laps to leave room for a second portion…