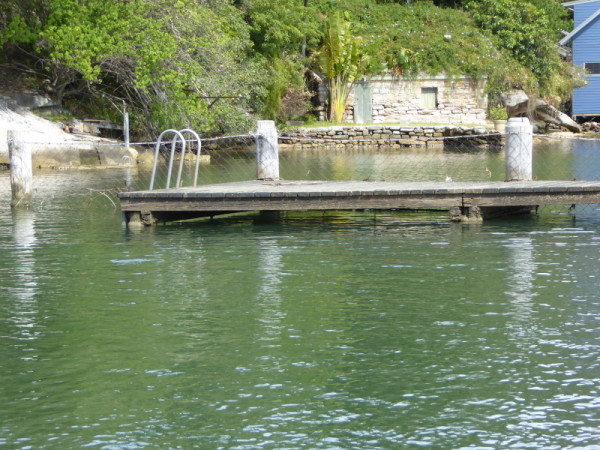 Woolwich is named after the area of London on the Thames, famous for its arsenal.
My experience in the pool
Woolwich is a sleepy but beautifully-preserved part of Sydney, with wonderful old 19th century houses and cottage gardens. Woolwich Baths are half way along the peninsula along the Lane Cove River that keeps the NSW version of Woolwich so little changed, apparently, from how it must have felt decades ago. It's a far cry from its London namesake!
The baths are best at high tide, I was reliably informed by a gent who lives near the now disused Henley Baths and who happened to be on the same bus as me heading out to my swim this week. It was still an hour or two off high tide, but the water seemed pretty good to me and, judging by the depth markers on the pontoons, was heading towards 3m deep by the shark net.
There is a little shady beach when the tide is out, and a handful of people were stretched out there when I arrived, though I reckon their stay would have been shortlived as it looks as if that beach disappears completely when it is high tide.
The water had warmed up significantly since my last open water swim at Dawn Fraser Baths and must easily have been 20C. A sure sign of warming water was the appearance of hundreds of jellyfish in Woolwich Baths. These were those slightly freaky white/transparent jellyfish that have no tail to speak of so were harmless, though slightly unnerving as I brushed past them on virtually every stroke once I got out beyond the shallows.
It's a lovely spot, though. It's probably a good 30m between the two pontoons and the steps out of the water, giving you some sort of distance marker if lap swimming is your aim.
Woolwich Baths are the kind of place where you simply want to lounge around and lie on your back, though, gazing up at the trees along the river side or out to the yachts anchored just beyond the shark net.
I did a few cursory laps just to earn my post swim coffee and cake, but this was a day to relish being back in the open water and not breathless from the freezing cold. My first warm swim of the season.
It's a peaceful spot, too. It's nice that Mums and toddlers could be down here and play safely; nice that one lady was here simply sketching on the pool's edge. But nice also that some people were out having a proper swim in the waters of Woolwich.
The story the guy on the bus told me, and as recounted on the blog of swimming friend Therese (see links below) is that some guy called Mooney used to collect a penny from swimmers for the right to swim in Woolwich Baths, so they became known as Mooney's Mud Hole.
They're free to swim in these days, though only open in the 'season', which began I think at end of September, and they are only accessible after 7am, with a closing time of 5pm, so are a bit like a regular swimming centre in that way, though there were no staff around when I was there.
Getting there, getting in, getting changed
If you can time it right, get the ferry to Woolwich wharf, but they only go once an hour and I missed one so opted for the bus. Trouble is, buses that go past Woolwich Baths are also only once an hour and it requires a change of bus if you are coming from Sydney CBD. Getting down from the road to the baths means a steep walk down via a lot of steps – just beware that's all in reverse (ie uphill) after your swim…
Enter the water via the narrow strip of beach or get in the deep 'end' either by jumping in (to 3 or 4 metres of water) or down the vertical metal steps on the end of the little pier and on the pontoon by the shark net.
There are changing sheds, with one cold shower so you can wash off the briney water afterwards. Toilets available too.

Other practical points
No charge to get in to Woolwich Baths, but there are opening hours every day during the swimming season – see the photo gallery here for details.
Baths open from late September to end of March
History and stories of the pool
I didn't find much in the way of stories that hit the newspapers on Woolwich Baths. I did, however, quite like the report of the Scouts' swimming carnival held there – presumably every year, but reported in the Catholic Freeman's Journal in 1939. "The evening being somewhat sultry brought many parents and friends to the carnival as well as hundreds of Scouts from the various troops, all eager to cheer their pals to victory" – a simple tale but somehow very much of its time and certainly not of the 21st century…
People I met in the pool
By the time I got to Woolwich Baths, it was clearly Mums and babies time of day so there isn't much interaction for a guy my age with this demographic cohort! I had a brief chat with the father and son pair who were inspecting those jellyfish as I arrived, but no contact with morning regulars this time.
What's your story? Any memories of swimming here? Any stories to tell? Or did you just have swimming lessons in days gone by?
Whatever you have to say, however brief, I'd love to hear from you and will add any stories to this section of the site as and when I receive them.  Add your comment or story under 'Leave a Reply' below.
Links to other articles on this pool
Swimming blogger Therese came to Woolwich Baths quite recently in December 2015. This entry tells of the Mooneys Mud Hole story.
Kenton of the 1000 Pools blog came in 2015, though Woolwich Baths almost didn't qualify under his pool criteria.
The Lazy Swimmer blogger came to Woolwich Baths in 2009, just before a storm.
Coffee, tea or milkshake after the swim?
It's quite a hike up the steps (see pic in gallery) from Woolwich Baths back to the main Woolwich Road, but then just a couple of hundred metres to a very welcome post swim coffee
Ironwood Coffee – 102 Woolwich Road, Woolwich, NSW 2110
Open Daily 7am – 10pm (closes at 4pm on Mondays)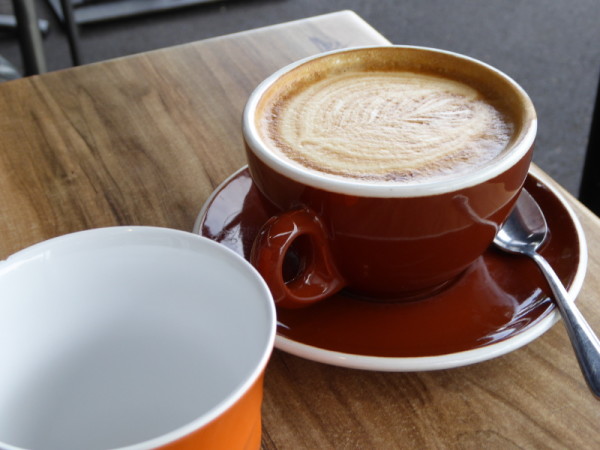 This coffee shop in Woolwich has great views – you can look over at the high rise buildings of Sydney's CBD from the terrace out the front, or even get a peak of river views from the toilets at the back of the coffee shop.
It's always nice to know a coffee shop roasts their own, and that's what they do at Ironwood, so you have a choice of coffees, all prepared on-site. Lovely Marzocco machine and knowledgeable barista made for a good experience for that post swim coffee in Woolwich.
Great cakes too – I followed recommendations and went for the carrot cake, though the Lamingtons looked pretty tempting too. A bit pricier than most Sydney coffee shops but worth it and so close to the Baths.