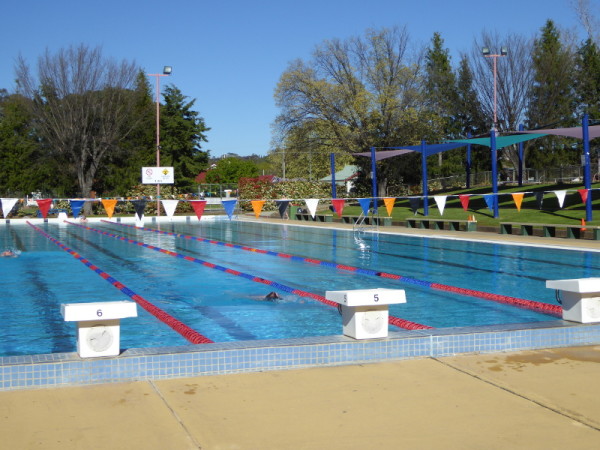 Queanbeyan got its name from an Aboriginal word for 'clear waters'.
My experience in the pool
Queanbeyan Aquatic Centre was really buzzing on the sunny Saturday morning we turned up in mid-October. The car park was nearly full, making us wonder if there'd even be a free lane in the outdoor pool here or whether we'd have to share our lanes.
We needn't have worried, though. It was the indoor pool that had the heaving mass of bodies in it, as the Nippers and the parents filled the space with energy and squeals. Only the hardiest Nippers – and probably the strongest swimmers among them – were taken out to the Olympic Pool every now and then for a bit of diving practice and a lap or two.
For someone like me, for whom water was terrifying till I was way beyond the age of 7, who could barely do a width of breaststroke at age 9 and who only learnt freestyle or front crawl in my 20s, I am always mightily impressed watching little tiny five or six year olds completing a whole length of a 50m pool like this one. And what's more, they would happily just turn round and put in a second lap if the Nipper trainer told them to.
With the numbers there were in the Aquatic Centre that morning, I can imagine that half of Queanbeyan's 5 and 6 year olds were in the water and all seemed to be loving it. A few Aussie gold medallists of the future there, maybe? Or just a generation of fit, healthy swimmers who may put in a shift at the nearest surf life-saving club (at least if they move a little nearer the coast for that one). In any case, it was a great sight to see on a Saturday morning, and surely sooooooooo much better than these kids sitting on the game stations or other phone apps for the weekend.
One thing I would say is that there isn't a lot of shade once you're in the water at Queanbeyan Olympic Pool. There are shaded grassy areas by the pool if you fancy lolling about after the swim, but beware if you're going for a swim in mid-summer. Not a problem in mid-October early in the morning when the air temperature was 9C and the sun's rays were a welcome warming influence, but I'd be slapping on the sunscreen if I left it much later in the year.
So no tall gum trees or other plant life providing shade, and that also meant no great views to feast on for your backstroke. But Queanbeyan outdoor pool is lovely nonetheless, with a beautiful 2.2m depth at the deep end.
The journalist in me had hoped to lead this story with a line about swimming in James Bond's wake here at Queanbeyan. You see, Australian-born 007 George Lazenby lived in Queanbeyan as a teenager, but a bit of fact-checking revealed that he was here in the 1950s, and the Queanbeyan War Memorial Olympic Pool was only built in 1961, by which time George had probably moved onto more glamorous things (though I did read somewhere that he was still based in the town till 1962, so you never know…). Still, it would make a great story anyway so in the mould of many journalists before me, why let the facts get in the way of a good story? And I thought swimming in the pool that was just beyond James Bond's reach was pretty cool anyway.
I also discovered, via a Twitter exchange with someone involved with Queanbeyan tourism, that there are celebs from town who may well have swum here as kids, including Formula 1 champion Mark Webber and rugby star David Campese, not to mention an Aussie wicket-keeper who I must admit I wasn't familiar with. She boldly tried to get these celebs to confirm on Twitter whether they had indeed swum here as kids, but nobody put in a comment, so unless a former schoolmate happens to read this, we may never know…
There's a friendly, relaxed vibe to Queanbeyan Aquatic Centre. In stark contrast to how I was made to feel the other day in the Hawkesbury pool, the families all seemed pretty relaxed, there was a good mix of Dads with daughters as well as Mums doing all the childcare, and it was nice to see a good ethnic mix in the pool, too. It was all just normal, with nobody batting a distrustful eyelid. Good on yer, Queanbeyan Aquatic Centre.
Getting there, getting in, getting changed
There are trains to Queanbeyan, if you are coming from afar. But if like most others you are in your car there is an ample car park by the pool, which is pretty central to the Queanbeyan township.
Nice wide and shallow steps into the water on both sides in the shallow end. Vertical metal steps halfway up the length and at the deep end.
There are mud-hut looking changing sheds on the far side of the pool, but these were closed when we visited so we joined the crowds by the indoor pool. The hot water showers were in demand, with so many Nippers and Dads in the gents. Only three showers there so a bit of a queue to have a post swim wash off.
Other practical points
Entrance fee $6
Shallow end 1.2m; deep end 2.2m
Pool opening season is October – March
Shaded area to the side of the pool
Indoor 25m pool open all year round
History and stories of the pool
Pool built in 1961 with quite a few modernisations since then. As mentioned above, that date made it too late for James Bond aka George Lazenby, but does mean that contemporary sports stars like Mark Webber and David Campese almost certainly swam here as kids growing up in Queanbeyan.
I found no other history or stories about this pool so if anyone has any to share, do comment below.
The Canberra Times has some nice quotes from the mayor of Queanbeyan in 2011 when the pool celebrated its 50th anniversary. No sign of any comments with residents' memories there, though, which is a shame.
People I met in the pool
The pool was almost too busy – especially with parents and small children – so no real opportunities to share any stories with any locals this time.
What's your story? Any memories of swimming here? Any stories to tell? Or did you just have swimming lessons in days gone by?
Whatever you have to say, however brief, I'd love to hear from you and will add any stories to this section of the site as and when I receive them.  Add your comment or story under 'Leave a Reply' below.
Links to other articles on this pool
The only interesting link I found was that Canberra Times article from 2011 previewing the 50th anniversary celebrations.
Coffee, tea or milkshake after the swim?
It's only a ten minute walk back into Queanbeyan's main shopping streets where there are a couple of good coffee shops. Our favourite was…
The 4th Seed – 227 Crawford Street, Queanbeyan, NSW 2620
Open Daily (hours vary slightly but around 7am – 3pm)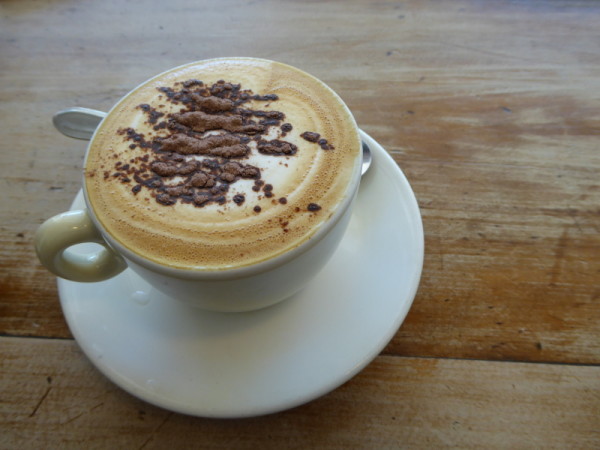 Very friendly family-run business, who told me that the name came from the previous owners who had three daughters and this café was their 4th daughter, hence 4th seed. And a very nice place it was, serving the excellent Canberra roaster Ona Coffee, with some great breakfast items on the menu and a good selection of sweet things to accompany the post swim coffee.
They were busy on that Saturday morning but with good warning of the time we'd need to wait (20 minutes they said, but 15 minutes was nearer the reality), they had things well pretty managed and the owner took the time to come over and chat with us a couple of times, too. Nice place for coffee in Queanbeyan
(The other alternative is Ciao Bakery, especially if you like home-baked cakes with your coffee. They bake delicious Lamingtons, all misshapen so you know they weren't from a factory bake, and do coffee from a small batch roaster in Canberra, Black Mountain Coffee. The 4th Seed still gets my top vote, but Ciao a good second).