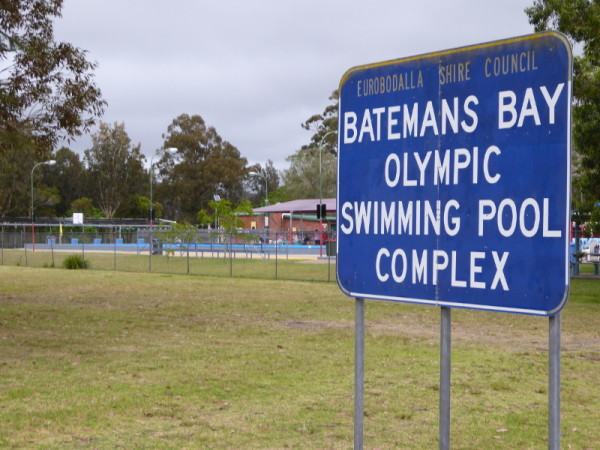 Bateman was a ship's captain in the days of Captain Cook.
My experience in the pool
I'd driven past Batemans Bay outdoor pool lots of times in the past and always thought it'd be worth giving it a go some day. This 50m Olympic Pool is right by the Princes Highway so you can see the blue pool from the road, whereas you have to go a bit further down the coast to see the Bay itself!
Things didn't quite go to plan for us in Batemans Bay, though. The pool was (encouragingly) full of kids by the time we arrived at the end of the morning on a Saturday in October. A pool full of kids means no photos in this day and age, and even though we hung around outside the pool at closing time, it was taking the lifeguards all their energy to get these kids out of the water when the pool closed at 2pm.
I felt a bit sorry for the kids, being chucked out at 2pm on a warm Saturday. Really not sure why the pool couldn't stay open a bit longer if there is so much demand. But I also felt a bit sorry for myself and this blog, since it meant I was still unable to get nice pictures to go in the gallery here.
I could rant on at length at the state of society today where people become immediately suspicious if someone is wandering round a swimming pool with a camera, but hey ho, that is sadly the state of things today, so I have to go with it. And I'll just have to come back here again, maybe when we are heading further south on this ocean pools quest.
I have to say Batemans Bay – as a town – does shut down pretty early on a Saturday, so just beware of that if you're visiting for the first time. The pool closes at 2pm; a lot of the shops close their doors at 1pm; and the coffee shop I was targeting for my post swim coffee closed at 12noon, so we missed out on that, too.
Still, it is always a joy to do a few laps outside, just to contrast with the actual ocean pools and swimming enclosures I'll mostly be in over the summer to come.
The lifeguards here were friendly, too, with lots of banter about the River Clyde (we know its Scottish counterpart well, but there are no bull sharks around Glasgow, except for the occasional metaphorical one) and the water temperature (which was, by the way, a comfy 27C).
They also kindly created a new lane when Anita chose to swim alongside the last of the lane markers and inside the area where the kids were splashing about. So for the duration of our swim, the kids were a bit squeezed, but they didn't seem to mind.
I had a lane to myself for a brief moment and switched to my usual backstroke. No gum trees providing shade over this pool (and for the first time this season I caught the sun a bit), but there's a line of eucalypts in the parkland next door so nice views to watch as you go backwards in either direction.
Later in the afternoon we chatted briefly to two ladies campaigning for the creation of an indoor pool on the site of Batemans Bay Olympic Pool. I can see their point: this pool is only open for certain months of the year anyway; there is nowhere else to swim nearby in the winter months; and there is nowhere for people needing aqua rehab.
I'm not sure how successful their campaign will be, since I gather they have been making these arguments for 30 years now, and I know – as they themselves argued to us – there is more to swimming than just ploughing up the lanes doing laps. But I do hope any outcome doesn't mean the end of the outdoor pool at Batemans Bay.
The kids clearly love it and we certainly did, too. According to those ladies, there have been repeated episodes of closures here due to cracks in the pool, but it seemed good enough to us.
And that also got us discussing on the drive home: how times have changed from the desire to provide basic facilities to the modern-day perceived 'need' for all bells & whistles 21st century facilities (as has happened at Nowra – a great initiative and a lovely new outdoor pool, but how many pools don't get built or repaired because there is a desire now for only the best in facilities when the funding might be available for something a bit simpler?).
Yes, we enjoyed our swim in Batemans Bay pool, but the whole day did make us get into some deep thinking about where society is going today…
Getting there, getting in, getting changed
The pool is right on the Princes Highway on the northbound side. Lots of parking. There are daily buses heading from Sydney to Eden if you really need to take public transport to get here.
Wide and shallow steps at one side of the shallow end, with vertical metal stairs on the other. There is also a disabled hoist towards that shallow end.
The showers are very confusing at Batemans Bay pool. You need to press a button above the shower head to activate the hot water. But don't then try to move the hot water tap – it is fixed. You actually need to turn the cold water tap to get hot water. The shower is timed for 90 seconds and it took me most of allotted time to work out how you actually get any hot water.
Other practical points
Entrance fee $5
1m depth at the shallow end, and the depth takes some time to increase. At the deep end it is a lovely 2.2m.
Pool opening season October – March.
History and stories of the pool
The pool opened its doors in November 1966 so it is approaching its 50th anniversary. There are no signs of a major celebration, though, which is a shame even if the campaign to change the facilities has been going for more than half the life of Batemans Bay Olympic Pool!
I need to investigate Batemans Bay pool more, though, because in my search for stories about the pool, I saw a reference in once press clipping to an Olympic pool being built in 1938, possibly on the same site as the current complex.
I will drop by Batemans Bay library one weekend, if I can just get to town before everything closes for the day… So watch this space…
People I met in the pool
It was difficult to connect with anyone at Batemans Bay pool, mainly because there were so many kids here and the parents were too busy keeping on eye on their charges. The lifeguards were chatty but there wasn't really a chance to go into pool stories with any of them.
What's your story? Any memories of swimming here? Any stories to tell? Or did you just have swimming lessons in days gone by?
Whatever you have to say, however brief, I'd love to hear from you and will add any stories to this section of the site as and when I receive them.  Add your comment or story under 'Leave a Reply' below.
Links to other articles on this pool
I have been unable to find any other blog posts or articles written about Batemans Bay pool – If anybody has seen any, drop me a line in the comments below.
Coffee, tea or milkshake after the swim?
The place we hoped to try for a post swim coffee shuts at midday on a Saturday, and the other cafés in town seemed fairly ordinary. Best bet we think is to drive a few kilometres down the coast to Batehaven and check out Crumb Cafe on Beach Road.