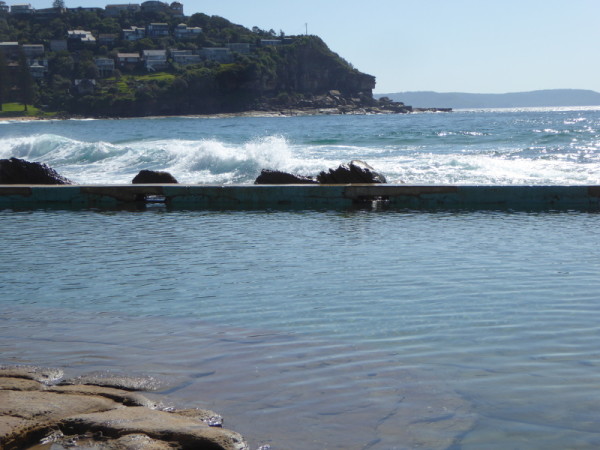 Origins of the name uncertain:  a beached whale or the shape of the headland?
My experience in the pool
It was a sunny April morning, with temperatures rising to over 30C, when I turned up at Whale Beach Rock Pool. Well, to say 'turned up' hides the considerable effort you need to make to get here if you're doing it in public transport.
The buses were particularly slow that morning and then there's a ten minute walk from the nearest bus stop to get to Whale Beach. But that ten minutes could easily become 20 if you easily get out of breath. That is some climb up from Barrenjoey Road, and of course a similarly steep climb back from the beach after your swim and coffee.
So by the time I reached the rock pool at the southern end of Whale Beach, I was ready to take the plunge.
Now, Whale Beach was always one of our family favourites in the 1960s: there is something pleasing about the curve of the bay and the firm reddish sand that triggered memories for me from all those years ago. And as I wandered around the rocks taking photos before my swim, I spotted various little crabs and other small fish darting around the shallow bits outside the swimming area, and that reminded me of what I probably used to do back then while my sisters swam in the pool.
By Sydney ocean pool standards, Whale Beach is not a big pool. It's perhaps 22m long. But what makes it feel even smaller is its shallow water. A couple I chatted to at the end reckoned that even if the Council dredged out the sand as often as they are supposed to, it wouldn't be a very deep pool, and they even said that many like the sandy base because it gives a soft covering for the otherwise sharp rocky floor.
Personally, I'd rather not be dragging my fingers through the sand as I do my freestyle,  but it was only for a couple of strokes, and if I'd waited patiently enough I could have grabbed the deeper channel nearer the ocean side of the pool, where a woman who knows was ploughing up and down already.
It's a quiet place, Whale Beach Rock Pool. Even the half dozen or so other swimmers came and went with little more than a nod or a brief hello or at most a one-line comment on the water temperature. There was not a lot of chattering going on while I was there, and the thunderous look one lady gave me as I walked around with my camera suggested this might be one of the places where the locals would rather keep it as their secret…
It's a nice spot, but having experienced Avalon, Bilgola, Mona Vale and others, I wonder why my parents brought us here so often all those years ago.
Getting there, getting in, getting changed
Only the L90 bus gets you far enough north to be dropped off near Whale Beach. These buses can be quite infrequent and at best are every half hour. Get off at the foot of Surf Road and begin the hike uphill and then down the other side to the beach. If you haven't enough puff, stay on the bus and go to Palm Beach instead!
There is a steep ramp down into the water or stone stairs next to the ramp separated by a handrail. At high tide the waves do mean that you'll be paddling the last 50m or so across the sand to the pool.
One swimmer told me that she always puts her clothes on the highest ledge out of habit, but that the water rarely gets above the lower stone surface by the pool. It was low tide when I was there this time and the waves were well below the rock pool wall.
Changing rooms and toilets are 100m back along the beach, but very nice once you get there. One shower out the front by the sand and five in the men's changing area, all exposed to the elements so watch for sun exposure or rain!
Tidal differences
Yes. Low tide fine. High tide you will need to take any shoes or socks off before you attempt to reach the rock pool. There are signs up saying Pool Closed when storms make the pool unsafe.
History and stories of the pool
Good stories about Whale Beach Rock Pool have been hard to track down. All I know is that it was built by unemployed labour in the 1930s.
If anybody has any stories of unusual things happening at Whale Beach Rock Pool over the years, or if you have your own family history there, do post a comment here.
People I met here included…
No real conversations with other regulars here. The friendliest person here was the guy walking his dog back up over the hill to beyond where the buses drop off on Barrenjoey Road.
What's your story? Any memories of swimming here? Any stories to tell? Or did you just have swimming lessons in days gone by?
Whatever you have to say, however brief, I'd love to hear from you and will add any stories to this section of the site as and when I receive them.  Add your comment or story under 'Leave a Reply' below.
Links to other articles on this pool
Swimming blogger Sally came to Whale Beach in 2013
Seana of Hello Sydney Kids website has also brought the kids to Whale Beach Rock Pool
Coffee, tea or milkshake after the swim?
It's about 200m walk back round the beach to get to the Milk & Honey Kiosk. But don't hold your breath or get too excited. It was closed on the hot Wednesday morning I was there…Begin your walk back up the hill road to find a coffee shop at Whale Beach which is open every day
Whale Beach Deli or The Boathouse – 231 Whale Beach Road, NSW 2107
Open 7am – 3pm Daily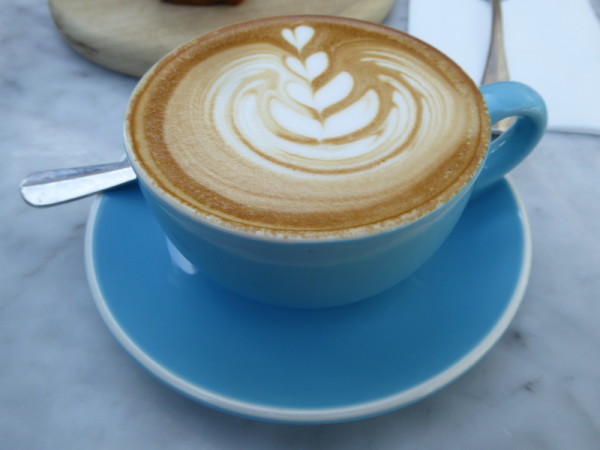 I spotted the Boathouse logo when I ordered my pistachio cake, and sure enough the barista confirmed that this deli in Whale Beach is run by the same outfit that run the rather classy ostentatious coffee shop in Balmoral. But this is a simpler kind of place, serving the same quality of coffee (from Single Origin Roasters) and the same cake suppliers, but less of the bottles of Bollinger up for sale…It's a nice spot to sit on the terrace for your post swim coffee, though you'll have to do without any ocean views from here.