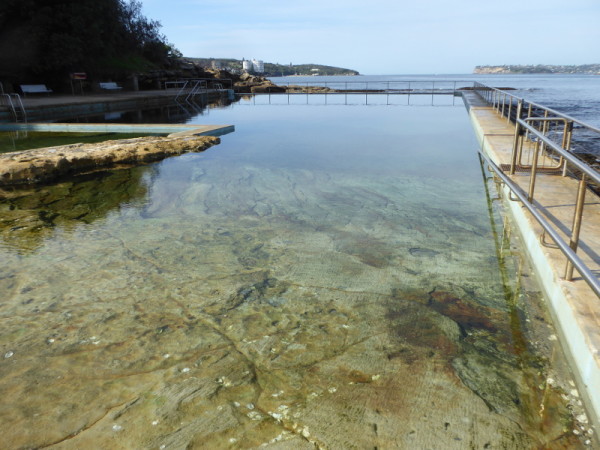 Named after a village in Sussex near Hastings
My experience in the pool
Is it an ocean pool or should I call them harbour baths? Fairlight Rock Pool could be called either. There's no surf here; it's far too tucked away, protected from the ocean by Manly and the other stony outcrop that houses Balgowlah. But if they took away the pool wall at the eastern end and you just kept swimming, you'd end up out in the middle of the Tasman Sea heading towards New Zealand.
It certainly has more the feel of an ocean pool, or rock pool as most of them are called up this part of Australia's coastline, and it has proper pool walls meaning there is no need for the shark net or fencing you find on most harbour baths.
Arriving here shortly after 9am on an April morning, the sun was only just getting high enough to warm one part of the pool, but in mid-summer this shaded pool would be more welcome as swimmers tend to seek out protection from the sun rather than trying to find sunny corners to swim in. With a cool tinge to the air, though, I was resenting the ugly 16-storey block right next to the pool at Fairlight that keeps the pool in shade for much of the morning.
My only company at first was a rather splendid sea bird perched on the railings round the pool, but I was soon joined by another guy – another Pom it turned out – here to do a few laps before work.
It's a lovely pool. Probably about 30m for a length so a good stretch out if you want to do laps. It's not so deep anywhere that I was out of my depth, but it also wasn't too shallow. The floor is uneven, though, with a mix of sand and stone, and in some parts the stone rises up in ridges making the pool floor loom suddenly if you're doing freestyle.
There are complaints in summer, apparently, that the pool fills with algae, but it was perfectly clear – and a good temperature – for my visit. The tide seems to fill the pool every few hours, but I was there on a low tide, with the water well below the edge of the pool.
It's funny that I'd never been to Fairlight Pool before, either on my family's stay in Australia in the 1960s or on more recent visits to Manly. I was missing out. Fairlight Rock Pool is a real delight.
Getting there, getting in, getting changed
I took the ferry to Manly and then took the path that runs along the shoreline west from Manly Wharf. It took me about 15 minutes to walk from the ferry to the pool.
There are lots of options for getting into the pool. There are vertical metal steps, a more gentle, wider set of steps, there's a walk over the (fairly flat, but sprinkled with sharp oyster shells) rocks to enter the water paddling, or just dive in at the deep end, as my fellow Pommie swimmer did.
There's one shower out on the rocks above the pool in front of a little unisex toilet block. This block contains one small changing space, which you can lock, but I imagine this must be in constant demand during a hot summer's weekend.
Tidal differences
I think the pool is in use whatever the tide, though I imagine some of the swells through the headlands visible from the pool must bring in a few big waves at certain times of the year.
Other practical details
There is a small paddling pool next to the main pool at Fairlight so this is a great place to bring the young 'uns.
History and stories of the pool
My search of the wonderful Trove website for Australian press clippings revealed that Fairlight Pool was officially opened in April 1927.
By 1930, there had already been reports of injuries from youngsters diving off the pool rails and a light aircraft crashing on the grassy mound by the pool.
I loved the 1932 story of a World War One amputee who lived next to the pool hearing cries of help at 6.30am one morning. He picked up his crutches and stumbled down to the pool edge, where he discarded his crutches before diving in and rescuing a lady from the waters. He had been a competitive swimmer before the war, but had not swum since. Fabulous story.
In 1951, an old Dutch submarine was marooned by Fairlight Pool after breaking loose from its moorings in a storm. It had seen service in WW2, being based in Surabaya, but had been bought by a Sydney-based scrap metal company. It lay for 18 months rusting by the pool before finally making it to the junk yard. A sad end for a vessel that must have had many more stories to tell.
People I met here included…
The only other swimmer there that morning was a fellow Pom who does a few laps on his way to work. Not a bad life, is it?
Funnily enough, I happened upon a lady who was talking to her friend about an upcoming holiday in Uzbekistan, and since we were there just over a year ago (and I was wearing my Uzbek t-shirt), I couldn't resist butting in.
And as I walked away up the hill towards coffee, I got chatting to a young Mum who just arrived in Fairlight from Yorkshire, so I spent more time talking about Yorkshire and Uzbekistan after my swim than I did gleaning information and anecdotes about the pool. Ah well, go with the flow, I say.
What's your story? Any memories of swimming here? Any stories to tell? Or did you just have swimming lessons in days gone by?
Whatever you have to say, however brief, I'd love to hear from you and will add any stories to this section of the site as and when I receive them.  Add your comment or story under 'Leave a Reply' below.
Links to other articles on this pool
I liked this article about a gentleman who lives in community care close to Fairlight Pool and swims here twice a week.
This blog post has rather nice photographs from a German visitor to Fairlight.
This Daily Telegraph article reports on some locals concerned at algae build-up in the pool at Fairlight.
The Three Bathing Belles also commented on the algae in their 2013 blog entry.
This from the local history studies group in Manly.
And last but not least, the Lazy Swimmer blogger came to Fairlight in 2010 during his tour of Sydney's outdoor swimming spots.
Coffee, tea or milkshake after the swim?
It's all residential by the pool itself in Fairlight, so you either need to go back towards Manly itself for coffee, or take a ten minute climb virtually directly uphill (starting from a narrow stairway that runs perpendicular to the beach at Fairlight).
You emerge on Sydney Road to a cluster of shops, which includes
The Butcher's Café – 154 Sydney Road, NSW 2094
Open 6am – 2.30pm Monday – Friday; 6.30am – 2pm Saturday;     7am -2pm Sunday
The Butcher's Café reviewed by the Fancy a Cuppa website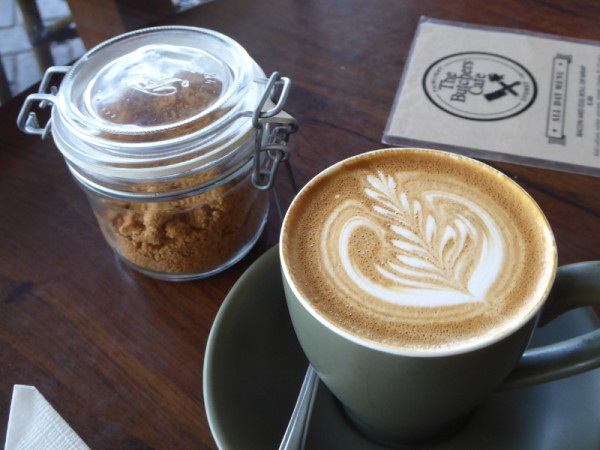 The best coffee in Fairlight comes from this café run by the Butcher next door, who decided there's more money in coffee than meat (though he still has the butcher's next door…). They do the rather good Allpress Coffee here, and if you like your loose leaf tea, they have a good range of teas from Chamellia Teas. It's a busy, bustling place, with a fair bit of banter between baristas and the regulars. Good coffee; cake much needed but shame it came straight from the fridge and felt a bit chilled. I'd not hesitate to come again though for my post swim coffee at Fairlight.