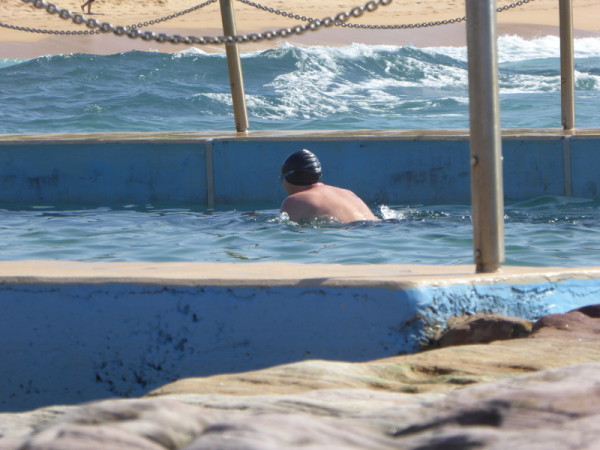 The name possibly comes from an Aboriginal phrase meaning 'river of life'
My experience in the pool
I was here on a bright, sunny morning in early October when you can almost feel the transition from spring to summer (and forecasts were for 30C the next day). The water was already a lovely temperature – no signs up, but I was guessing over 20C for my swim, making we wish I'd done the switch back to ocean pools a few weeks ago rather than waiting till now.
This is a lovely pool, with a nice 50m pool section, marked with lanes at the ends (though sadly no lane markings on the floor, and as always I found myself swimming diagonally without the aid of my lane markings). And there's a wall down the middle of the whole rock pool area (which was apparently the outer wall of the original 1920s pool), with a shallow paddling or wading area on the land side of that.
The advantage of this division is that the kids who just want to splash about in water tend to stick to the smaller, shallower section, leaving us lap addicts to plough up and down, but it also gives all of us a gentle, gradual walk into the water – there's even a rather nice stretch of water to cross that went up to my calves to access the ocean end of the 50m pool.
Someone did dive in at what I assumed was the deep end, but when I began my laps, I found the two ends of the 50m pool were about the same depth – about up to my chest (maybe 1.5m). But when I did my diagonal swim and ended up in the corner – in lane 5 or 6 I think – I was suddenly up to my neck, so for once the signs warning of variable depths are quite right. The base of the pool is covered in a thin layer of sand, but the depth does vary considerably from lane to lane, not from end to end.
Nice to see lots of kids running about the edge of the pool; and nice that the barrier rail around the pool allows for kids to run around (unlike some of those safety measures put in more recently in some other pools).
So, a joyous swim for my first in the new spring/summer season. Great to be back in the water.
Getting there, getting in, getting changed
I caught the 139 bus from Manly to Dee Why to get here. The 136 passes further up Curl Curl beach. Lots of parking nearby, but they are paid parking meters.
Paddle or wade in via the shallow pool, or jump in from anywhere along the path around the pool. Don't dive unless you know exactly where that deep bit is!
Cold showers in the changing rooms by the pool. I didn't see any showers outside the changing rooms, so not sure what you can do if you turn up for a swim when the changing huts are closed.
Other practical points
Benches on the raised path above the pools where you can leave your things as you swim.
No major tidal differences unless there's a storm or heavy seas. The pool is raised so there's a bit of wash over the sides but nothing to disturb your swim.
Check the Warringah Council website for pool cleaning schedule. More or less weekly in summer and Monday is the day to avoid
History and stories of the pool
Built in the 1920s. The central wall of the current rock pool is the outer wall of the original South Curl Curl Rock Pool.
Apparently you will often see kids from Stewart House (built in 1930 just north of the pool) in red t-shirts swimming in the pool. These are kids from deprived areas of Sydney's western suburbs, who get a chance to see the sea at Curl Curl. None around on the morning of my swim.
Apparently, also, the older – or more established – locals who sit and sun themselves after their swim are known as the Walruses. There were no walruses around on the morning of my visit, though – quite a youthful mix, in fact, with Mums and small kids, teenagers, and a couple of lone lap swimmers, but I certainly didn't see them as walruses – they didn't even have whiskers…
What's your story? Any memories of swimming here? Any stories to tell? Or did you just have swimming lessons in the cold of winters past?
Whatever you have to say, however brief, I'd love to hear from you and will add any stories to this section of the site as and when I receive them.  Add your comment or story under 'Leave a Reply' below.
Links to other articles on this pool
Sydney swimming blogger Mrs G Spot was here in March 2015.
Swimming with kids blogger Seana Smith was here in 2012.
I rather liked this photo-only blog from 2012.
Swimming blogger Sally has been here a few times, but I rather like her post from a stormy day in 2013.
Coffee, tea or milkshake after the swim?
It's not often you can get a good coffee and still keep an eye on the rock pool as you sip your cuppa. But at South Curl Curl it is possible:
On the Beach Café, 100m or so north of the rock pool at South Curl Curl
Open 6.30am daily. Closes around 3.30pm (summer) – a bit earlier in winter.
On the Beach Café reviewed by Fancy a Cuppa website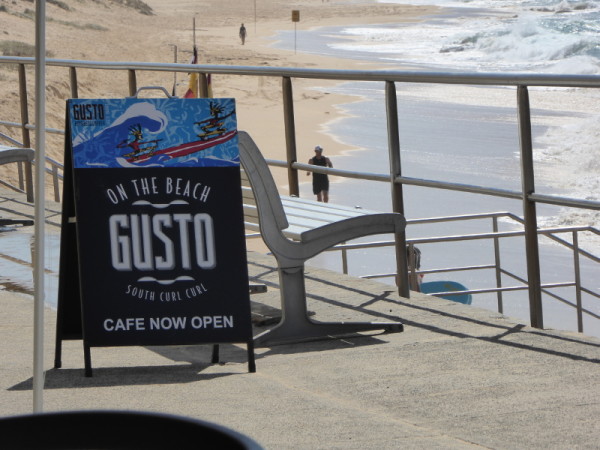 What a great spot for a post swim coffee. Waves crashing in just below the café and seats out the front so you can look back on the rock pool, where you have presumably just done a good few laps. They serve up rather good Gusto coffee here, with a nice choice of the house blend or a single origin, and it's always good to see roasting dates so you know it's fresh. A good selection of cakes, too. I chose the red velvet lamington – a perfect accompaniment to the coffee.
.