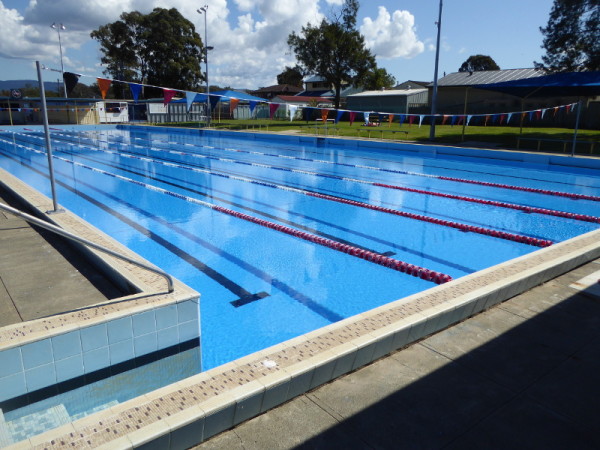 Home of Australia's test cricketing brothers Shane & Brett Lee
My experience in the pool
My first visit here coincided with the local schools swimming carnival so I wasn't able to use the 50m Olympic Pool and had to switch to a few laps of the 25m pool.
My second visit came just two days after the pool had reopened for the spring in mid-September. The 25m pool was busy with kids and a few lap swimmers so I plumped for the totally empty 50m pool. I quickly found out why it was empty…
The first days and weeks after a 'heated' pool reopens for summer the water can be a bit chilly. And for my first couple of laps, it took my breath away to such an extent that I had to breathe every second stroke, something I learnt long ago not to do so that I don't overstrain one side of the body.
I got into a rhythm after about three laps, but this was a cold swim, and my body never totally relaxed. It was also my first swim after a three week lay-off, so I wondered if my brain had somehow lost its memory of how cold water can be. At my age, a three week pause in exercise can mean a long, slow build-up again in fitness and endurance.
By the time I finished, there were a few kids in the pool too (school holidays week), but I still had the lane to myself so could throw in a few backstroke lengths too.
It wasn't until I saw the temperature board by the entrance to the pool AFTER I'd swum that I realised why I had been struggling to get warm in the water. Whereas the 25m pool had reached a balmy 27C, the 50m pool was just 17.5C – the air temperature was warmer than that!
Just seeing that sign lifted my spirits, as it explained all my weariness and struggle to complete laps comfortably. I'm happy to blame water temperature rather than my age and lack of fitness for what was a tough swim.
Getting there, getting in, getting changed
Lots of parking here at the pool complex, which is opposite the local Oval. It's a good ten minute walk or more from Oak Flats train station.
Unusual lay out of the pool, with the shallow end at the far end away from the entrance and changing rooms, so don't go expecting to be in shallow water if you step straight in after you come from getting changed.
Warm showers and lots of space in the changing rooms.
Other practical points
Entry fee $4.00 in 2015.
Pool depth goes from 1.07m in the shallow to 1.8m in the deep.
50m pool closes for winter, re-opening mid-September. 25m pool open all year round.
History and stories of the pool
This pool opened in 1964. I've not found any article or blog referring to any history of the pool, though.
What's your story? Any memories of swimming here? Any stories to tell? Or did you just have swimming lessons in the cold of winters past?
Whatever you have to say, however brief, I'd love to hear from you and will add any stories to this section of the site as and when I receive them.  Add your comment or story under 'Leave a Reply' below.
Links to other articles on this pool
I found very little written about Oak Flats Pool. There was some controversy when pool entry charges were introduced a few years ago. But other than, all I found was a brief description on the Oak Flats Swimming Club website
Coffee, tea or milkshake after the swim?
The place I used to go to near Oak Flats closed down but I think Cafe Niche back, in Central Avenue is worth a try.