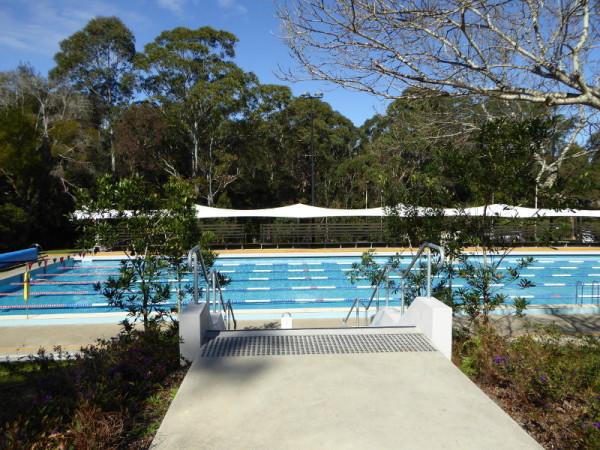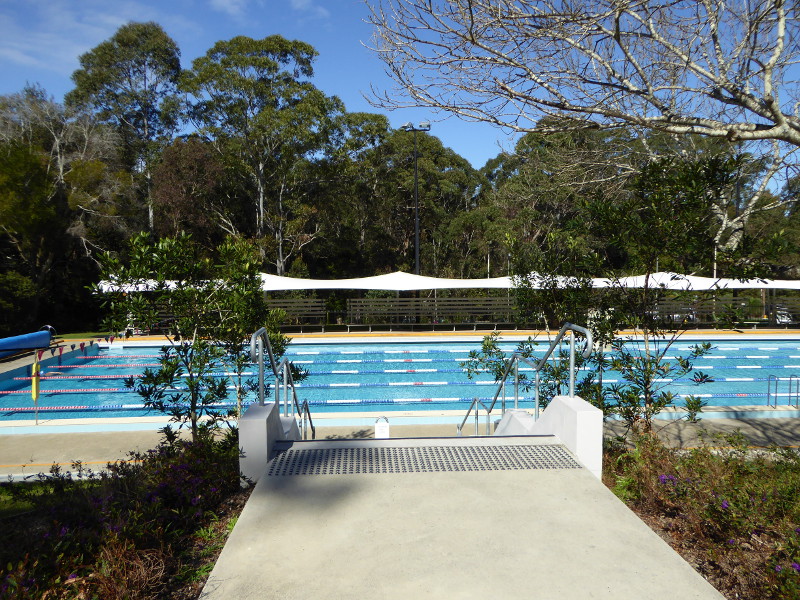 Ku-Ring-Gai is named for the original inhabitants of the area; Pymble was an early European settler.
My experience in the pool
A visit to West Pymble Pool aka Ku-ring-gai Aquatic Centre is the kind of experience that makes me wish we could afford to live in Sydney's leafy northern suburbs. I could probably cope with the feeling of suburbia if I had all this wonderful parkland and bush all around me.
It's not the easiest place to get to by public transport, but as I found out when I began asking for a short cut through the park to get to my post swim coffee, nobody round here takes the bus or walks so nobody (except the helpful receptionist at the swimming pool) actually knew. (By the way, yes there is a shortcut).
The swimming centre at West Pymble is set in the lovely Bicentennial Park. So that means those backstroke views are all of gorgeous gum trees towering over the pool at both ends. Stop pounding up and down the laps for a second and you will probably hear the magpies or kookaburras sitting up there, making for one of my favourite things about living in Australia. Actually take time also to take a few deep breaths at the end of the laps, and you'll have that other Aussie pleasure, which I'm sure is why I stay so fit and healthy here: the scent of eucalyptus fills the air round here. Permanent help for your immune system!
It was chilly out there on this morning in August. Air temperature must have been about 8C or 9C, but the sun was warm and the water warmer. The cold air was enough to deter most swimmers though and there was ample room in this 6-lane 50m pool for me to get a whole swim in a lane on my own.
It's not a deep pool, starting at 1.1m and ending at 1.8m. I wonder if that is a result of the latest refurbishment here, done in 2014, or whether the original West Pymble pool was one with diving board and consequent real deep end?
It was quiet in the pool but I was forced to take the Fast Lane as that was the only one free, not that I am by any means what Aussies would call a 'fast swimmer'. But nobody seemed to mind, and I found myself pacing pretty equally with the two women swimming in the next 'medium' lanes; there is something calming and leisurely about swimming at 'medium' pace, but having someone next to you swimming at a similar rate without chasing or racing. I guess it's a similar feel to those who say going for a run with others is less tiring than running alone.
Oh, and before I finish, here's a shout-out to West Pymble Pool's showers. They not only have three of those beach-side style showers by the poolside outside, but they have those fantastic dinner plate showers in the changing rooms, and that's not something you see very often in public swimming pools.
Getting there, getting in, getting changed
Slightly complicated getting to West Pymble Pool by public transport (and it didn't look as if many others came that way, either) – train to Gordon and then bus. Catch either of the routes heading past Bicentennial Park, one goes to Macquarie University, the other to West Pymble – both are fine with a short walk to the pool through the park afterwards.
Best showers for miles around, at least in a public pool – don't miss the dinner plate warm showers for a bit of post swim luxury.
Nice shallow steps at the shallow end so you can just wander into the water at West Pymble. Otherwise, it's those vertical metal stairs to climb, or drop in at the really quite shallow shallow end.
Other practical points
Entrance fee $7, but worth it for those dinner plate showers alone.
Olympic pool outdoor from 1.1m at the shallow end to 1.8m in the deep.
Indoor pool and shaded toddlers pool, the latter only open in summer
Outdoor 50m pool open all year round.
History and stories of the pool
I've struggled to find many stories about West Pymble Pool, partly because it changed it name to the Ku-Ring-Gai Fitness & Aquatic Centre!
Shane Gould grew up in West Pymble – this pool was built in 1971; surely she was there for the opening, when she was at her peak in world record making – does anyone know if she was?
People I met in the pool
No real conversations here. A brief cheery hello to the lifeguard sunning herself at the deep end and a perfunctory exchange of info on air and water temperature win a gent just arriving as I left. But I didn't mind today. This pool has such a leisurely relaxed feel to it, who needs added conversation?
What's your story? Any memories of swimming here? Any stories to tell? Or did you just have swimming lessons in days gone by?
Whatever you have to say, however brief, I'd love to hear from you and will add any stories to this section of the site as and when I receive them.  Add your comment or story under 'Leave a Reply' below.
Links to other articles on this pool
Two of the swimming writers I link to regularly have been to West Pymble Pool:
Seana of Hello Sydney Kids website had a guest blogger who helped her update her site on West Pymble Pool since the 2014 renovation.
And Therese of Swimming Pool Stories website came only a short time before me in April 2016
Coffee, tea or milkshake after the swim?
Take the short cut up behind the Aquatic Centre, up through the native reserve and past the netball courts to get to the little mall of shops in West Pymble. It's about a ten minute walk from the pool.
Brick Lane Espresso – Philip Mall, Kendall Street, West Pymble, NSW 2073
Open Monday – Friday 6am-4pm
Open Saturday 6am-2pm; Sunday 8am-2pm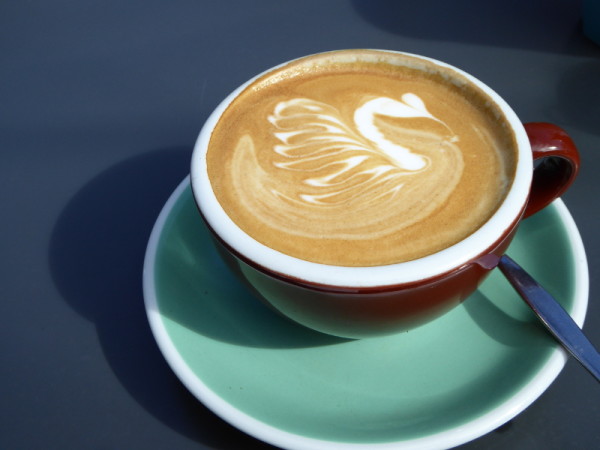 What a great coffee shop! Run by Italian Andrea, who knows his coffee and has gone for an excellent small batch roaster called Goliath Coffee down in Sydney to supply his beans for this relatively new coffee shop in West Pymble.
It's a really friendly place, too, with space on the terrace outside, or a whole room indoors (which I only discovered when I used the toilets out the back). The perfect place for a post swim coffee and muffin in West Pymble. This place relaxed me so much I walked off without my jacket, though they were kind enough to call me back before I'd got too far…