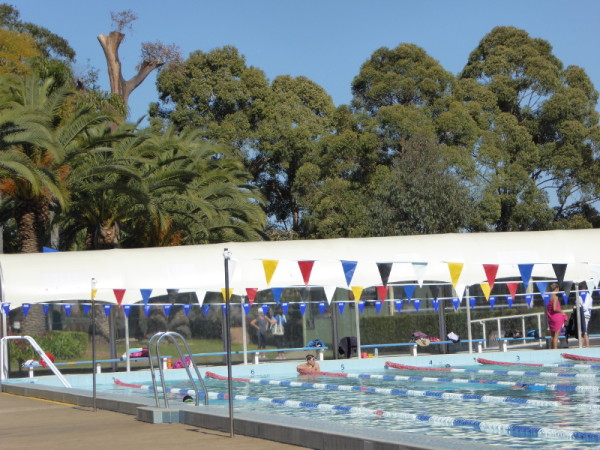 Named after hills in Scotland which were home to an early settler in the area.
My experience in the pool
Waves War Memorial Swimming Centre in the wonderfully named The Hills Shire sits half way between Baulkham Hills and Castle Hill, about a mile from both so very much part of Sydney North West suburbia.
I hadn't got beyond the reception desk before someone engaged me in conversation, though – my tee shirt with the map of Scotland drew quite a bit of interest, and before I'd even got to the pool side, I'd met Ken, Joe and Nigel, most of whom had relatives in Scotland and we were sharing the delights of lesser known spots like Paisley and Motherwell (!)…
For a mid week morning in August, the pool was quite busy, with each of the 8 lanes in the 50m pool taken, but not more than two swimmers in each lane so bags of room for freestyle.
I should take lessons from the woman sharing my lane, though, as she seemed to manage backstroke while I was swimming past her, whereas my wayward stroke and lanky arms mean backstroke is only safe if I have a lane to myself – fortunately, my fellow lane swimmer took five minutes to stretch and I grabbed a chance for one lap at least on my back.
I'd discussed with Ken earlier the relative merits of the views from various pools doing backstroke. He spends his time watching the planes high up as they head west from Sydney. There were none overhead as I swam, though, and the lovely palm trees round the sides of Baulkham Hills pool are a bit low to give much of a view while swimming, so this pool doesn't score too highly on the backstroke test.
It's certainly a friendly pool, though. There were no stories of celebs or Olympic swimmers here, but Nigel liked the story of the pair of gents who come down here most days: one to swim and chat, the other to chat and swim. They both do 1km or 2kms but do their chatting paths ever cross, is the big question here?
As well as the Olympic Pool, Waves Aquatic Centre has a paddling pool under shade in summer and an indoor swimming area, which sounded busy (well it is winter and the air temperature was still only mid-teens). It also has a unique feature set behind the pool, for which you have to spend a further $10 to use: it is a wonderful area of trampoline squares built into the ground. There must be a dozen of them, with little toddlers having a great laugh bouncing on the springy surface of the 'trampoline' – must be a great hit in holidays (didn't look shaded though so bear that in mind if coming in summer).
These winter swims are improving my fitness. I seem to glide through 20 laps of the 50m pool fairly effortlessly these days, and even threw in an extra length to get back to my things. I must start timing my swims one of these days to test my fitness theory…
And maybe I should carry on swimming every week in these Olympic pools even when I get back in the ocean pools which are supposed to be the main focus of this site?
Getting there, getting in, getting changed
The swimming centre is actually half way between Baulkham Hills and Castle Hill. No surprise that it is in the wonderfully-named Hills Shire. There are buses up here but no train nearby…yet.
Changing area fairly nondescript but showers good and warm water freely available.
No disabled ramp in the Olympic pool, but an 'easy ladder' which made for easier access. Other than that, it is just traditional old metal steps at both ends and half way along.
Other practical points
$5.40 entrance (plus $10 for using that trampoline area)
Open all year round, inside and out
1m shallow end; 2m deep end
There are several sets of bunting (my usual marker for backstroke to know the lap is about to finish). According to Ken, they divide the pool into two 25m pools when it gets really busy so the extra bunting must be for those times.
History and stories of the pool
It's difficult to research a swimming pool which is known as one thing but has changed name in its past and is situated a good mile away from the centre of the suburb it is popularly named for.
The best source of stories and history of Baulkham Hills pool was on The Hills swimming club website, where I learned that the club was formed in 1967 in the same year the pool was built. Also that the pool was not heated until 1992 and didn't become an open all year round pool until 1996!
People I met in the pool
Ken, Joe and Nigel all made me feel very welcome here, as did the guy at reception desk. Baulkham Hills pool is a really friendly place. Read the main blog for snippets of the info they passed on to me.
What's your story? Any memories of swimming here? Any stories to tell? Or did you just have swimming lessons in days gone by?
Whatever you have to say, however brief, I'd love to hear from you and will add any stories to this section of the site as and when I receive them.  Add your comment or story under 'Leave a Reply' below.
Links to other articles on this pool
The Daily Telegraph newspaper listed Waves Aquatic Centre in Baulkham Hills as one of its top ten pools in Sydney in this piece
Coffee, tea or milkshake after the swim?
There is coffee by the pool side, but it is not great quality so I went for a 4 minute drive up to Castle Hill, where I found a rather nice place, that would have just kept inside my half hour walk from the pool criteria…
Youeni Foodstore – 250-254 Old North Road, Castle Hill, NSW 2154
Open Daily 7.30am – 5pm
Youeni Foodstore reviewed by the Fancy a Cuppa website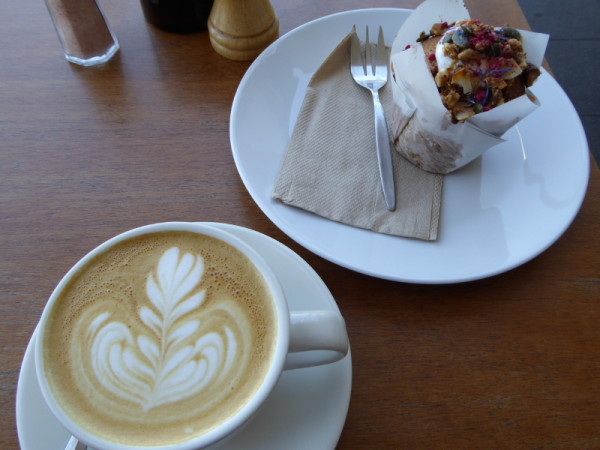 Great range of coffees on offer here. There was a single origin from Ethiopia roasted by the rather good Pablo & Rusty's and then an excellent house blend from Marvell Street, which is a Byron Bay roaster I hadn't come across before. There are still more options if you fancy a filter coffee. Really friendly barista Nathan and a good vibe among the other staff. This seemed a coffee shop with a positive vibe, and with excellent – healthy-looking – cakes; well I call them healthy when they have all nuts and bits of fruit on the muffins and they aren't too sweet.
Sit on the terrace (by the main road, but in the shade) or on a stool at the bar. I guess in bad weather they close the windows and the seating is all inside. Nice place for coffee in Castle Hill.