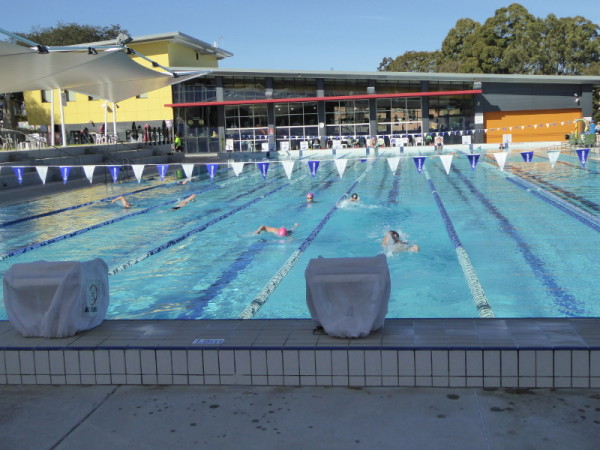 Named after a convict turned constable who arrested bush rangers round here before the area was settled by Europeans.
My experience in the pool
It's a lively place is Hornsby Aquatic Centre. From the tai chi class going on with about 20 participants right in front of the entrance, through the indoor pool area packed with parents and toddlers on this sunny August morning, through to the Olympic pool outside, with three lanes devoted to some sort of aqua gym class and at least two people in all the other lanes.
It's relatively expensive to get in here, but as usual half the price of what you'd pay for similar facilities back in the UK, and the cost clearly doesn't deter the locals (regular visitors get a massive discount I think).
The air temperature was a chilly 8C, but the water was heated and if you picked one of the sunny lanes, it felt quite pleasant for freestyle laps. A wander round the pool afterwards took me under the shaded area by the pool side, though, and I can say it really was a tad too cold for wearing just speedos in air that had the feel of a British winter.
This pool was closed for four years as it underwent a massive overhaul, being reopened by then PM Tony Abbott no less, in 2014. I've been in a few newly-refurbished pools since I began this tour, and somehow my gut was telling me Hornsby hasn't quite got its mojo back yet. It's a lovely pool, with beautiful bush down to one side and pleasant parkland on the street side, but it somehow lacked a soul, or hadn't quite worked out what it wants to be yet.
Call me old-fashioned, but the photo display of the old Hornsby Olympic Pool from 1962-2010 made me wonder why they pulled the old pool down (See the architecture link below which explains the place had 'concrete cancer'). Its buildings had character, it had viewing areas for school carnivals pouring down over the bush area behind, and it just looked like a more homely place. But maybe 'homely' isn't the future, and they've clearly done a good job tapping into various markets to attract people to the pools now they've reopened. I guess any building needs time to develop its own story so maybe I need to come back to Hornsby Aquatic Centre in five or ten years time and see what it gives me then.
There's clearly another large Chinese community living up in Hornsby. The tai chi class was just finishing off as I left mid-morning, and half the swimmers over the morning looked ethnic Chinese. They're just generally not as chatty or talkative as others, though that may be for linguistic reasons.
I only managed one lap of back stroke when my lane became exclusively mine for a brief moment. The views are OK but there is nothing stunning to watch out for at either end of this pool; in fact the best views of gum trees come when you lift your head to breathe in freestyle, so I wasn't missing much by sharing my lane for most of my swim.
Getting there, getting in, getting changed
Hornsby Aquatic Centre is a short walk from Hornsby train station (just to the north west). I actually didn't see if there was a car park nearby, so transfixed was I by the tai chi class near the centre.
To get to the changing rooms you need to walk through the indoor wet area. Probably doesn't matter greatly, but I always feel awkward padding tiled floors in my outdoor shoes when barefoot swimmers are walking there seconds later.
Lots of good access to the pool itself, though. A good disabled ramp, nice wide and gentle steps into the water at the shallow end.
Other practical points
$7.50 entrance to Hornsby Aquatic Centre.
There are indoor play areas and teaching pools as well as the 50m pool outside.
Open all year round, inside and out
1.2m shallow end; 1.8m in the deep, with nice ledge to stand on if you need a breather.
Built in 1962; refurbished in 1995. Again, it makes me wonder why they needed another major refurbishment only 15 years after that one?
History and stories of the pool
You get a potted history of the Olympic Pool on this site in Hornsby from the collection of photographs on the wall facing you as you leave the aquatic centre today. The shame is that they have not said more about the history of the place in or around this display.
The first pool was built in 1962 and looked like the classic design of its time. There was a first refurbishment in 1995 and then another just a few years ago after the whole complex was closed down in 2010 and only reopened late in 2014 when then Prime Minister Tony Abbott did the honours in reopening it.
I've not managed to find any links to further history or stories from the old Hornsby Pool though, so if anybody swam in those earlier days, I'd love to hear from them…
Meantime the best stories actually come through reading the design/architecture article below which talks for example of  bush fire embers covering the pool complex in 1994 – when you see how close the bush is here, you'd know how scary that must have been.
People I met in the pool
No real conversations with anybody at Hornsby Aquatic Centre. The swimmers around the place were all just getting on with their laps and there was so much busy-ness around other parts of the complex that everybody was just minding their own activity and not looking to talk to new kids on the block.
What's your story? Any memories of swimming here? Any stories to tell? Or did you just have swimming lessons in days gone by?
Whatever you have to say, however brief, I'd love to hear from you and will add any stories to this section of the site as and when I receive them.  Add your comment or story under 'Leave a Reply' below.
Links to other articles on this pool
Seana of the Hello Sydney Kids swimming blog site came to Hornsby in 2015, probably shortly after it reopened.
This architecture and design website tells the story of how the pool lay empty for four years and of how there was no café on site for some time after that too! Best potted history of the site I have found.
Coffee, tea or milkshake after the swim?
There are a couple of coffee shops (and even a vintage café) on the walk back to the train station from the pool at Hornsby. I stuck my head round the door of both but still opted for a little coffee shop in Hornsby Station itself…
Steam Tank Coffee – Pedestrian Overbridge, Hornsby Station, NSW 2077
Open Monday – Friday 5am – 3pm
Saturday  7am – 1pm
Closed Sundays
Steam Tank Coffee reviewed by the Fancy a Cuppa website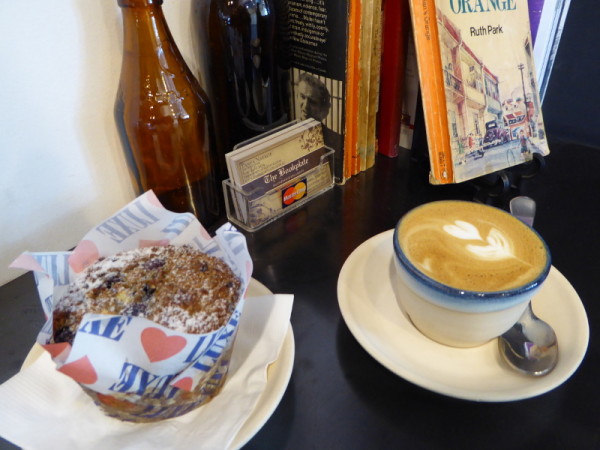 Robbie and Grace gave me the warmest welcome possible as soon as I stepped in to Steam Tank, and their coffee was top notch. Roasted by the rather good Mecca Coffee in Alexandria in central Sydney, the flat white was delicious, though quite small if you've just done 1km swim and needed a hydration as well as a caffeine kick. I opted for a longer chat to the baristas and had a second cup: your Plan B would be to go for a large coffee in the first place maybe. Really good muffins, too, baked by a place called Lux in Newtown, they were tasty but not too sweet, so perfect for that post swim coffee and cake.