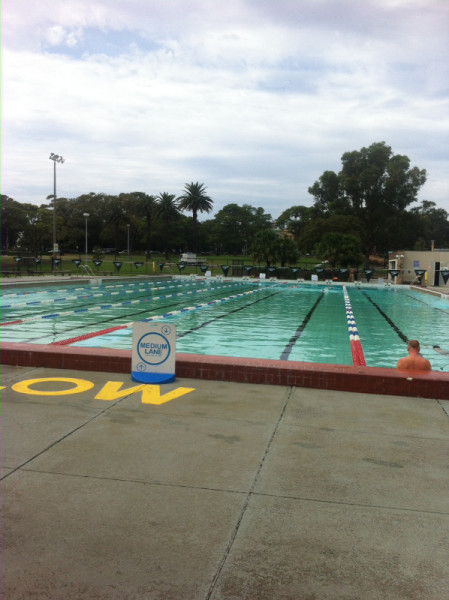 A pool in the park, with the beautiful old buildings of the University of Sydney just up the hill
My experience in the pool
It's a beautiful pool, with palm trees on the park looking down on you as you swim.
This is a very organised pool, too, with three wide, but speed-labelled lanes, and to help guide you into the right lane for your ability, they have a board with average lap times for 'fast', 'medium' or 'slow'.
I was nursing my tight shoulder so opted for slow, partly also because I actually don't time my lengths so have no idea if I'm a 45 seconder or 2 minute lapper.
It also has one of those gloriously deep deep ends. You hit it at about 40 metres and it does change the whole feel of a swim to be pushing through 2m of water rather than 1m50 or whatever the previous depth was.
I'd definitely come back to this pool if I ever had dealings with the university. But it's also not so far from Central Station, so if you have an hour to kill waiting for a train…
Getting there, getting in, getting changed
You can't miss this pool right in the middle of Victoria Park. Follow Broadway from Central Station and head towards the University.
Changing rooms are big with loads of showers and lots of space. You have to walk past people running the treadmill to get to the pool side (well, at least, the men do – I didn't check what gauntlet the women have to run…). At least they aren't lifting weights and flexing muscles…
Other practical points
$6 entrance fee and there are opening hours, which are clearly laid out on the pool's website: www.vppool.com.au
History and stories of the pool
Built in 1953, in the wake of increased demand after the NSW Government decreed in 1944 that all primary school children should learn to swim.
I rather like this history of the park, the pool and the roads running alongside the park. Published on the City of Sydney website
What's your story? Any memories of swimming here? Any stories to tell? Or did you just have swimming lessons in the cold of winter in the 1960s?
Whatever you have to say, however brief, I'd love to hear from you and will add any stories to this section of the site as and when I receive them.  Add your comment or story under 'Leave a Reply' below.
Links to other articles on this pool
Swim blogger Sally came in 2006
And I liked this from the wife of a research scientist who enjoyed the pool even though she says she can't swim
Coffee, tea or milkshake after the swim?
There is a café on the pool premises, but it was either closed or just opening up the morning I was there, so I passed it by, especially as I was keen to try the Chippendale HQ of Tobys Estate, just back across the park towards Central, but literally across the road from the park.
Toby's Estate – City Road, Chippendale
Open daily from 7am (M-F); 8am (S-S)
Toby's Estate coffee shop reviewed by Fancy a Cuppa website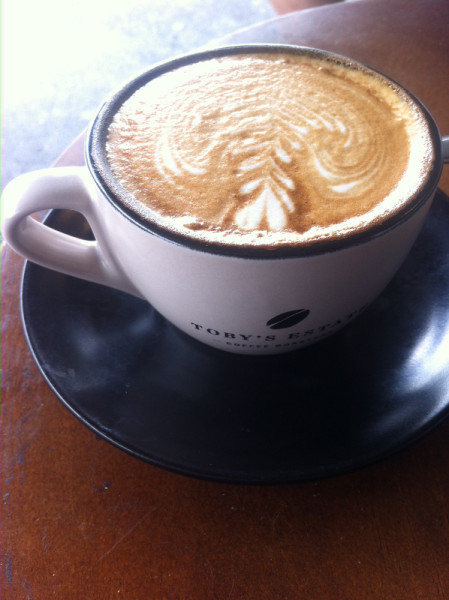 I've drunk a lot of Tobys Estate and it's always a good trusty brew, which even the worst baristas seem to struggle to ruin. But this is where they roast their beans so you'd expect the quality to be up a notch or two, and I was not disappointed. I didn't try their cakes as I had a lunch appointment at the Uni shortly after, but their flat white was just right: a rich flavour, good consistency and a delight to the palate.
Also got chatting with another café owner, Charlie, having his morning break there, but who says his café is right by another of the Sydney city centre swimming pools. So watch this space…