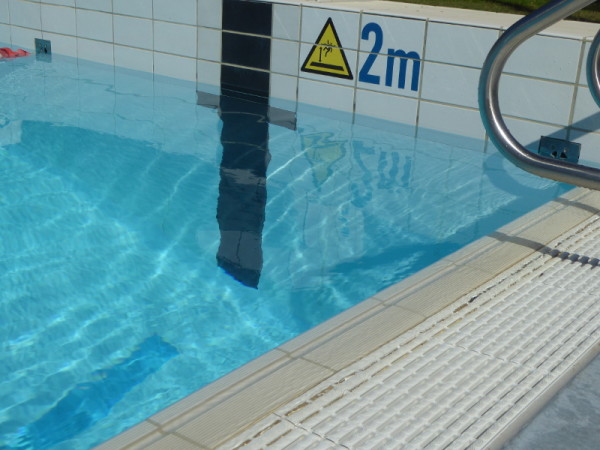 Nearest pool to Sydney Central Station in the park named after Queen Victoria's second son
My experience in the pool
A beautiful autumn day for this swim.
I got in just around 12 noon and there was lots going on, with lessons in a couple of lanes and graded speeds in the other lanes. With just three people in my lane, though, there was no pressure, so I could take it easy, still recovering from my bout of bursitis.
It's a great setting for a swim, with palm trees lining one end of the pool complex, the yellow sun shades along the side providing colour contrast to the blue pool, and Sydney CBD towering up on the horizon.
I was glad I didn't arrive half an hour later, though (and I'm guessing the same happens before 9am and after 5pm), but the men's changing rooms by 12.30pm were stuffed full of blue shirts and grey trousers hanging on all the pegs; I looked back at the pool and saw that there were three times as many people in the water by then, so a much busier feel.
It seemed also to be a popular place for adult non-swimmers to get basic lessons (though I think most of these may have been new arrivals in Australia).
Getting there, getting in, getting changed
The pool is right in the middle of Prince Alfred Park, just to the south of Central Station (take the Chalmers Street exit if you arrive by train).
Big changing rooms and lots of space, even at those busy out-of-office hours times.
Partly because it was busy in each lane, but also partly because I often struggle to dip under those competition-style lane dividers, without losing either my dignity or my pull-buoy, I chose to drop straight into my lane at the shallow end (about 1.2m, though, so beware of the depth if you are not so tall).
Other practical points
$6 entrance charge.
Opening hours: 6am – 8pm Daily (7pm closure in winter – ie from April) – Details on the pool website
Open all year round
History and stories of the pool
See the blog post by Swimming Pool stories for the best outline of the background to the pool, especially its more recent redesign.
What's your story? Any memories of swimming here? Any stories to tell? Or did you just have swimming lessons in the cold of winter in the 1960s?
Whatever you have to say, however brief, I'd love to hear from you and will add any stories to this section of the site as and when I receive them.  Add your comment or story under 'Leave a Reply' below.
Links to other articles on this pool
Swimming pool stories writer Therese came here in 2013 shortly after the major refurb.
Tim, another Pom, came here shortly after it reopened in 2013.
Swim blogger Sally was here back in 2006.
Coffee, tea or milkshake after the swim?
There was a café right next to the pool and that was my pick for tea, but it closed down shortly after I was there (what did I do??).
Still, just across Chalmers Street there's still:
Blacksmith Café – Chalmers Street (opposite pool entrance)
Open Daily from 6am
Blacksmith Café reviewed by Fancy a Cuppa website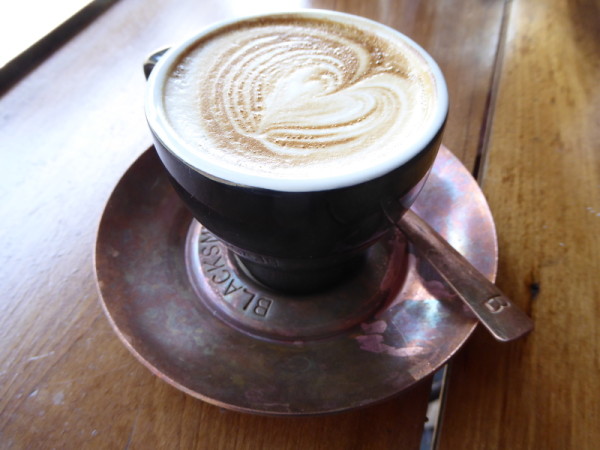 I'd met Charlie, the founder of this mini café chain, after a swim at another pool in Sydney, and he told me all about his Blacksmith Café concept where everything is self-made, from the spoons and saucers served up with your coffee, to the internal décor and the bar itself. Charlie was a blacksmith in Vietnam, who landed in Australia in the 1980s and has done great things with his creativity. Coffee is good, from Toby's Estate, and cakes are all baked in the in-house bakery out the back.
From the tables outside in Chalmers Street, you can see the signage for Prince Alfred Park Pool – it's that close by!