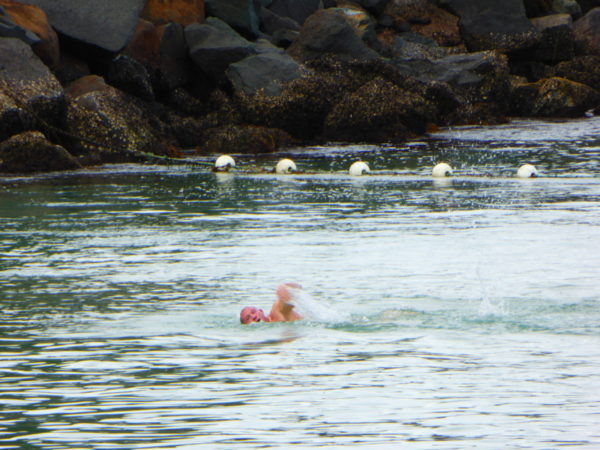 Tuncurry means 'plenty of fish' in local Aboriginal language
My experience in the pool
Tuncurry Rockpool would not count as a rock pool in most people's definitions of the term. There are no rocks anywhere, unless you count the material used to build the harbour wall, and it is more a netted beach than a pool as such. Still, for my ocean pools site, which has now expanded into any outdoor swimming spot (as long as it's safe or protected), Tuncurry Rockpool counts.
It is a funny place, though. There is the usual signpost up warning of various hazards swimming there. You know, the usual stuff like dangerous currents, sudden drops and marine life…Marine life? Well the signpost has a picture of a nasty looking jellyfish, though somewhere else I read that the net is not actually designed to keep out sharks either, so there's no guarantee apparently…
Certainly marine life was abundant when we finally took the plunge after looking for a while at the 'empty' water on an overcast morning in June. I have never swum through and around so many fish in all the pools I have visited since starting this quest. They were not dramatically tropical colourful fish, more a silvery grey with blue tinge. But it is really rather delightful to stick your head under as you do freestyle and see so many fish darting about, but apparently unconcerned at a big human taking up some of their space.
And as we dried off on the bench looking back over the pool, we spotted dolphins dipping and diving in the river estuary just a few yards from where we'd been swimming five minutes earlier. Add to that the pelican who swooped gracefully in later and joined another swimmer down by the shark net, and Tuncurry Rockpool starts to feel like a fun place to get up close and personal with 'marine life'.
I was surprised how much I enjoyed my swim at Tuncurry Rockpool, especially as we are now officially into winter, and the idea of swimming outdoors in winter in the UK just feels very strange. But the water was comfortable enough still for me to abandon the swim cap, and my half wet suit stayed firmly tucked away in my rucksack. No, Tuncurry Rockpool on this mid-June weekend was delightful, though we were at first the only swimmers in there, and we got waves from passing walkers, cameras on us from day trippers, and other folk entering into banter about the water temperature.
By the time we sipped our post swim coffee, though, there was an older man with his granddaughter venturing in, a gent doing laps by the shark net, and three young girls who would I'm sure have loved to have a dip if their mother had just brought a swim suit along (as it was, she gave them fierce warnings not to get their clothes wet, and I couldn't help feeling sorry for them because why shouldn't they join in the fun?).
It was very calm on the day we turned up at Tuncurry. I had done a reccie a week or two earlier on my visit to Forster Baths just back over the road bridge, and the waves were swooping in then, without surf but I imagine you'd know you're in the ocean on a really rough day in the Rockpool here.
The water must still be just below 20C and it was crystal clear, making for a really rather lovely swim. It's very close to the Ocean Baths at Forster, but there is a feel of being on the other side of the river here at Tuncurry (maybe the 'wrong side of the tracks'?), and if I was visiting the region, I can imagine coming into the Tuncurry Rockpool waters just as often as the Forster Ocean Baths. A very different experience but a pleasure also.
Getting there, getting in, getting changed
Tuncurry is just across the old wooden road bridge from Forster. We actually parked in Forster and walked over here. But there is also ample parking near the rockpool too. For public transport, I guess you'd get that bus from Newcastle to Taree and get off as close as you can to the Rockpool.
The only way into Tuncurry Rockpool seems to be via the sandy beach, and it gets deep enough quickly enough to make this a short walk and wade. But the gent who ended up doing laps by the shark net either managed to walk right past us unnoticed, or he jumped in via the rocks that make the harbour protection on either side.
There is an outside shower by the beach at Tuncurry Rockpool and the toilets back behind the kiosk also have showers and a changing space.
Tidal differences
It's possible to swim on all tides at Tuncurry Rockpool. The main thing that changes is the size of the sandy beach, but once in the water it's easy to get to a depth where you can swim.
History and stories about the pool
The information plaque by the rockpool tells the story best (I failed to find any old press clippings about the space, though see the links below for one time it did make the news…)
The channel was designed to channel or 'catch' waves off the ocean and make the harbour or estuary more navigable in strong swells. The swimming net was added in the 1970s, though it seems as much to help swimmers from being dragged out by the currents as to keep out sharks.
See the photo in the gallery for the full text of the notice, which explains also the size of the net and its mesh, plus how it is attached – or not – to the sea bed.
What's your story? Any memories of swimming here? Any stories to tell? Or did you just have swimming lessons in days gone by?
Whatever you have to say, however brief, I'd love to hear from you and will add any stories to this section of the site as and when I receive them.  Add your comment or story under 'Leave a Reply' below.
Links to other articles on this pool
I'm glad I found this article on a shark in Tuncurry Rockpool after I had had my dip here.
There's a brief mention of Tuncurry Rockpool in this Queensland couple's blog. They saw dolphins too, but also spotted whales here.
Read this article from the local newspaper and you start to see why the local council's sign at Tuncurry Rockpool warns of 'marine life'…
This travel blog came to Tuncurry looking for 'tea bags' in the water. I don't think I qualify just yet…
Coffee, tea or milkshake after the swim?
For a post swim coffee in Tuncurry, stay by the rockpool and go to…
Rockpool Café – 4 Rockpool Road, Tuncurry, NSW 2428
Open Daily 7am-2pm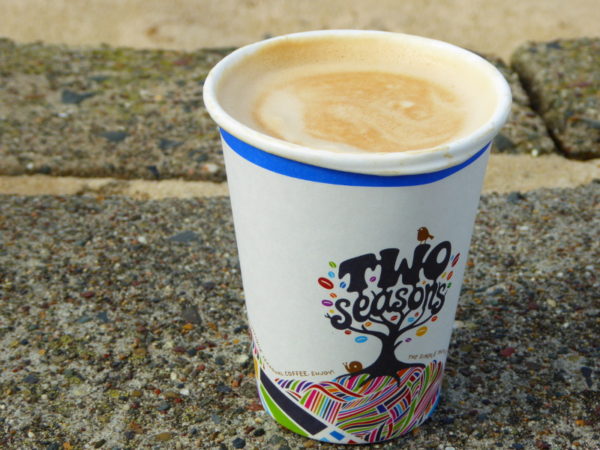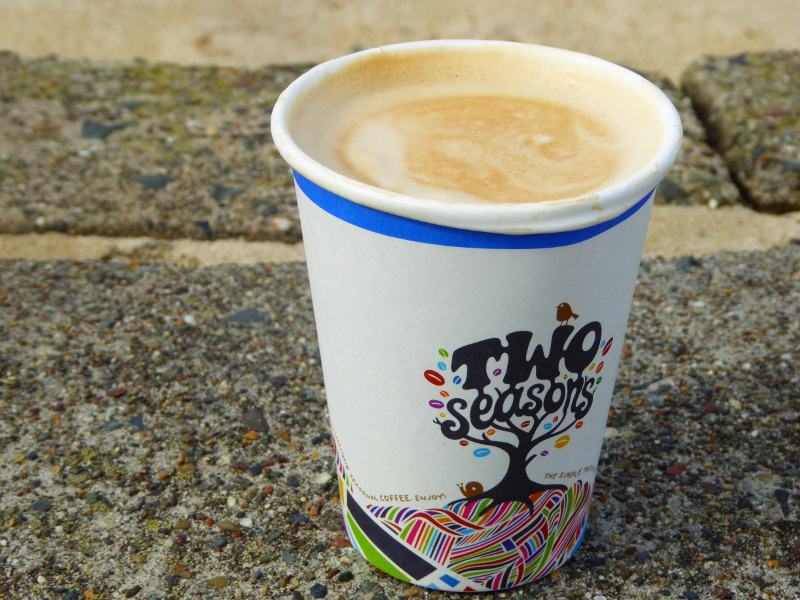 You can't do much better for post swim coffee than pop to the kiosk by the Rockpool. I think it's just called Rockpool Café, and it doesn't look that special but they use a good Marzocco espresso machine and a decent coffee roaster called Two Beans. We were pleasantly surprised.