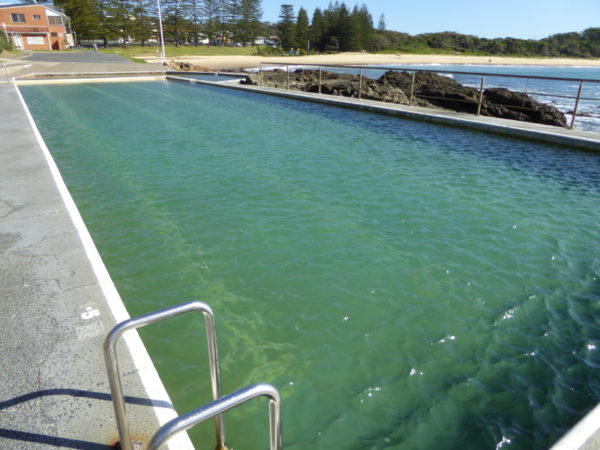 My experience in the pool
Black Head Ocean Baths ticked all my boxes. The pool is nearer 30m than 50m but that's a good enough lap length, and with the surf pounding just beyond the pool wall, a pod of dolphins darting about in the bay near the pool, a friendly local to talk to, and best of all a local community fully behind the preservation of their fantastic facility, putting on time, money and labour to keep it going.
So go to Black Head Ocean Baths and put a donation in the box by the pool. It'll help the local 'Dads Army' keep things clean and maintained. I chucked in a few gold coins and well worth it, I thought.
Black Head and Hallidays Point form a small, village community by a beautiful crescent-shaped beach, and the rock pool – or ocean baths as they call them round here – was sitting perfectly formed at the southern end of the beach. It has a much more secluded and exclusive feel than the more touristy Forster, just a few kilometres down the coast.
There was nobody there as I strolled down on this breezy, and early winter, morning, but I was reassured when a couple walking their dog dipped their hands in the water as I took my photos and declared the water wasn't 'too bad'. And then Lina appeared, all kitted up to take the plunge. She was down for her daily swim, she said – yes, all through the year – so if Lina was going in, and without a wetsuit, I was certainly going to have my laps in there too.
When the air is about 15C and the water only marginally warmer, it can be a toss up which feels colder as you take those first cautious steps down into the water. But in those circumstances I always swear by my plunge in backwards approach and sure enough after a quick lap of backstroke, my breathing settled and I managed to put in a few decent laps, interspersed with chilly chats with the fascinating Lina (about whom more below under People I Met).
I loved Blackhead Ocean Baths almost as much as Merewether, but it is just a fraction of the size, for a community a fraction of the size of Newcastle.
There are nice lanes to swim along – just three or four of them mind, after all this is a mini-pool – and the blue skies made for that perfect uplifting light to look up to as I swam backstroke (and no quirky shape to the pool wall or barnacles as I had found to my cost in Forster).
Getting there, getting in, getting changed
I drove and it's hard to see signs of any public transport to Black Head, though I'm guessing there must be a bus from Taree or Forster that might drop you in nearby Hallidays Point. There is lots of parking along under the Norfolk Pines by the beach at Black Head.
There's a cute paddling pool with a kind of access point to the shallow end of the main pool at Black Head. There are shallow steps in at the shallow end and vertical metal stairs at the deep end.
There is one shower back near the toilets by the pool. It is outside. In the toilets there is a small changing area with three coat hooks and a small shelf for seating or leaving your things, but no shower in here.
Tidal differences
It's possible to swim in Black Head Ocean Baths on any tide, but as with many ocean pools, it might be quite an adventure in a storm or on a king tide.
History and stories about the pool
Black Head Ocean Baths were built in 1940 but not much used in those early years as the country was focused on other things. The baths were largely neglected through WW2 and then, so local lady Lina told me, emptied and cleaned, with her father apparently telling stories of the enormous prawns and oysters found in the pool after years of disuse, providing slap up dinners for locals who put the work in.
1948 press clipping from the wonderful Trove website reported the baths were filled with stones from a landslide.
1947 clippings showed that Taree High School came down to Black Head Baths for weekly swimming classes in the warmer months.
In the 1980s, the baths almost got destroyed because of the costs of maintaining them. But community input and the creation of the so-called 'Dads Army', who still maintain the pool today, helped Black Head Ocean Baths to survive.
There was a revamp in 2000, but – so Lina tells me – there is concrete cancer again. I so hope it survives. It deserves to.
People I met at the pool
I was very pleased to meet Lina B, who lives and was brought around here. She's from Italian heritage, with a journalist dad who could tell a story or two. She's a writer and artist herself –  and has also been on ABC Open, so look her up if you want to see more of her and her work.
What's your story? Any memories of swimming here? Any stories to tell? Or did you just have swimming lessons in days gone by?
Whatever you have to say, however brief, I'd love to hear from you and will add any stories to this section of the site as and when I receive them.  Add your comment or story under 'Leave a Reply' below.
Links to other articles on this pool
It was good to see that swimming blogger Therese has been to Black Head and also gave a shout out to the Dads Army.
Some nice photos of Black Head Baths on this blog by Sian Loves – only photos here, though.
And in 2015 the Travel at the Speed of Life blogger came to Black Head ocean baths.
Coffee, tea or milkshake after the swim?
There is a little kiosk right opposite the beach at Black Head, but it looked more fish 'n' chips than coffee shop so I went back into Hallidays Point, where I found…
Gobblegutz – 4/85 High Street,  Hallidays Point, NSW 2430 (not visible from the road – you need to park up and then go into the main part of this small shopping centre)
Open Daily 7.30am; Closes 3pm Monday-Friday & 2pm weekends.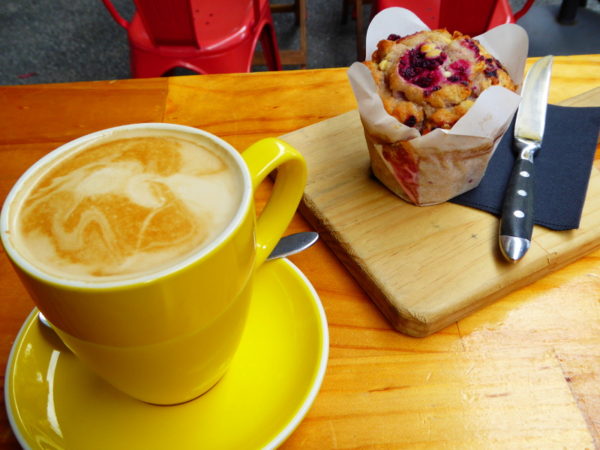 They serve up the rather good Crave Coffee, brought up from Alexandria in the heart of Sydney. Made it worth going the extra mile (or so) from Black Head Ocean Baths to have my post swim coffee.
Nice little terrace to sit outside and watch the world go by.