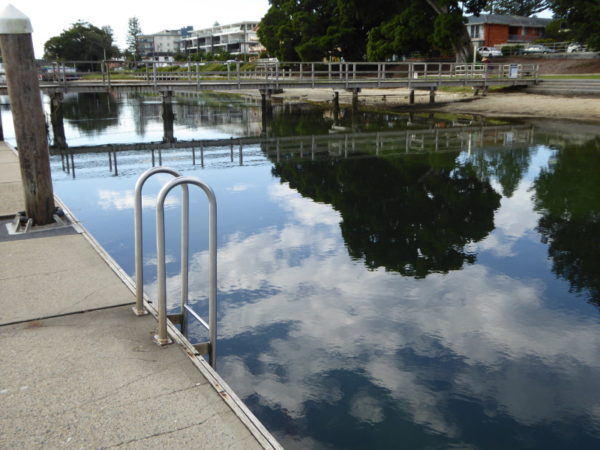 My experience in the pool
The Little Street Baths in Forster are a funny spot. With such a fabulous ocean pool just ten minutes' walk away, why would anyone ever want to swim in these baths, you might think?
I like the idea of netted swimming enclosures in Sydney along the George's River or Port Hacking when locals might feel it's just a bit too far to get to the beach and swim in a real rock pool, but here at Little Street in Forster, it really is close to the town itself.
Still, I wasn't going to turn my nose up at another chance to swim before my winter break from the oceans and rivers of NSW.
It was low tide by the time we got to Little Street, and although there was a little toddler messing about on the sandy shore and splashing in the shallow water, it just didn't look very tempting to go for my regulation swim in the deeper parts of the pool.
The water looked colder than the ocean, it was full of seaweed or other marine plants swaying back and forth, and that shark net looked distinctly down or flimsy in spots, though being low tide the water was shallow enough to see if anything that size came anywhere near.
I had done a reccie here a few weeks ago on my visit to Forster Ocean Baths and the tide had been high then, but even that day I was not tempted to take the plunge. Maybe it needs a roasting hot day and a few more people in the water to draw me into the baths at Little Street, but on this June afternoon I very nearly gave it a miss.
In the end I did take the plunge and swam just one width of the pool and out again so that I could mark it off on the ocean pools map as 'done'. A full length of the baths would probably be about 50m but I didn't even stay in long enough to say I'd done one lap here.
I hope there are locals who swim here regularly and they can tempt me back for a swim on a day that is maybe more conducive to pleasure. But once that little girl had finished her fun, I was alone in the water here, with just a few fishermen and a group of friends having a drink in a small boat on the other side of the shark net there to witness my swim.
Getting there, getting in, getting changed
It's a ten minute walk from the centre of Forster – going past the tourist information office and continuing up Little Street – to get to the baths here. There is parking on the road right by the baths, but I imagine in midsummer that could be harder to find.
Enter the water here either via the sandy beach (which disappears at high tide) or via the vertical metal steps off the boardwalk above the shark net.
There are toilets a little further up beyond the Café by the baths, but they are toilets only and there is not even space to put your things down or hang them up while you change. The only shower is right by the baths themselves.
Tidal differences
It's possible to swim on all tides at the Little Street Baths, but the nearer you are to low tide, the more of the beach is exposed and the narrower the strip of water you can swim in. But on the lake side, up by the shark net, you will always manage a lap or two.
History and stories about the pool
It's not easy to find any history of the Little Street Baths but they do get the occasional mention in press clippings found on Trove website. Back in 1954, a flood in the area completely submerged the baths. But another article from December 1953 talks of the poor 'dusty gravel road' in the area and the baths not only being too small, but 'submerged at high tide'.
So the Little Street Baths have certainly been around since the early 1950s at least. Anyone got any memories of swimming here?
What's your story? Any memories of swimming here? Any stories to tell? Or did you just have swimming lessons in days gone by?
Whatever you have to say, however brief, I'd love to hear from you and will add any stories to this section of the site as and when I receive them.  Add your comment or story under 'Leave a Reply' below.
Links to other articles on this pool
In 2016, storms closed the ocean baths over by the beach in Forster so the Little Street Baths became a safe haven for a while, according to this piece in the local newspaper.
I also liked this piece about Albert Von Ehlefeldt, who gave his name to the little grassy area by the baths in Little Street.
Coffee, tea or milkshake after the swim?
For post swim coffee I would recommend going the extra mile and heading back into Forster itself for a very good coffee or tea at Tartt…
Tartt Forster – 12 Wharf Street,  Forster, NSW 2428
Open Daily 7am; Closes 4pm, with evening opening on Friday and Saturday.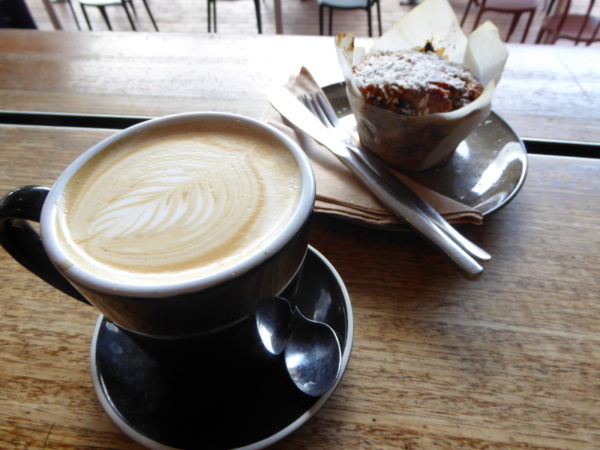 I never thought I'd find a coffee shop as good as this in a little town like Forster. They roast their own coffee beans, so that's a bit special for a small town, too. And they're really friendly, too.
I have been here now both on a quiet midweek morning and on a busy holiday weekend, but managed to get a seat out on the terrace even at peak time on a Sunday. Seats inside too, or take a stool and look out to people walking past and beyond to the coast.