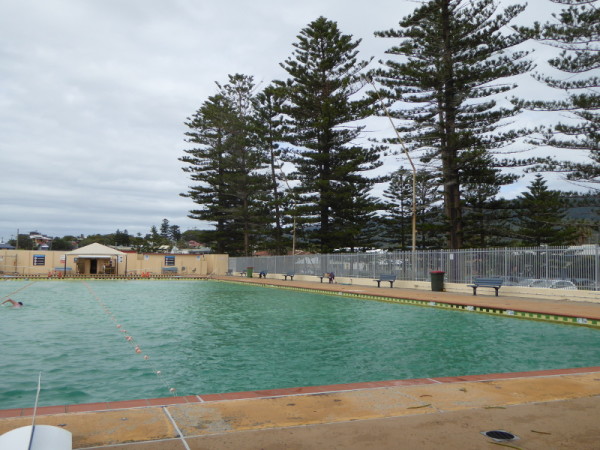 Thirroul Olympic Pool
A proper Olympic size pool, tiled with lane markings, but with water pumped direct from the ocean so the temperature rises and falls with the sea temperature.
My experience in the rock pool
My first proper lap swim since my shoulder injury so I was taking it easy. Beautiful water temperature, though all the locals were exclaiming at how much colder it was than earlier in the week.
It always takes me a little while to get back in the swing of things and into a rhythm with my breathing when I have a lay off of anything more than a week so at first I struggled even to manage a 50m length in what was pretty chilly water.
But once into a rhythm – I like the 3-stroke breathing for freestyle – I was enjoying the views of the Norfolk pines that stand over the pool on the shore side and just exhilarating in the feel of moving up and down the pool again.
This is a friendly place, too, with chatty lifeguards and lots of regulars, who certainly didn't come across as possessive about any particular part (or lane) of the pool. There were probably eight of us doing laps (but nobody especially fast) when I was there at about 9am on a midweek morning.
There was a lane set aside for squad swimming, and I think the pool has a very active swim club, with probably a whole community of commuters who'd already packed up and gone to work by the time I arrived.
Beautiful pool, though. I especially loved the feel of the 2.6m deep end – it makes such a difference swimming in depth.  I do like these salt water Olympic pools that have cropped up in some areas to replace old rock pools. It makes for contrasting swims as you go up and down the coast.
I also pitched up for a very quick dip on the last day before they closed for the winter in late May. A definite end-of-season feel to the place, and a shame it's closed for the winter months, but I guess when you need to employ lifeguards as they do at Thirroul, you need a steadier flow of swimmers to justify keeping it open.
Getting there, getting in, getting changed
The pool is right on Thirroul beach, with lots of parking spaces.
Gentle steps down to the pool at the shallow end; a more sudden drop into the deep end, which actually made it quite an effort to get out of the pool at that end.
No changing rooms on site, but there are showers beside the pool  near the deep end and toilets at the shallow end. Changing rooms are outside the pool complex in the next building along, and they are separate from the beach toilet facilities.
Tidal differences
No change with tides. But the water is pumped direct from the ocean so temperature will shift as the ocean gets warmer or cooler.
Other practical points
This pool is gated, so does have opening and closing times (see photo in the gallery above).
Closed Fridays for cleaning. Opens daily at 6am, but in autumn is closed by lunchtime so don't turn up for an afternoon swim after end of April. And by June, through to mid-September, the pool is closed completely.
There are lifeguards.
There is a toddlers' pool at the shallow end of the main pool, under cover from sun or rain.
History and stories of the pool
This pool was built in the 1930s and opened in 1940.
It replaced an old rock pool that had been blasted into the rocks at the southerly headland just beyond today's pump. The best history of this pool and the old rock pool comes in the Thirroul Village website (link below).
Some visitors complain that the wall on the eastern side of the pool blocks all views of the beach and the surf. The problem was that until the wall was built, this pool was very exposed to the ocean. Some have argued that parts of the wall should be replaced by glass to restore those views (a little like the North Sydney pool next to Sydney Harbour Bridge). I'm not so sure; if the extra expense meant introducing an entrance fee for this pool, I'd prefer to see it remain a free facility for all. With the spectator area on that side of the water, there wouldn't be much of a sea view in any case.
People I met here included:
John, who once managed the pool, so knows all about the technical side of pumping the water in every day (and it was he who showed me where to get changed, because I would never have found the changing rooms on my own…). John still lives locally and does his laps, though perhaps a little more slowly than a few years back.
What's your story? Any memories of swimming here? Any stories to tell? Or did you just have swimming lessons in the cold of winter in the 1960s?
Whatever you have to say, however brief, I'd love to hear from you and will add any stories to this section of the site as and when I receive them.  Add your comment or story under 'Leave a Reply' below.
Links to other articles on this pool
The Thirroul Village website has a very good overview of the pool's history.
Catch up with a mate's blog post from December 2014 has some nice (or horrible) memories of swimming here as a six year old.
Blogger Seana Smith was also here in 2014
And Swim Sally blogger came here in 2007
Coffee, tea or milkshake after the swim?
There's a café shack just behind the pool in what was once the pool toilet/changing room building. They'll do you a decent coffee, but I'd argue it's worth going the extra 500m…
Honest Don's
Honest Don's reviewed by Fancy a Cuppa website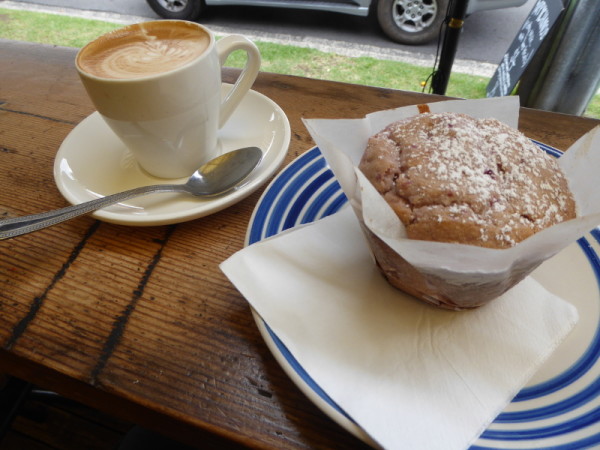 Open daily at 6.30am (closes at 2.30pm)
McCauley Street – back towards the Princes Highway
Best coffee in Thirroul here from Chachi's – a small local roaster – and a great selection of home-made muffins, plus quite a few gluten-free options.  This is a new venture (they opened in May 2014), so if you happen upon some of the online reviews of the previous café on this site, just ignore them. Honest Don's is good, with lots of seating for people-watching in Thirroul. And it's only a 5 minute walk from the pool.