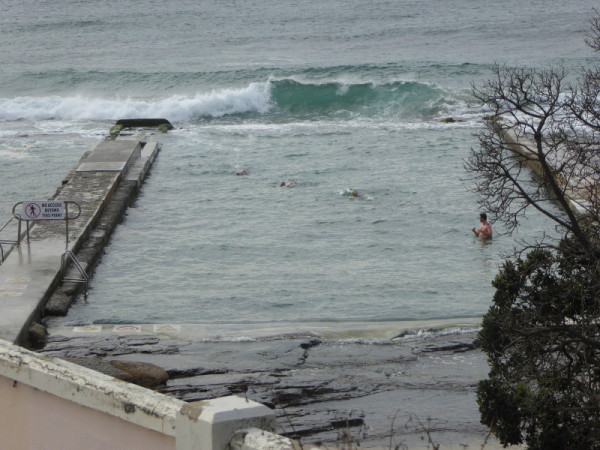 Austinmer Rock Pool
They say the swell can be so strong here that swimmers have been known to be carried over the edge of one rock pool straight into the other pool without a graze on their body!
My experience in the rock pool
This was about the most fun you can imagine in a rock pool. Of the two ocean pools at Austinmer, I swam only in the narrower one, which apparently is much deeper and better for lap swimming.
Although it was over two hours after high tide when I jumped in, the waves were still flowing over into the pool one after the other. The thing is at the ocean end of the pool this made for lots of crashing surf, but all the way down to the shallower end it made for a fun swim in the rise and fall of the waves.
If you're not comfortable swimming in the ocean surf itself, this pool is a great testing ground as you swim laps up directly into the waves and back to shore with the waves flowing past you. For someone like me unused to open sea swimming, it felt like a wave machine being turned on in my local pool in England, only these were real waves so far more fun.
I was still getting back into proper swim action after my shoulder bursitis diagnosis, so was not in the business of doing strenuous laps. But this is a great pool for either serious lap swimmers or those who want to just loll around in some moving water.
After my coffee I returned to the pool to find it as flat as a pancake. So, by three hours after high tide the waves no longer flow over the pool edge and it would have made for a very different swim.
I guess when they finally rebuild the wall (see below), the mill pond effect may last longer, but for now you get a good five hours of rippling waves around high tide and the rest of the time a lovely millpond to swim in around low tide.
A great pool and I can see why so many locals come here regularly.
Getting there, getting in, getting changed
The pools are right on the southern end of Austinmer beach, with parking facing the surf by the beach.
No easy ramp to get in these pools. It's down the vertical steps and straight into water that is probably about 1m50 deep.
Big old changing rooms that have probably been around for half a century. Built for those days when 50 people would be queuing up to swim, there's bags of room and lots of showers in here. They are not full of mod cons, but I – and I'm sure most of the locals – hope they'll remain in their current state without being modernised. There's also a fresh water shower (very modern!) outside in front of the changing rooms.
Tidal differences
There is a massive difference between the flat mill pond pool at low tide (and beyond about 3 hours either side of high tide) and the wave effects of the pool at high tide and for a few hours either side of high. Both are beautiful experiences, though, so don't let tides put you off – the only warning is in really rough seas, the waves have been known to tip people over the edge and dump them in the next door pool!
Other practical points
The larger pool is actually less well frequented by the locals because it is shallower and tends to get a thicker layer of sand on its base. It's popular with kids in summer, though.
History and stories of the pool
There's been a pool here (or nearby – the remains of the old one can still be seen just south of the pools that exist today) for over 100 years.
The contractors repairing the east side (ie ocean side) walls of both pools went bust in 2014 so they were still only half built at the time of my visit in early April 2015. I'm told that even when the wall is finally rebuilt, the waves at high tide should still flow over the pool edge. (Check the Illawarra Mercury for stories on the controversy regarding the delays getting this work done)
The Austinmer Otters have been going since the early 1960s – there's a real camaraderie around its members, with a memorial plaque for those no longer with us (I particularly liked the nicknames each swimmer seems to get, and loved the idea of 'Stainless', whose real name was Steel…).
It's the only pool with a black board of daily information: not only pool temperature, but tide times, swell height AND the daily quiz question…
People I met here included:
There's a whole community of people who come down here every day. I got chatting to two Peters, who have both been coming for about 40 years, and met Heather from Alice Springs who's been in the area for over 25 years and swimming in this pool most days.
What's your story? Any memories of swimming here? Any stories to tell? Or did you just have swimming lessons in the cold of winter in the 1960s?
Whatever you have to say, however brief, I'd love to hear from you and will add any stories to this section of the site as and when I receive them.  Add your comment or story under 'Leave a Reply' below.
Links to other articles on this pool
The Illawarra Mercury ran a very nice piece on Austinmer rock pools in 2014.
Swimming blogger Therese Spruhan came here in 2011, with great photos.
Coffee, tea or milkshake after the swim?
There's a lovely café just opposite the beach so no need to go any extra mile here…
Austi Beach Café
Austi Beach Café reviewed by Fancy a Cuppa website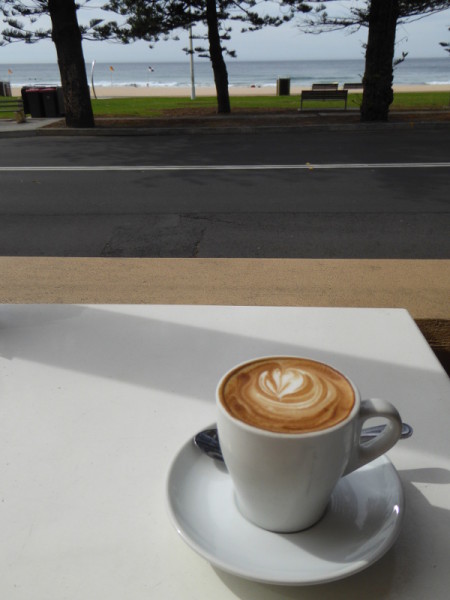 Open daily at 8.00am (closes at 4.00pm)
Great coffee (from The Coffee Roaster in Alexandria) and some lovely home-made muffins. Best thing about this place, though, is that you can sit and watch the ocean, with glimpses even of the pool you've just swum in, and you'll see half the swimmers you just swam alongside having a coffee there too