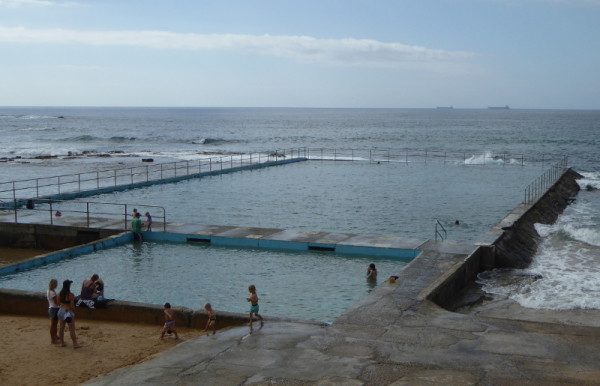 Bulli Rock Pool
There's been a rock pool on this site for almost 100 years.
My experience in the rock pool
I went to Bulli Pool while still under dire warnings from my physio about not swimming due to limited movement in my shoulder. So I was limited to floating around on my back and paddling with my feet and legs only.
Still that in itself was a joy in this beautiful ocean pool set against the cliff on a headland with beaches stretching out to either side, and I think you can just see the Woonona pool – next one south – on the horizon down the end of one beach.
Some of the articles linked to below date from a few years ago when there was clearly a bit of a problem with algae and sand build up in this pool, which were linked to the building of the new children's pool directly inland of the big pool, so restricting flow through at high tide. There was no sign of that on the beautiful sunny day I was there.
I must return to this pool when I can do laps again. It's a lovely 50m pool and I wasn't able to do it justice.
Getting there, getting in, getting changed
We saw no signposts indicating where the rock pool was on Bulli Beach, but if you head for the northern end of Bulli Beach (on Waniora Point to be precise) you'll see it jutting out to sea below the car park and café.
Two sets of steps into the pool both at the shallower end towards the cliff.
There are changing facilities just a few metres from the pool, though they close at 5pm. There are showers inside.
Tidal differences
At high tide the pool is surrounded by water but is still accessible.
Other practical points
The children's pool is cliffside from the main pool, so sheltered from any major swell, though a high tide washes around both pools.
History and stories of the pool
There was an old rock pool a little way down the beach and apparently some of the old pool walls are still visible, though I haven't seen them! The current 50m pool dates from the 1930s.
For the best history of the pool, see the article on the University of Wollongong site – link below.
People I met here included:
I wasn't here long enough this time to chat to many others. There was one Greek Cypriot lady bathing, who said she comes down here most days.
But I didn't get to meet any of the Bulli Sea Lions, who swim here every weekend in winter. They have their own Facebook page, though. So I hope to get in touch in future, and will update this blog then.
What's your story? Any memories of swimming here? Any stories to tell? Or did you just have swimming lessons in the cold of winter in the 1960s?
Whatever you have to say, however brief, I'd love to hear from you and will add any stories to this section of the site as and when I receive them.  Add your comment or story under 'Leave a Reply' below.
Links to other articles on this pool
The Illawarra Mercury featured Bulli pool during its series on rock pools in 2014.
The University of Wollongong website has an excellent article running through the history of this pool, and deals with some of its more recent troubles
Photo blogger Sean Fraser came here in March 2014
The NSW Ocean Baths blogger came here in 2009 and did manage to meet some of those winter swimmers!
Coffee, tea or milkshake after the swim?
For once you don't need to go the extra mile for decent coffee or a cake. There's a café with spectacular views down onto the rock pool itself.
Bulli Beach Café
Bulli Beach Café reviewed by Fancy a Cuppa website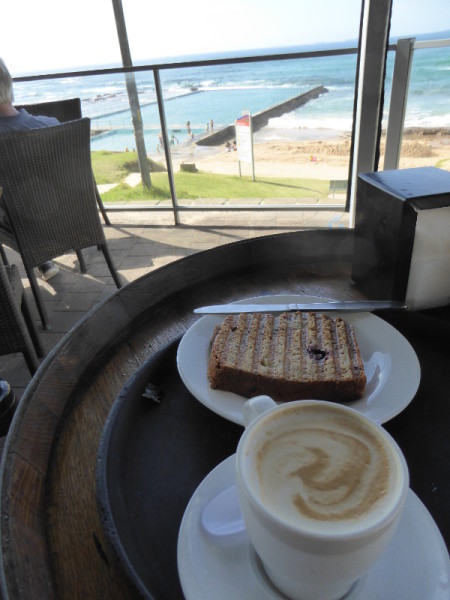 Open daily at 7am
The coffee here was roasted down in Wollongong by Delanos; it was good, though the flat white was just a bit too much like a cappuccino for my liking, and the coffee lacked a bit of kick. I'd always come here just for the views and its position, though, and you can't judge a café on the basis of one coffee. Excellent selection of banana breads and the like to fill that gap after your swim.